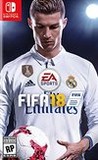 Summary:

The game takes advantage of the console's unique portability, allowing players to enjoy the game in docked, handheld or tabletop mode, and utilizing local multiplayer connection for Local Seasons. Multiple control schemes are also featured, so whether you prefer to play handheld, dual

The game takes advantage of the console's unique portability, allowing players to enjoy the game in docked, handheld or tabletop mode, and utilizing local multiplayer connection for Local Seasons. Multiple control schemes are also featured, so whether you prefer to play handheld, dual Joy-Con, single Joy-Con or Pro Controller, there's an option to fit your playstyle.

…

Expand
Developer:

EA Vancouver

Genre(s):

Sports

,

Team

,

Soccer

,

Sim

# of players:

Up to 22

Cheats:

On GameFAQs

Rating:

E
Please enter your birth date to watch this video:
You are not allowed to view this material at this time.
FIFA 18 - Official Gamescom 2017 Trailer
Shines in the portable setting.

FIFA 18 on Switch is a competent football game, but gameplay and game modes-wise it's not the same game game seen on PS4 and Xbox One.

Probably the best portable football game there's ever been, but it's not really FIFA 18 and the limited online options drastically limit its appeal.

FIFA 18 is a brilliant game for the Switch, it's custom built for the system, it plays to the strength of the console's local multiplayer and it's, for the most part, fully featured. It doesn't matter that the visuals don't look as good because it runs great, feels great, and is fun to play. However this isn't the perfect FIFA 18 experience overall; the online mode is bare-bones and is missing features even Nintendo wouldn't even leave out and for a lot of people, that's going to be a deal breaker. If you can live with what's missing in FIFA 18, you shouldn't look past this terrific first effort by EA. Hopefully next year they can bring the Switch version up to complete feature parity because we can look past how it looks considering it is a good soccer title underneath.

We can justify certain absences due to hardware limitations, but FIFA 18 for Nintendo Switch has too many unexcused disappearances of game modes and features.

FIFA 18 on Switch delivers some enjoyable soccer when on the pitch, but without Pro Clubs and The Journey, and in restricting all access to FUT when you're not online, it shoots itself in the foot. Being able to play FIFA on the go or with a friend is gratifying, and if you're happy to just play through Career Mode for the next year, then this port will satisfy your needs and is the best mobile FIFA you can buy, but compared to the PlayStation 4 and Xbox One versions, this port is inferior in every other way.
Ignore the bad reviews. The portability of this game is fantastic and the gameplay is as smooth, if not better (imo) than on the PS4 or XBOX.

Ignore the bad reviews. The portability of this game is fantastic and the gameplay is as smooth, if not better (imo) than on the PS4 or XBOX.

If graphics are your concern then I'm sorry, but the rest of the game is top notch.

…

Expand

Just an incredible game, Enjoy this portable edition in Nintendo Switch, good graphics and great play control, the framerate looks very good.

Just an incredible game, Enjoy this portable edition in Nintendo Switch, good graphics and great play control, the framerate looks very good. Play everywhere.

…

Expand

Been playing it for six hours non-stop on day 1 release - it plays an ace game of football!

As a veteran of football games dating rightBeen playing it for six hours non-stop on day 1 release - it plays an ace game of football!

As a veteran of football games dating right back to the Spectrum, this is right up there from a home console perspective and definitely far and away the best handheld version ever.

I'm a PS4 owner and would mainly describe PES as my preferred football game, but having recently bought a Switch, I was curious to know whether it could deliver a great football experience and it hasn't disappointed.

I won't go into all the features (as I'm sure most fans of the series are aware of what's in it and what has been left out) - the core thing for me is that there is a career mode, an ultimate team mode, but most importantly it plays and looks great!

…

Expand

Why oh why do people moan about things they do not understand. Fifa 18 on the Switch was specially designed for the system- this was never

Why oh why do people moan about things they do not understand. Fifa 18 on the Switch was specially designed for the system- this was never going to be the same as the PS4 version- a fact people still cannot seem to grasp. This is the best Nintendo Fifa ever. This is the best handheld Fifa ever. Personally, until I looked up what was missing in the game in comparison, I did not actually notice. It looks superb, plays wonderfully and I have had no lag or glitches. And, with enough support next years version could be even better :D

…

Expand

It's not the best fifa 18 you can get but it surely is still great to play, the portability is fantastic and you'll be able to play anywhere

It's not the best fifa 18 you can get but it surely is still great to play, the portability is fantastic and you'll be able to play anywhere which I love, however fifa 18 on switch does miss aspect of the xbox one, ps4 and PC versions as the switch version does not contain Frostbite, Pro clubs and some ultimate feature including fut champions which for me is a let down considering I did buy the Xbox One fifa 17 last year and it looks graphically better and more realistic but graphics are not everything the switch still provides us semi decent graphics just not as good as other platforms, as well as this the transfer market is pretty low and it's hard to find certain players on the market which can be a huge struggle if you want a certain player. Although I understand why many people didn't buy the switch version I just wish more people would buy as the transfer market is very underwhelming and sometimes you can't even find games.

Overall I feel it's still a good fifa 18 version and definitely better than xbox 360 and ps3 versions however if you game at home and don't plan on playing on the go then this isn't the version for you but the probability is the best aspect of the switch version letting you play wherever you wish.

…

Expand

Mas de lo mismo una y otra vez sacando dinero por lo mismo y ordeñando a la baca