Publisher:

Microids

Release Date:

Dec 4, 2018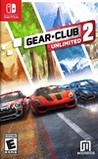 Summary:

On the mountainside, through a nature park, in the middle of the desert or along the coast, defend your position over the course of more than 250 races, including championships, missions and challenges. As you progress through the races, admire the growing collection of cars in your personal

On the mountainside, through a nature park, in the middle of the desert or along the coast, defend your position over the course of more than 250 races, including championships, missions and challenges. As you progress through the races, admire the growing collection of cars in your personal garage. Gear.Club Unlimited 2 has more than 50 licensed cars from the world's most famous manufacturers, such as the Porsche 718 Boxster, 918 Spyder, 911 GT2RS, Dodge Viper, Lotus 3-Eleven or McLaren 720s.

…

Expand
There are certainly some shadows that must be taken into account, like the lack of an online multiplayer mode, a subpar art or the limitations in a world that had the potential to be pretty much open. Still, we cannot deny that it remains as one of the most addictive driving games due to its structure and an overall improvement on the vehicles.The lack of a traditional online multiplayer mode.

With 51 vehicles and some more diversified environments, Gear.Club Unlimited 2 is an arcade game with some great content, playable alone or in multiplayer. It's a great way to drive freely due to interconnected tracks, even if the hardware sometimes feels a bit light for the game engine.

Gear.Club Unlimited 2 is a racing and simulation game with strong arcade inspiration. Despite its graphic limitations and low optimization, the title allows us to manage our club, workshop and cars like no other game on Nintendo Switch.

Gear.Club Unlimited 2 is a quick sequel that only marginally improves on its underwhelming predecessor. Any forward strides are largely undone by unresolved issues from last year and some new performance problems.

The lack of racing games on the Switch makes Unlimited 2 appealing, and although it isn't a bad game, technically and gameplay-wise it comes with too many shortcomings.

While Gear Club Unlimited 2's offerings are considerably thin in comparison to its competitors, it's approachable gameplay, customizable controls, and emphasis on group play make it a considerable choice for the Nintendo Switch.

The console can do much better than Drive.Club Unlimited 2. This is just unacceptable.
Now, listen. I'm assessing a game in 2020 and there has been a huge improvement. And I mean it. Playing this game is fun, loading times are

Now, listen. I'm assessing a game in 2020 and there has been a huge improvement. And I mean it. Playing this game is fun, loading times are fine, no input lag, handling is very responsive, it has its own car physics that you have to get used to, but other than that, man. I really appreciate that game now. It's very fun and I'm giving it 10/10 because, once you get used to it, it's just great. There's nothing I would change there. The driving physics is awkward, between a simulation and arcade, but once you master that, there's nothing more satistying than drifts and taking over in this game. I'm surprised to be saying that, but I love it. Attention: don't ever buy the first one. The gap between those two is HUGE.

…

Expand

Compare to 1st episode, you can appreciate the enhanced graphics.
i like the numerous and branded cars.
Races are longers too Keep waitingCompare to 1st episode, you can appreciate the enhanced graphics.
i like the numerous and branded cars.
Races are longers too
Keep waiting for a real multiplayer mode, not asychronus

…

Expand

Over a year after release we finally have the finished product (certainly close and we'll polished).
Why the decision to release as an earlyOver a year after release we finally have the finished product (certainly close and we'll polished).
Why the decision to release as an early beta version is beyond me, it's done untold damage to the games reputation, but now we have an excellent arcadey realistic cross of vehicle racing.
If only this had been the release version, wholly recommended, hours of stuff to get through, just the loading is a total drag, drag, drag, ie too many load screens

…

Expand

Gear.Club Unlimited 2 is a fun game. It is an arcade racer with some upgrading/cosmetic enhancements included. This is not a simulation racer

Gear.Club Unlimited 2 is a fun game. It is an arcade racer with some upgrading/cosmetic enhancements included. This is not a simulation racer by any means. I think people might be thinking that going in and giving it a poor score. While there is nothing that particularly stands out as special about the game it is a solid racer from start to finish. And with so few serious racing games on Switch I would recommend this to scratch the itch.

…

Expand

Es una experiencia de conducción válida y correcta para Switch, ya que no hay mucho donde elegir. El juego se ha ido actualizando con alguna

Es una experiencia de conducción válida y correcta para Switch, ya que no hay mucho donde elegir. El juego se ha ido actualizando con alguna reducción en tiempos de carga y alguna mejora gráfica.

…

Expand

This game was horrible at launch. Unlimited loading times, terrible fps, horrendous car handling...
Today we have a not so bad and yet notThis game was horrible at launch. Unlimited loading times, terrible fps, horrendous car handling...
Today we have a not so bad and yet not that good racing game.
Graphics are not bad yet it could way better since we're talking about a console exclusive I'd expect hecking more than this. Car handling is fine now.
In other words, I honestly don't reccommend this game. Buy GRID instead.

…

Expand

[Their programmers do not know to calculate in binary, so our player data are corrupted before the completion.]
I tried to complete the game[Their programmers do not know to calculate in binary, so our player data are corrupted before the completion.]
I tried to complete the game 2 weeks after its launch, but it crashed since I got a certain amount of credits and bought parts.
-I deleted the game and my player data as well, warned Microids and later Eden Games, and waited for the game update, which occurred. So I began the game again, bought all the cars, and as the competition against the 2 last virtual opponents was made easier, I could get their car, too - but the game crashed again, at about 50 000 000 credits owned and spent, as in the previous crash, so not a sole progress was done by the developers, even after my warnings.
I am myself a simply confirmed apprentice in computers and data management - not an engineer, and simple considerations let see why there can be such an error:
First, the game size was reduced from about 6 Go to about 3 Go, since the first opus, and we are astonished by the loading times...
Secondly, the player data are of 34 Mo, as announced in backups on server.
But 50 000 000 credits need: 50 * 2^10 * 2^10 bits, so 2^26; but 34 Mo make 34*(2^10)^2 - finally, the required credits compared to the available bits are: 50/34 : the available bits shall be increased by 1.48, in order not-to give a fatal error, and I count all this only about the virtual credits wallet, not including their linked bought parts...
Their computers engineers do not even know how to calculate in bits... I do not know what they learnt in their studies.
The French-speaking tests on this game rate this one at about "7/10" - so we see that this is far, far too much over-rated, just because a French studio is involved in it (as it appears), but they did not their test completely, either.
-The synchrone on-line game was supposed to be available, but was to come "soon" for 6 months. They sold a game unfinished, from all the aspects.
-It appears that some DownLoadable Contents are available now, including "Porsche edition"; first: as I expected, the free first content doesn't even instal, since my player data are over-saturated. Secondly, I hate Porsche and their 1920's design; no reason to dedicate a DLC to a sole brand mark. We are still waiting for truly manageable integral motorisation Lamborghinis.
-The "amount of customisations" is only an illusion, since you have to buy the previous parts in order to get the ulterior one, and the stickers section is absolutely useless for driving - (moreover, it works badly, as if you go on the other side of the car, and that the sticker is not proposed in symmetry).

I warn everybody who has his reason against to buy this game.

…

Expand