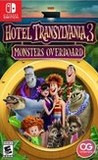 Summary:

Dracula, Mavis and the gang have been marooned on the mysterious Lost Islands. Only you, with help from lovable little creatures, the Impa, can reunite them with the rest of the Drac-Pack. Lead your Impa team on daring missions to explore the Lost Islands and rescue Frankenstein, Murray and

Dracula, Mavis and the gang have been marooned on the mysterious Lost Islands. Only you, with help from lovable little creatures, the Impa, can reunite them with the rest of the Drac-Pack. Lead your Impa team on daring missions to explore the Lost Islands and rescue Frankenstein, Murray and Wayne. Discover new Impa varieties – including Frankenimpa, Wolfimpa and more – and use their scary skills to battle fearsome enemies, solve puzzles and save your monster friends, in a hilarious new adventure that continues the story of Sony Pictures Animation's Hotel Transylvania 3 movie.

…

Expand
Developer:

Torus Games, Outright Games

Genre(s):

Action

,

General

# of players:

No Online Multiplayer

Cheats:

On GameFAQs

Rating:

E10+
Hotel Transylvania 3: Monsters Overboard does not show so much originality through its gameplay. Although it is provided on multiple platforms, it is hard to notice some great features in its gameplay and graphics.

I'd recommend Monsters Overboard if you're a fan of Hotel Transylvania, and therefore the devs have done their job with the movie tie-in. It's no-where near as good as Pikmin, but the characters are here, the voice acting is done well, and the gameplay genuinely fits the theme and is pleasant enough to hold me over until Olimar's return.

Hotel Transylvania 3: Mostri in Mare is an uncertain video game linked to a successful franchise: it misfires in almost all its aspects.

The famous "bla bla bla" of Drac, so dear to the fans of the film, is in danger of turning into a "bleah bleah bleah".
Hotel Transylvania 3: Monsters Overboard
surprisingly a pretty decent game
Monsters Overboard is a pickman styled game in the world of HotelHotel Transylvania 3: Monsters Overboard
surprisingly a pretty decent game
Monsters Overboard is a pickman styled game in the world of Hotel Transylvania
And at first I was expecting an awfl game as your immediately smacked with a cutscene that couldn't even be bothered to be animated.. but as the game went on, it began to surprise me
This game features 3 islands and allows you play as 2 different characters drac and mavis, I would switch back and forth between the 2 as their dialog andjokes got really repetitive after being in the same area after a while..
I imagine you could rush through this game in less than 5 hour, however I actually enjoyed playing so much and this game has such a great trophy list that I played to platinum this game which took me 8 hours to do..
The idea of the game is pretty simple.. you start out with these 2 little flying monsters and you use them to attack creatures in your way, these creatures will then drop a gem and you have to carry this game back to a portal which will give you a larger party, and on all 3 islands there is a character from the movies for you to save and saving them will give you a new monster type to bring with you that will give you new opportunities to not only progress through the levels, but go back and explore previously unreachable areas for a treasure..
And thankfully the treasures aren't just trophy progress… they make your time with this game far more enjoyable so are definitely worth going back for as you unlock these new character.. they will do things like increase the amount you can bring with you, increase your speed, increase the amount gems reward you, reveal treasure locations on the map.. but more importantly increase the time youre allowed on the island..
That's right.. youre being timed.. this is how the game offers challenge.. youre not able to just take oyur time and freely explore.. when time runs out youre taken back to the ship, youre given your new treasure if you've found one and then you select which portal to start from and attempt to get deeper into the level the next time… you have to balance progress with bringing back gems, bringing them back is so important because you are able to lose monsters in battle, they only take one hit to die, and battled can be a bit tough at times, having you look out for attack cues and call them back in, though these are also the most frustrating moments of the game as you have to switch through the different forms to command them, so eventually I stuck to one type for battling, and things became less frustrating..
but this is a lot of environmental puzzles, blocking smell beams, weighing down pressure pads, creating bridges, opening doors, all of which is done with different characters, so keeping a variety with you at all times is necessary..
There are a few annoying bugs such as characters getting stuck on rocks, which can be frustrating for those that are hurting for creatures , because you basically have to just let those ones dies and move on..
There is also a moment in the final island where its possible to get stuck in an area…
youre not able to call in monsters at will or switch your party for other monsters, you have to do it at the portal, so I got to a point where my little werewolf monster were all dead and I needed one to progress, so I had to drop all of my gems and end the night early and go back in and try it again, thankfully enemies do stay dead so this wasn't too much of an issues, but still a little annoying…
And at the end of these levels youll take on a boss…
and to me these bosses actually get easier as the game goes on, the 2nd one a bit confusing though and does a poor job in progression indicators, I had to youtube the solution, not an ideal situation for a game that is geared towards children…
Monsters Overboard is overall a pretty decent game, theres not much here in terms of story, so your search for neptunes compass pieces to get out on the bermuda triangle isn't going to substitute for the movie experience..
But I still had fun
I give Hotel Transylvania 3: Monsters overboard
a 6.5/10

…

Expand