Publisher:

Nintendo

Release Date:

Nov 20, 2020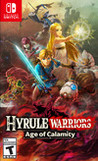 Summary:

See Hyrule 100 years before the Legend of Zelda: Breath of the Wild game and experience the events of the Great Calamity. Join the struggle that brought Hyrule to its knees. Learn more about Zelda, the four Champions, the King of Hyrule and more through dramatic cutscenes as they try to save

See Hyrule 100 years before the Legend of Zelda: Breath of the Wild game and experience the events of the Great Calamity. Join the struggle that brought Hyrule to its knees. Learn more about Zelda, the four Champions, the King of Hyrule and more through dramatic cutscenes as they try to save the kingdom from Calamity. The Hyrule Warriors: Age of Calamity game is the only way to firsthand see what happened 100 years ago. - Battle hordes of Hyrule's most formidable foes - From barbaric Bokoblins to towering Lynels, Ganon's troops have emerged in droves. Playable heroes like Link, Zelda and more must use their distinct abilities to carve through hundreds of enemies to save Hyrule from the impending Calamity.


…

Expand
Please enter your birth date to watch this video:
You are not allowed to view this material at this time.
Hyrule Warriors Age of Calamity Guardian of Remembrance Launch Trailer
I do think that Hyrule Warriors: Age of Calamity will mean more to people who have played Breath of the Wild, and that's fine. For Zelda fans, there's no way they haven't played it anyway. For Musou fans coming to Age of Calamity from that angle, the sell's a little harder. The narrative that it weaves are great. The presentation is impeccable, and each and every one of the characters are fun to play with. It's just that where the original Hyrule Warriors felt like a love letter to the history and heritage of Zelda, Age of Calamity is more immediate, and that's just a little less of a celebration, though with the tradeoff being it actually contributes to the lore. For me, that's a worthwhile tradeoff, and I didn't even have the assumed knowledge going in.

Take a cornucopia of familiar Hyrule lands, add an absolutely fantastic soundtrack to each of them, and let a collection of amazing characters loose to tell a great story on the battlefield and off, and Hyrule Warriors: Age of Calamity is a game no Zelda or Musou fan should pass up.

Humorously, aside from the technical issues, a lot of my problems with Age of Calamity echo the ones I had with Breath of the Wild. The Divine Beasts are solidly the weakest part of the campaign and the inventory is a little clumsy to manage. That all being said, the totality of this Musou game is soundly enjoyable. The confidence on display in Hyrule Warriors: Age of Calamity echoes the earned success Nintendo has found after Breath of the Wild and the Switch. This is a refined and tight action-packed experience that delivers an excellent mix of Zelda lore and creatively ridiculous brawler gameplay.

Approached with the knowledge that this is a full-featured side-dish, you'll have a very good time hacking and slashing your way through Calamity Ganon's minions in Hyrule Warriors: Age of Calamity; just remember that despite its sparkling presentation, it is still not a Zelda game. What it is is a brilliant Zelda-infused Musou experience filled with varied and satisfying combat and Breath of the Wild additions that work beautifully within the boundaries of the Warriors template. The care and attention given to detail here is hugely impressive. We found performance to be adequate and, crucially, it didn't affect our enjoyment throughout — just be prepared for a slideshow once the pyrotechnics start in two-player co-op. In many ways, Hyrule Warriors: Age of Calamity could be exactly the game you need right now.

If the name "The Legend of Zelda" means a lot to you, and you can have fun with musou-style games, then Hyrule Warriors: Age of Calamity will not disappoint. Overall it is of the best games Omega Force has ever done with fast-paced and deep gameplay combined with some really great music.

If The Legend of Zelda: Breath of the Wild is the calm, reserved child, then Hyrule Warriors: Age of Calamity is its loud, rowdy older sibling. The action starts at 10 and never lets up, giving me battle after battle of tight and fun Musou action. The story beats are for the most part great, but a few of them definitely left me wanting for more and not in a good way. Age of Calamity delivers on the action-heavy goods, just don't come in here expecting the story to blow anyone's minds...and that's the real Calamity.

The best Dynasty Warriors style game ever made, which means it's slightly north of mediocre, with simplistic combat, weak storytelling, and a whole lot of repetition.
Sorprendente, muy buena historia, breath of the wild por todo el juego, el mejor musou que eh jugado

Absolutely amazing, seriously. The story, cutscenes and voice acting are excellent and impressive, the combat is better than in the first

Absolutely amazing, seriously. The story, cutscenes and voice acting are excellent and impressive, the combat is better than in the first Hyrule Warriors with a ton of variety between all the playable characters. This game has a huge amount of content and has better level design than the first Hyrule Warriors. Great game and a must play for any fan of Warriors games or Breath of the Wild.

…

Expand

Love it, addicted to it, wish there was more of it. I know people with scared that the game story would ruin Breath of the Wild but I feel

Love it, addicted to it, wish there was more of it. I know people with scared that the game story would ruin Breath of the Wild but I feel like it compliments it well while still keeping Breath of the Wild seperate.

…

Expand

A great game, I just would like to get an improvement on the FPS also the camera gets a little crazy some times but I think is the best mosou

A great game, I just would like to get an improvement on the FPS also the camera gets a little crazy some times but I think is the best mosou I have ever play

…

Expand

Hyrule Warriors: Age of Calamity is a suprisingly great game. Even if it doesn't add a lot to the already great story and lore of "Breath of

Hyrule Warriors: Age of Calamity is a suprisingly great game. Even if it doesn't add a lot to the already great story and lore of "Breath of the Wild", it packs gameplay that is fun in this great world and brings a credible and (in my opinion) well-written prologue story. Sure, the gameplay mechanics wear off after a while and the game could be "braver" in exploring that time before BOTW, but it is a fun and enjoyable experience through and through. If you are a fan, you can add 0.5-1 to the score.

…

Expand

I am like 5 hours in and i really wanted to like this game but its probably not my cup of tea. I never played Hyrules Warrior so i didn't know

I am like 5 hours in and i really wanted to like this game but its probably not my cup of tea. I never played Hyrules Warrior so i didn't know exactly what to expect. I should have played the demo before buying. I am a big fan of Zelda Breath of the Wild and i bought this primarily for the story. To be honest, i expected a more polish experience similar to combat in Zelda Breath of the Wild but it was more like an arcade game to me. It get very repetitive and nothing from the prequel story is coming spectacular. Its nice to see the characters back but i dunno why, i found them to be impostors compared to what they was in the Zelda Breath of the Wild experience. Maybe i expected too much from this title. Lets be honest, the marketing was bad on this one.. when i started playing i was like "oh my god.. not what i expected at all.. it really play more like an arcade game that anything else". I am sorry but it really do not worth its price. I would recommand to pick it up used or when it will be on sale.

…

Expand

Honestly, Hyrule Warriors is a great game, no doubt. When I got it I thought it would end with the champions, well, die but the ending at the

Honestly, Hyrule Warriors is a great game, no doubt. When I got it I thought it would end with the champions, well, die but the ending at the end of the game just ruins Botw for me. I love the idea of Link awakening from a 100 year sleep the defeat the Great Calamity once and for all. I do recommend playing though, especially since you can do multiplayer mode.

…

Expand