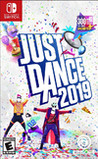 Summary:

40 Tracks, including:
Finesse (Remix) – Bruno Mars Ft. Cardi B
Bum Bum Tam Tam – MC Fioti, Future, J Balvin, Stefflon Don, Juan Magan Bang Bang Bang – BIGBANG Mad Love – Sean Paul, David Guetta Ft. Becky G Shaky Shaky – Daddy Yankee Dame Tu Cosita – El Chombo ft. Cutty Ranks OMG –40 Tracks, including:
Finesse (Remix) – Bruno Mars Ft. Cardi B
Bum Bum Tam Tam – MC Fioti, Future, J Balvin, Stefflon Don, Juan Magan
Bang Bang Bang – BIGBANG
Mad Love – Sean Paul, David Guetta Ft. Becky G
Shaky Shaky – Daddy Yankee
Dame Tu Cosita – El Chombo ft. Cutty Ranks
OMG – Arash Ft. Snoop Dogg
Mi Mi Mi – Hit The Electro Beat
Mama Mia – Mayra Verónica
Narco – Blasterjaxx & Timmy Trumpet
Fire – LLP Ft. Mike Diamondz

…

Expand
Developer:

Ubisoft Paris

Genre(s):

Action

,

Rhythm

,

Dancing

# of players:

No Online Multiplayer

Cheats:

On GameFAQs

Rating:

E
Please enter your birth date to watch this video:
You are not allowed to view this material at this time.
Just Dance 2019 - Official Song List Part One Trailer | E3 2018
Just Dance 2019 is a great game to pass the time if you're a casual player, likes parties or to have fun with friends and family. The musical variety in this new entry is great, however, the lack of innovative features and the removal of Smartphones as a controller option hurts the title.

Just Dance has a simple and winning concept.

The game offers all the fun of Just Dance. Although it does not innovate and the mobile compatibility has been removed on Switch, the variety of songs and the possibility of taking the dance floor wherever you want make it a good ingredient for any party.

Just Dance 2019 adds 40 new songs to the popular formula. It´s been almost the same since Just Dance 2016 (when the Unlimited subscription service appeared) but fans will enjoy th new playlist.

Just Dance 2019 is exactly like Just Dance 2018, 2017, and so on. In other words, it's extremely fun… but it also feels like a cash-grab, since it doesn't try anything new. Also, the 400+ long song list, arguably the bulk of the experience, remains hidden behind a subscription… albeit, a reasonably priced one.

Just Dance is back with new songs and more moves. It doesn't bring anything particularly new, but it's still fun.

Left alone without any form of competition, Just Dance 2019 hardly evolves. This one episode, on Switch, banks on fun above all, but at the expense of precision and skill.
That game's my favorite. I've been playing this game all day and every day for 24 hours of the day and 7 days of the week. This game's #1 in

That game's my favorite. I've been playing this game all day and every day for 24 hours of the day and 7 days of the week. This game's #1 in the whole country in the U.S.

…

Expand

A Just Dance that we need, good songs, and choreos... but the Unlimited trial, was bad :/
But, so much better than JD 2018

For a Just Dance fan that has been playing the games on the Just Dance franchise for almost half a decade, Just Dance 2019 brought to the

For a Just Dance fan that has been playing the games on the Just Dance franchise for almost half a decade, Just Dance 2019 brought to the table the same rhythm game dancing formula that has been use for a full decade with 40 songs already in its base game, the game has good menus which I actually was excited to see, a more Spotify-like style menu, bunch of great songs that I personally like it from greatest hits in the year 2018, to some hits in the past (but unfortunately covered because yeah, third party).

The game is however extremely beneficial with the songs that I like from previous games, and yes I was talking about Just Dance Unlimited. Being the fourth Just Dance game in the series to use the subscription based service and is still great with the total of 400+ songs to dance to with that service. And there is actually over 400 songs with the addition of Just Dance 2018 added to the catalogue meaning that it would take you so many hours just to dance to every song at least once (i suggest don't do that because the Just Dance Kids songs sucks in my opinion). And if you want to be very competitive online, yes we still got World Dance Floor and apparently it is just the same as Just Dance 2018. So really, give that a go at some stage. The game is at its best online, so you of course need an internet connection and a strong one. And yes, for Switch owners (like me and anyone with a Switch), these online features requires the Nintendo Switch Online which is like Nintendo's variant of X-Box's Live Service. So if you haven't done that yet, then you have to do that because games that requires the online feature would most definitely fall for that feature, so get a subscription.

Speaking of subscription, Just Dance 2019 includes a free one-month trial for using Just Dance Unlimited, which compare to its other three games that uses it which had three-month trial for using that same feature, it kind of questions what Just Dance is doing to that service because one month goes quickly at this time of year, so my recommendations is to buy a three month or a year subscription so that you don't miss out on the new songs they add in between now and potentially the next Just Dance game. Just Dance 2019 is a great game on all the 7th and 8th Gen consoles with the exception of PS3 due to possibly the fact that the market for that console is a bit lack lustered with more players playing the game on the better console. Just Dance 2019 has a playlist tab full of recommendations for songs in a playlist to play to though it sucks that we don't have the feature for making our playlists. So my favorites playlist is way too big for me to even dance to, but the themed ones is pretty good. The Gift Machine returns with similar properties to its predecessor but dispenses artworks, new routines (excluding Extreme variants because you unlock them in a different way), and of course avatars. Another feature they added to Dancer Cards which provides a good touch is titles which gives you nicknames with many that are unlocked with different ways. I like it how I get to see the collections for Avatars and Artwork, showing secrets to how this game was made like only two coaches in this game are not actually humans (ie. that jelly guy and that explorer guy which I have little time to explain). And one unique tab I use the most is the search tab which is great for finding songs based on its name, artist, genre and even the game it is from. No longer are the days where you have to go through the Just Dance Unlimited catalogue to just find one song you want to dance to which took minutes. (giggles a little) Those were only a few years old.

So in summary, this is a great Just Dance game, like yeah, I say that to every Just Dance game since Just Dance 2016. The menus are great with its Spotify-like style and the tabs which are very useful, the Kids Mode is meh. The Just Dance Unlimited is still great and is required to get the most out of Just Dance, World Dance Floor is still a thing, and for once I'm actually doing a lot better in dancing myself. So yeah, my Metacritic score reflects that. Now we just have to wait and see what Just Dance adds in next.

…

Expand

I didn't really enjoy it and honestly, Just Dance 2018 is way better in my opinion.

It's a. It's a game the gamen isnt that bad but bor is it my style of game but I personally didn't find it very enjoyable

Just Dance 2019 for me is annoying, generic, and uninteresting. The unlimited mode is something I don't want to talk about, and honestly, I

Just Dance 2019 for me is annoying, generic, and uninteresting. The unlimited mode is something I don't want to talk about, and honestly, I think you'll have more fun playing the previous games. I suggest JD 2014.

…

Expand

Total garbage. Software requires you to log on to a site to play most songs. Site never works. Fails to log in. Fails to create accounts.

Total garbage. Software requires you to log on to a site to play most songs. Site never works. Fails to log in. Fails to create accounts. Fails to recognize obscure email addresses like gmail or yahoo - so go figure. An epic failure in this great franchise. Maybe they'll get 2020 right. And even though the site never works it constantly urges you to "create an ubisoft account!" Barf. Vomit. Puke.

…

Expand