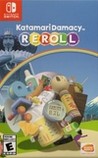 Summary:

The stop-at-nothing pushing prince is back and ready to reroll. When the King of All Cosmos accidentally destroys all the stars in the sky, he orders you, his pint-sized princely son, to put the twinkle back in the heavens above. Join the King and Prince of Cosmos on their wacky adventure to

The stop-at-nothing pushing prince is back and ready to reroll. When the King of All Cosmos accidentally destroys all the stars in the sky, he orders you, his pint-sized princely son, to put the twinkle back in the heavens above. Join the King and Prince of Cosmos on their wacky adventure to restore the stars at home or on the go – now in full HD.

…

Expand
Developer:

Bandai Namco Games

Genre(s):

Action Adventure

,

General

# of players:

No Online Multiplayer

Cheats:

On GameFAQs

Available On:

Stadia

Rating:

E
Please enter your birth date to watch this video:
You are not allowed to view this material at this time.
Me and My Katamari Gameplay Movie 5
Polarising as it might be, it's something everyone should try, because it's also the perfect example of how games can be used to a genuinely artistic outcome.

Nintendo Force Magazine

Aug 22, 2019

An experience so sublime doesn't need much in the way of fancy trappings to reach a new audience, only new opportunities. [Issue #38 – March/April 2019, p. 75]

Still one of the most original and entertaining video games there's ever been, with a surreal sense of humour that permeates every corner of the gameplay and presentation.

Whether you're a longtime fan or a newbie that's looking to try something a little different, rest assured that Katamari Damacy Reroll is the best way to get acquainted with this bizarre, yet endearing franchise. Here's to hoping this isn't our last visit from The Prince and King of All Cosmos.

Reroll gives a whole new generation the chance to experience this wonderful Japanese fever dream.

A classic from the not so recent past, now remastered for the newest generations of gamers.

If you've never played Katamari before, there's no reason not to pick this up over the original release on the PS2. The game is still a delight, and while it may make you dizzy, picking up objects and watching your katamari grow with all sorts of random objects will always be a delight. If you've played this before, though, there's really nothing new here that's worth trying out.
it is awesome, the music is sublime, i really think it is a must play game, it brings a lot of nostalgic feeling UwU

It's bright. It's happy. It's fun. It's Katamari. This is an all time favorite, and the port onto the Switch is in HD and has never looked

It's bright. It's happy. It's fun. It's Katamari. This is an all time favorite, and the port onto the Switch is in HD and has never looked better. The colors are bright; rolling is as smooth as ever, and the quirkiness of the game will have you rolling your worries away far into the night. Very few games are a must have, but this one ranks above just about all of them. It's perfect for kids and adults alike. Nothing beats the King of All Cosmos waking up the day after a huge bender making his son fix yesterday's machinations to one of the best soundtracks in gaming history. Na... na na na na na na na na na na na na na... Enjoy.

…

Expand

Mmmmmmmmmmm vary goob vary fun. Only leik 6 hours but still very fun. Wish there were different characters. Mmmmmmm still nonetheless vary entartaning

It is a happy, funny, enjoyable game with unique idea and controlling method.
It chills you up when you want to refresh your mind. It alsoIt is a happy, funny, enjoyable game with unique idea and controlling method.
It chills you up when you want to refresh your mind. It also gives you unbelievable experience that anything can be stacked into the Katamari!

…

Expand

I love this series. I wish they would have done something to update it but, aside from that, it's a perfect port.

Really fun and weird, but kind of short and inconsistent at times. Really enjoyed it for the few hours it took me to complete though.

This review contains spoilers

, click expand to view

. This "game" is one of the many examples of why you definitely shouldn't nuke a country twice…

Worst game I've ever had the misfortune of playing. 0/10

Plus, I can't even play this game for free on game trials… (I had to spend money on this and I still didn't get my 100 platinum points, which makes me hate this bad trip even more)

DO NOT BUY THIS GAME

…

Expand