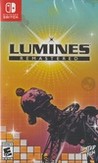 Summary:

The acclaimed puzzle game produced by legendary creator Tetsuya Mizuguchi arrives on the Nintendo Switch console. An HD remaster of the original game, LUMINES REMASTERED beautifully marries the elements of sound, light and puzzle-action into one addictive, yet easy-to-play game. You're at

The acclaimed puzzle game produced by legendary creator Tetsuya Mizuguchi arrives on the Nintendo Switch console. An HD remaster of the original game, LUMINES REMASTERED beautifully marries the elements of sound, light and puzzle-action into one addictive, yet easy-to-play game. You're at the center of the high-energy, block-dropping action while you groove to awesome house, trance and techno beats! Play LUMINES REMASTERED on-the-go in Handheld mode or at home in TV and Tabletop modes. Features a colorful array of skins: No two skins (levels) are the same! Unlock all 40 skins, each with a cool stylized theme and matching thumping beats. Mode variety: In addition to the basic Challenge Mode, test your skills in other modes including Skin Edit, Time Attack, Puzzle, Mission, VS CPU and also play against in friend in VS 2-Player mode (local only). The HD Rumble effect: Feel the rhythm and blocks dropping from the dynamic HD Rumble feedback of the Joy-Con™ controllers! It's up to you what you want to feel – only the blocks or both rhythm and blocks. Trance Vibration: Ready for some real fun? Send rhythm feedback to multiple sets of controllers – placed in your pockets or around your hips – with the Trance Vibration setting and feel the game beyond your hands. [Nintendo]

…

Expand
Developer:

Enhance Games

Genre(s):

Puzzle

,

Matching

# of players:

No Online Multiplayer

Cheats:

On GameFAQs

Rating:

E10+
Please enter your birth date to watch this video:
You are not allowed to view this material at this time.
And damn this game can be tough! Even after sinking about a hundred hours into the PSP game I could never complete the whole thing in one sitting. Here I am in the futuristic year of 2018 playing on a Nintendo Switch and I still feel like I need one of my older cousins around to help me beat some of the harder levels. Yeah my age may show more than I'd like, but it's kind of nice to feel young again.

Remastered is a stunning addition to the Switch library that absolutely shouldn't be missed. Puzzle fans will likely delight the most from the game's mechanics, but even those who have been turned off by puzzle titles in the past should consider giving Lumines Remastered a look, as it does enough different to warrant any gamer's attention.

Lumines Remastered is a luminary of the puzzle genre and feels perfectly at home on the Switch. Intense and immersive puzzle action, psychedelic visuals, a killer soundtrack, and a bevy of content and modes make for a premier puzzle experience that should not be missed. Lumines is an addictive experience that is positively a delight to play, and we would highly recommend it to both veterans and newcomers of the puzzle genre. There's something here for everyone, and considering the relatively low price tag, Lumines Remastered is very much 'required playing' for any Switch owner.

Lumines is the kind of game that temporarily rewires your brain, splicing together its ability to recognize visual patterns and audible rhythms simultaneously and forcing you to do the hard but delightful work of putting that ability to use. Having that experience so lovingly presented--and on the Switch, having Lumines handheld again for the first time in six years--is an occasion worth celebrating.

While Tetris purists may shirk at this block-matching alternative that messes with the formula a little, Lumines is worth a try. Whether it's high scores on the leaderboards, completing strategic challenges, or just filling the void for a couch-multiplayer title, Lumines Remastered has something for all lovers of arcade-type puzzle games.

With Lumines Remastered the 2004 PSP game makes a magnificent return. Gameplay, visuals and music, that are intimately intertwined, are dope. And Rumble HD, that you can apply to other Joy-Cons, is a great to feel everything that this puzzle game with a lot of content - but no online game, sorry - has to offer.

The classic Lumines Remastered is now on current gen systems, but excels wonderfully as a handheld game on the Nintendo Switch.
FINALLY

I've been waiting patiently for this one. Finally Lumines on the Switch! One of the best puzzlers out there. It looks and feelsFINALLY

I've been waiting patiently for this one. Finally Lumines on the Switch!

One of the best puzzlers out there. It looks and feels amazing on the Switch.

Thankfully you can switch button schemes though! I don't get why they would make the default button layout different from the orignal. (Scheme B is more like the original psp version where A & B are alternate buttons instead of A &B the same and X & Y the same, maybe I remember wrong though, anyway, B feels better for me)

Only small detail that kinda seems to bother me right away is the strafing. It takes too long of a button hold to start the trafe. I remember it being faster on the psp, I want the strave to start immediately after holding left or right! Or at leats a lot faster then how it is on the switch right now. Ohwell.. maybe it just takes some getting used to (but please Enhance, DO FIX if you can!!

…

Expand

This is the best casual puzzle game I've played since Tetris.
I could and have played this for hours.
If you liked Tetris (and especiallyThis is the best casual puzzle game I've played since Tetris.
I could and have played this for hours.
If you liked Tetris (and especially Tetris Effect) you'll love this.

Verdict: Try it out. It's worth it.

Rating:
Gameplay: 5/5 - Absolutely addictive.
Level Design: 5/5 - Great backgrounds and special stages / puzzles.
Soundtrack: 5/5 - Bloody great. I can listen to this in the car any day.
Story: Excluded since this is a puzzle game.
Graphics: 5/5 - Simple but clean.
Length: 5/5 - As long as you want.
Replay Value: 5/5 - Same as Tetris.
Enjoyment: 5/5 - I had an absolute blast.

Overall rating: 35/35 => 10/10

…

Expand

The best game on PSP (and one of the best puzzle games ever) is everything you would expect on the switch.

Trance-like audiovisualThe best game on PSP (and one of the best puzzle games ever) is everything you would expect on the switch.

Trance-like audiovisual experience with simultaneously relaxing yet stressful gameplay. The HD rumble on switch really adds another dimension.

I'm surprised there isn't more hype around this - if any game is worthy of a remaster, even just to bring it to a new audience, its this one.

…

Expand

It's a really good game to play with the switch. I am already addicted ...
But the switch and the Unity engine do not seem to fit well.It's a really good game to play with the switch. I am already addicted ...
But the switch and the Unity engine do not seem to fit well.
Frame improvement and load time reduction patch is needed.

…

Expand

I was always tempted to get this in the past on PSP and later the Vita, but never took the plunge as I found it quite expensive. Now,

I was always tempted to get this in the past on PSP and later the Vita, but never took the plunge as I found it quite expensive. Now, considering the low price I decided to give it a go. Man, this game is really good and I love how the game challenges you to get to level 100 to get all the skins. This is a great way to motivate people to keep trying and get better at it! You really need to play this game with headphones to get full immersion. The HD rumble following the rhythm is also brilliant.

…

Expand

One of my all-time favorite puzzle games comes to Switch with tons of modes, online leaderboards, and an excellent, addictive challenge. Only

One of my all-time favorite puzzle games comes to Switch with tons of modes, online leaderboards, and an excellent, addictive challenge. Only thing keeping it from being perfect is lack of new songs and no online head-to-head. Otherwise, perfect. Especially for the price!

…

Expand