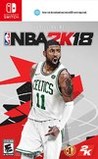 Summary:

Shape your MyPLAYER and write your own narrative, build your dream MyTEAM, take control of the league, or prove you're the best of the best by competing against players from around the globe.
Please enter your birth date to watch this video:
You are not allowed to view this material at this time.
NBA 2K18 - The Art Behind NBA 2K18
NBA 2K18 is a welcome addition to the Switch library. It's great to have realistic hoops back on a Nintendo platform, and 2K knocked it out of the park with their debut Switch title. It looks great, plays great, and if the kinks can get patched should be the start of a great franchise finally embracing a Nintendo platform.

An excellent basketball game that still has to be polished to achieve the greatness of the PS4, Xbox One & PC versions.

The ambition of bringing the whole NBA 2K experience to the Switch comes with some technical sacrifices, but if you're happy to choose portability over visuals, this version of NBA 2K18 offers everything you can ask for.

The Switch version of NBA 2K18 is a small big miracle, it's a pity that the 30 FPS hit the game veterans so hard.

Unlike with FIFA 18 you'll get an almost complete package with NBA 2K18. Visually of course scaled down and with the "Neighborhood" as well as the story career confined to an online environment, Visual Concepts did their best to port the best basketball game on Nintendo's hybrid system.

The Switch version of NBA 2K18 is rough around the edges, but the strong collection of core modes that make the game a perennial contender from sports game of the year are all here. Despite the drop in graphical fidelity, connectivity headaches when in handheld mode, and barren online modes, you'll have a hard time finding a better basketball sim experience.
I can't believe how this game can runs there so well in the Switch, it look AMAZING!! I bought de Switch the last week and i was excited for

I can't believe how this game can runs there so well in the Switch, it look AMAZING!! I bought de Switch the last week and i was excited for this game, but the truth is that i was worried about the final version of this game, but to see how Nintendo Switch runs this game so well I have been amazed.

…

Expand

Belo jogo, boa jogabilidade, o modo carreira é muito legal, faz você se sentir na pele do jogador, de como é o inicio da carreira. Destaque

Belo jogo, boa jogabilidade, o modo carreira é muito legal, faz você se sentir na pele do jogador, de como é o inicio da carreira. Destaque pra o alivio cômico transmitida pelo agente e pela colega de quarto.

…

Expand

Totally recommended as sports game for the Switch. Great gameplay and technical section. 30 fps are mostly solid and the sense of realism is

Totally recommended as sports game for the Switch. Great gameplay and technical section. 30 fps are mostly solid and the sense of realism is well achieved during matches. All of other versions content, except the compatibility with the companion mobile app. Only a few bugs in the unskippable My career cinematics that turn this mode into a headache and the excessive reliance on online in several of the modes, take away this game from the best score.

…

Expand

Infame versión con numerosos fallos y con menos opciones que en las otras versiones. La resolución en modo consola es pobre, luce como un

Infame versión con numerosos fallos y con menos opciones que en las otras versiones. La resolución en modo consola es pobre, luce como un juego de la pasada generación. Animaciones robóticas. Es un viaje al pasado. En modo portátil mejora, aunque los controles en este modo hacen al juego más simple y arcade. Divertido pero mejorable en muchos apartados. No lo recomiendo en absoluto si tienes opción de comprar las otras versiones.

…

Expand

Everything is wrong with this trash ass game. It's boring asf and not fun to play and everything is so **** expensive. Dribbling is stiff,

Everything is wrong with this trash ass game. It's boring asf and not fun to play and everything is so **** expensive. Dribbling is stiff, shooting is ass, missing open layups, game freezes, lagouts. Server's are the **** worst. Most money hungry **** game and worst than nba2k17.

…

Expand

One of the worst ports I've ever played. It seems like they didn't make any adjustments to make it work for the switch platform.
The gameOne of the worst ports I've ever played. It seems like they didn't make any adjustments to make it work for the switch platform.
The game suffers from amazingly long loading times. Horrible frame rate, especially in the cutscenes during myCareer mode which you can not skip (it is so bad, that the audio loses sync from the video after 5 seconds and then you have to watch 10 minutes of slow-motion cutscene without sound). If you decide to put the switch into sleep mode when in-game when you log back in, the game kicks you out from the mode you were in, because it can't connect back to the server (and in many times you have to watch the last cutscene you watched all over again). Tons of connection problems when you try to play against another player.

The only good thing is when you finally manage to enter a game (after a lot of frustrations and rage quits during the loading times and cutscenes), it plays pretty well (other than the lock for 30 fps which is pretty big in a sports game).

Overall, if you have a ps4 or an Xbox, don't buy the switch version or at least wait a couple of months that they'll hopefully update the game.

…

Expand

Buyer Beware: if you decide to get the Legend Edition you will not get your 20 weekly MyTeam packs. I have an ongoing case and 2K Support is

Buyer Beware: if you decide to get the Legend Edition you will not get your 20 weekly MyTeam packs. I have an ongoing case and 2K Support is unable to resolve it. So essentially I just paid more money for some in case items and a poster. Keep that in mind if you're going to get that edition! The support staff is terrible too unfortunately.

…

Expand