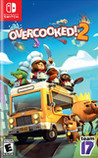 Summary:

Overcooked returns with a brand-new helping of chaotic cooking action! Journey back to the Onion Kingdom and assemble your team of chefs in classic couch co-op or online play for up to four players. Hold onto your aprons... it's time to save the world (again!)

FEATURES: * Online/LocalOvercooked returns with a brand-new helping of chaotic cooking action! Journey back to the Onion Kingdom and assemble your team of chefs in classic couch co-op or online play for up to four players. Hold onto your aprons... it's time to save the world (again!)

FEATURES:

* Online/Local Multiplayer Madness - You'll knead to work together to get the highest score in chaotic local and online multiplayer.

* Feast Your Eyes On This - Cook in new kitchens ranging from sushi restaurants, magic schools and mines!

* Romaine Calm! - Travel through teleporters, across moving platforms and save time by throwing ingredients across dynamic kitchens that shift and evolve.

* Whet Your Appetite! - Cook up a range of new recipes including sushi, cakes, burgers and pizzas.

…

Expand
Developer:

Ghost Town Games Ltd.

Genre(s):

Action

,

Arcade

# of players:

Up to 4

Cheats:

On GameFAQs

Rating:

E
Please enter your birth date to watch this video:
You are not allowed to view this material at this time.
Overcooked 2 - Announcement Trailer - Nintendo E3 2018
A perfect party game, simple but brilliant. [10/2018, p.84]

Overcooked 2 is a chaotic, intense, and challenging multiplayer experience that is so brilliant that it offers countless hours of enjoyment that should be played by everyone.

Overcooked 2 rounds off, enhances and extends everything seen in the first installment in a masterful way, making it an essential party game for any lover of cooking and a good multiplayer experience. Despite its short duration, its online mode will make the title last much longer with the kitchen at full throttle.

Even when you fail miserably at a task, the experience of playing the game is raucous and rewarding.

Game World Navigator Magazine

Nov 21, 2018

Having a co-op partner is essential for Overcooked 2, otherwise you'll miss most of the funny situations, entertaining confusion and surprising difficulty of this game. [Issue #233, p.64]

New players to the series will enjoy this on its own and since online is now available, this opens up multiplayer play to just about everyone whether you have friends next to you or not. Whichever way you play, this is a fun and frantic experience that everyone deserves to enjoy.

The continued issues with online play (least on Nintendo's platform) as well as Ghost Town's wilful dismissing of a properly-adapted single-player alternative will only go to dwindle the potential audience once more. An audience whom might not see much significant change from what is still essentially an unaltered recipe from previous, but will still find immense joy in partaking in when part of a group. Which is a shame, given how well-realized Overcooked 2's core, emergent style of play truly is.
The 1st overcooked is one of the most fun i've ever had with a multiplayer game but the 2nd one is even better. So there are 3 modes in the

The 1st overcooked is one of the most fun i've ever had with a multiplayer game but the 2nd one is even better. So there are 3 modes in the sequeal story arcade and versus. story mode just gives you the levels in order and introduces you to things over time. With several new kitchens and elements added it definitely keeps you on your toes trying to go for a high score. Some of the new recipies inculde sushi, sushimi cakes, burritos, pancakes, steamed dumplings and more. Arcade mode has everyone working together online on random levels trying to get the highest scores. This mode can really be challenging as you all thrown in to some of the hardest levels in the game at times and requires everyone to have a understanding of what is going on without voice chat it can be hard to communicate with other players but the addition of emotes do help a bit. It does add some funny moments and more stagerty to the game though. Verus mode again put yous online in random stages but this time working with 2 chefs in either team. 2/2 online players is the best fun for this mode but Unfortunately this means if one of your guys quit you can be instantly at a disadvantage or sometimes unable to complete the level at all. At one point i was matched up 2 on 1 with me being the 1 meaning i had to juggle to chefs on my own swapping between the 2 so i just quit and hoped back into the lobby. Load times can be annnoying at times though. There are also a lot of chefs in this game 2 choose from with a lot of variety so they should be one that everyone likes. Overall this game is amazing Its a must buy for fans of the original and for anyone looking for a fun multiplayer game to play with friends or maybe even online with strangers. The only thing is if you live in Australia buy the game on the eshop as its $38.50Au compared to $60Au retail and that extra $20 is 2 much of a cost to justify it

…

Expand

Overcooked 2 takes a great formula from Overcooked, created by the developer duo at Ghost Town Games, one of whom was a chef in a past life,

Overcooked 2 takes a great formula from Overcooked, created by the developer duo at Ghost Town Games, one of whom was a chef in a past life, and extends it with a plethora of new features and game mechanics. The most important new feature of Overcooked 2 in my mind is online play, meaning that I can play with my friends and family overseas.
The whole game design is so pretty and so functional and levels are really fun to play. In an interview, the creators have stated that the original game design was honed during years of presentation at game conferences with loads of feedback incorporated. What we have in Overcooked 2 is a clear result of this extensive process - game that is fun to play, perfectly challenging and great for cooperative play.
Having played the first game on PC, I'd also add that this Nintendo Switch version of Overcooked 2 runs smoothly and flawlessly and is perfect for a platform so well suited to on-the-fly multiplayer and coop games.
Well done devs, can't wait for more!

…

Expand

Its so fun. Addicting as all hell! Amazing for couch co-op. Me and my girlfriend played it all and loved it. A tad bit short. We got The dlcs

Its so fun. Addicting as all hell! Amazing for couch co-op. Me and my girlfriend played it all and loved it. A tad bit short. We got The dlcs but i still feel The base game should be bigger. Decently difficult at Times.

…

Expand

Indeed, the game has more receipt to cook and more fun to play. It also reduces some of the difficulty for groups of people playing which you

Indeed, the game has more receipt to cook and more fun to play. It also reduces some of the difficulty for groups of people playing which you are more easy to get 3 stars even play as 4 people (friendship not so easy to destroy huh :) )However, there are some bugs which are so annoying when played, sometimes, dish/ food stuck at the place where it shouldn't be and cannot be picked up any more. overall to say, it is worth a try!

…

Expand

It's a fun experience for teamwork skills and it also has unique stakes to make the game harder

Full disclosure; I have not beat the game fully I am reviewing it from the perspective of having played as far as I have gotten and doing a

Full disclosure; I have not beat the game fully I am reviewing it from the perspective of having played as far as I have gotten and doing a bunch of online, for fun, already. I have played with a friend mostly so that helps I feel as the game is all about co-op. If you played entirely solo or didn't have friends who were interested in this game you might like it less. Also I did not play the first Overcooked so this was entirely my first time with this game.

-----------------------

I chose to get Overcooked 2 on the Switch because to me it seems like a Nintendo Switch title. I have other platforms and thought about getting it on PC instead but I chose the Switch. The option to play a simplistic type of game like this on the go wherever you are is nice. Pick up and play put it down when you need to is what I love about the Switch as a platform and this game fits that perfectly as you can play a level or two if you don't have long or you can play for hours on mobile then dock it up and play on the tv where it seemingly is no different to the other console/PC versions.

But I wanna talk about that Switch exclusive mode some more. Being able to play this mobile is what shines best about the Switch version. The game is all about local or online co-op, even with just one other player having a partner makes the game that much better. You can play it solo switching back and forth between controller both players and that can be fun trying to beat a level by yourself but ideally you'll want a friend to get this game with you -- if not 3 or 4.

The Switch version lets you use a single pair of joy-cons and have two players playing. You don't need a second controller like the other platforms. That is a nice benefit to their version and I'de take advantage of that but I've found myself preferring to use an actual controller anyways while playing if i can. I have a Nintendo Pro controller and an extra wired controller that anybody uses when playing two players online or single player story in co-op.

The bad:

While playing un-docked, in handheld mode, it is very playable still it just isn't up to par as playing it on a tv. Luckily you can play online with two players on the same screen and it doesn't split the screen or anything. The issue is when playing with two on handheld, or even by yourself, you do mess up more easily and movements and actions are imprecise. You can tell the difference when playing of the Switch screen with joycons then when playing docked off the tv with controllers. It just works better all around.

The next negative about the Switch version is Nintendo's poor online service. As of now it's definitely not on par with the other three competitors. Sure you can connect and play multiplayer online but this game is about coordinating teamwork and not having the option by default to have voice chat is pretty bad right now for Nintendo. The lack of voice chat is really off-putting in this type of game where you want communication with your teammates at all times. It's fine if you're playing with local friends or if you know the people your playing with online you can easily just jump on Discord but when playing with randoms not having that communication really dampers the gameplay.

I've read the Switch version isn't as snappy as the other consoles but I haven't played Overcooked 2 on any other platform yet so I can't say for myself. As far as I can tell the game is everything you come to expect from playing the first one or watching videos online of streamers playing it. You're going to have a blast. If you are unsure but think you'll enjoy it from what you've seen of it I'de say give it a shot. If you got friends interested in it with you then go ahead and pick it up for sure because it's going to be more enjoyable then. I can't suggest getting the Switch version over PC/PS4/Xbox but if that's all you have available to you then it'll work but you might have to do some workarounds for voice chat online.

…

Expand

Dont even try this game if you dont want to lose your partner

Me and my wife are going mad trying to pass "horde 8"