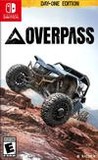 Summary:

In Overpass, the player takes control of powerful buggies and quads, scrabbling across extreme tracks and very hazardous terrain. This simulation, unique in its genre, pits the player against craggy slopes and puts their cool-headedness to the test throughout technical obstacle courses along

In Overpass, the player takes control of powerful buggies and quads, scrabbling across extreme tracks and very hazardous terrain. This simulation, unique in its genre, pits the player against craggy slopes and puts their cool-headedness to the test throughout technical obstacle courses along wilderness tracks.
Overpass's realistic physics engine requires you to keep precise and meticulous control of your speed and acceleration or you risk losing your grip and failing your crossing. You'll need to master the technical characteristics of official reproductions of buggies and quads from iconic brands such as Yamaha, Suzuki or Arctic Cat. Differential locking, 2 or 4 drive wheels, transmission type: the player has been given all the tools they need to discover the real vehicle options that will let them adapt their driving to the terrain.
The Career mode lets you manage your buggies and quads and choose the one best adapted to each track and terrain type in order to win the competition and attract sponsors. In multi-player mode, you'll need to know and master the slightest detail of each track in order to post the best times and show that you are truly the master of off-roading!

…

Expand
Developer:

Zordix Racing

Genre(s):

Racing

,

Simulation

,

Automobile

# of players:

Up to 8

Cheats:

On GameFAQs

Rating:

E
Overpass is an awkward, ornery racing game that stubbornly refuses to indulge your need for speed and instant gratification. It makes you work for every shaved second and clean section, with a unique brand of technical off-road obstacle negotiation that will have casual racing game players tearing their hair out - and a fair few hardened fanatics to boot. Given the lack of analogue triggers on the Joy-Con and even with this hardcore focus in mind, Overpass is simply too rough around the edges to win anything more than a heavily qualified recommendation. But a very specific sort of glutton for automotive punishment will lap it up.

Overpass certainly adds an interesting take on the genre, allowing for well-trodden ground to feel fresh. Unfortunately the difficulty of the game and poor handling will prevent most from making it past the tutorial.

There is a lot to like about Overpass. Unfortunately, there are also a lot of issues. The overall idea is great and offers something that a lot of gamers won't have experienced. There are some moments of visual beauty as well, but the frame rate really struggles to keep up. This is also a seriously challenging game with the difficulty level only changing the time that the other drivers take to complete the course. It would have been helpful for an easier difficulty to provide you with more grip and less chance of flipping your vehicle over. If you want to try a different driving experience, Overpass may be the game for you. Just be prepared for a challenge.

Overpass could have been more successful if it had significantly improved its gameplay. However, its huge graphic and playable technical glitches and its unbalanced difficulty can ostracize the title.

OVERPASS is a lazy port from an established team which will leave any Switch racing fan feeling disgruntled and disheartened. It could and very easily should have been much more, and in its current state, isn't worth a second glance.
Could use some optimisation, weak rumble can't hardly tell and HD rumble would be good feedback for what the vehicle is doing. Slightly

Could use some optimisation, weak rumble can't hardly tell and HD rumble would be good feedback for what the vehicle is doing. Slightly suffering from pop when really traveling. Definitely needs dedicated look stick, limitations of hardware, nintendo analogue triggers please! Despite this caveats loads of fun in first person/cab view. Absolutely loving it. There's more to the quad driving and more rewarding than buggies. Both fun excellent career mode with great implementation of damage mechanism. Yet to try online and multi. Add more when played longer, must have game, and I've got nearly all the vehicle based racing on switch

…

Expand