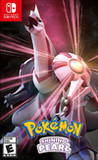 Summary:

The adventure through the Sinnoh region has been reborn. Experience the nostalgic story from the Pokémon Diamond and Pokémon Pearl games in an adventure reborn on the Nintendo Switch system. Adventures in the Pokémon Brilliant Diamond and Pokémon Shining Pearl games will take place in the

The adventure through the Sinnoh region has been reborn. Experience the nostalgic story from the Pokémon Diamond and Pokémon Pearl games in an adventure reborn on the Nintendo Switch system. Adventures in the Pokémon Brilliant Diamond and Pokémon Shining Pearl games will take place in the Sinnoh region. Rich in nature and with Mount Coronet towering at its heart, Sinnoh is a land of many myths passed down through the ages. You'll visit many different locations in the Sinnoh region, while striving to become the Champion of the Pokémon League. The original story has been faithfully reproduced, and the sense of scale in the originals' towns and routes has been carefully preserved. People who played Pokémon Diamond and Pokémon Pearl can revisit familiar places and relive familiar scenes once more. For those setting out through Sinnoh for the first time, plenty of new encounters and surprises await.

These remakes include easy-to-understand, player-friendly conveniences of the modern Pokémon series, plus up-close-and-personal Pokémon battle scenes.

Whether you played Pokémon Diamond or Pokémon Pearl back in the day or you're encountering these games for the first time, there's something for everyone to enjoy.

You'll choose Turtwig, Chimchar, or Piplup to be your first partner Pokémon and then set off on your journey.

Turtwig
Category: Tiny Leaf Pokémon
Type: Grass
Height: 1'4"
Weight: 22.5 lbs.
Ability: Overgrow

Made from soil, the shell on its back hardens when it drinks water. It lives along lakes. It undertakes photosynthesis within its body, making oxygen. The leaf on its head wilts if the Pokémon is thirsty.
Chimchar
Category: Chimp Pokémon
Type: Fire
Height: 1'8"
Weight: 13.7 lbs.
Ability: Blaze

It agilely scales sheer cliffs to live atop craggy mountains. Its fire is put out when it sleeps. Its fiery rear end is fueled by gas made in its belly. Even rain can't extinguish the fire.
Piplup
Category: Penguin Pokémon
Type: Water
Height: 1'4"
Weight: 11.5 lbs.
Ability: Torrent

Because it is very proud, it hates accepting food from people. Its thick down guards it from cold. It lives along the shore in northern countries. A skilled swimmer, it dives for over 10 minutes while hunting.
Along the way, you'll be able to encounter the Legendary Pokémon Dialga in Pokémon Brilliant Diamond or Palkia in Pokémon Shining Pearl.
Dialga
Category: Temporal Pokémon
Type: Steel/Dragon
Height: 17'9"
Weight: 1505.8 lbs.
Ability: Pressure

It has the power to control time. It appears in Sinnoh-region myths as an ancient deity. This Pokémon is spoken of in legend. It is said that time began moving when Dialga was born.
Palkia
Category: Spatial Pokémon
Type: Water/Dragon
Height: 13'9"
Weight: 740.8 lbs.
Ability: Pressure

It has the ability to distort space. It is described as a deity in Sinnoh-region mythology. It is said to live in a gap in the spatial dimension parallel to ours. Palkia appears in mythology.

…

Expand
Developer:

ILCA, Inc.

Genre(s):

Role-Playing

,

Trainer

# of players:

Up to 4

Cheats:

On GameFAQs

Rating:

E
Please enter your birth date to watch this video:
You are not allowed to view this material at this time.
Pokémon Brilliant Diamond & Pokémon Shining Pearl – Legendary Encounters
For anyone new or returning to the Pokémon series, Brilliant Diamond & Shining Pearl is a perfect starting point that bridges the gap between classic and modern Pokémon games. The quality-of-life additions make the game more accessible without making it feel bloated, the art style is simplistic and cute, and the gameplay mechanics will keep players moving through the adventure with ease. For veterans of the series, these versions are an easy recommendation and an excellent recreation of a fan favorite. With only a few exclusive Pokémon between Brilliant Diamond & Shining Pearl, either one is an excellent choice for any player.

Taken on its own, without the history of the franchise and the desire to see it be more, Pokémon Brilliant Diamond is a great RPG. There's a wide variety of content, the gameplay is fun and polished, and the presentation of the remake is charming and warm. While it's easier to recommend to newer Pokémon fans than those who played the Nintendo DS originals, taking another trip around a much more visually striking Sinnoh region turned out to be more satisfying than I anticipated. I'm certainly not in a hurry to leave it any time soon; that's for sure. However, with Pokémon Legends on the horizon, this one-two punch of Pokémon titles could be a winning way to close out one year and welcome in another, with a blast from the past followed by something we haven't really seen before. That's a Jigglepuff double-slap I can get behind.

Pokémon Brilliant Diamond and Shining Pearl are incredibly faithful remakes of Diamond and Pearl, warts and all. There are some nice new additions that enhance the experience, and the visual style is unique and quite good-looking. It's hard not to recommend these to any Pokémon fan or newcomer to the franchise. There might be a few negatives, but none of them take much away from the overall excellent experience.

Pokémon Brilliant Diamond and Shining Pearl play it safe, faithfully remaking two classic DS games -- at times to a fault.

These remakes are totally serviceable and a very good time for any Pokémon fan out there. There is however a nagging sense that more perhaps could have been done, especially for fully priced releases. The Pokémon franchise is big, the company behind these games makes millions off of these and yet there is a feeling time and time again that we're not getting the full AAA experience that such selling numbers should warrant, and this is seen very plainly in how technically dated these games look, even if artistically speaking they are still super cute. We are pleased with these remakes for sure, they're jolly good fun... but we're not impressed and this has to change in the future for the franchise!

Pokémon Brilliant Diamond and Shining Pearl does little new, but therefore also little wrong. The atmospheric remakes offer a faithful Pokémon experience with some subtle (and less subtle) changes to the formula. You should not expect more from it.

By attempting to remain as faithful as possible to the original games, this remake has ended up with a great deal of problems. While other Pokémon games (including the remakes) have continued to evolve the franchise, Pokémon Brilliant Diamond and Shining Pearl will likely only be enjoyable for players who have a nostalgia for the originals.
Just glad they managed to find an art style that finally suits the pokemon series.

This review contains spoilers. Llegué con una antorcha para quemarle la casa a IlCA estudios pero no. Este juego es entretenido, viciante. Sin

This review contains spoilers. Llegué con una antorcha para quemarle la casa a IlCA estudios pero no. Este juego es entretenido, viciante. Sin darte cuenta tienes 20 horas jugando. Para ser un remake me gustó mucho, lo recomiendo. Collapse

…

Expand

I love this game, I grew up playing the original on the DS and this hits the nostalgia hard. Putting that aside, these are still good games.

I love this game, I grew up playing the original on the DS and this hits the nostalgia hard. Putting that aside, these are still good games.
Are they perfect? no
Are they fun and true to the original? yes

the good: I feel like most of the people giving bad reviews expected as drastic of a change as we saw with sword and shield, which this game was never supposed to be. It has tons of extra pre and post game content, quality of life changes, and everything you loved from the originals. This game was not marketed as or meant to be something more than a remake that's faithful to the original. There are new legendries, extra battles, easier shiny hunting, the new XP sharing system, and the game is more challenging than the originals at a lot of points. Basically if you like pokemon or liked the original games you will like this game.

the bad: the price, $60 or $120 for both, is steep. I think $30 would be a much more fair price for one game. There were people who experienced soft locks and bugs, I was not one of those people. Since the 1.1.2 patch, all of those issues have been fixed. I know a lot of people wish they could turn off the new leveling system, I think that should be an option as well, but I also don't mind the XP sharing system. They added a penalty for time skips, so if you change your clock time manually then all timed events (trees, berries, timed pokemon, etc) will freeze for 24 hours. I hate this penalty, as they kept in the annoying timed events like trees taking six hour to find pokemon and berries taking hours of time to grow; they should've found a middle ground. They kept the original battle tower and shop, I think this is bad because the grind to level up pokemon post game takes a long time - I like how easy it was in sword to get XP or rare candies to level up and try new teams, this is a quality of life thing that should've been added. I also think they should've kept the sword and shield shiny hunting and IV hunting methods, the new additions are good, but not preferred imo.

the mixed: some people complain that there are glitches you can exploit to duplicate pokemon and items, I personally think these are fun and since they only effect your offline play that they do not hinder the game or other people at all. There are also glitches that let you get timed event pokemon early, since this only effects offline play, I don't see it as an issue and it lets you play the game at your own pace. The post game grind feels like its too much, in order to get legendries you need to do a lot of tedious farming, this could've been optimized better.

Overall. the games are what they were marketed to be, a new coat of paint with a few quality of life features added. This game is far better, especially after the patch, (although its annoying they didn't fix the issues beforehand) than the user score suggests. Its worth playing.

…

Expand

Some of the complaints here are amusing. Text boxes galore that statesbits raining, your pokemon fainted, pokemon awaiting directions... that

Some of the complaints here are amusing. Text boxes galore that statesbits raining, your pokemon fainted, pokemon awaiting directions... that has been in every pokemon game, this is standard in the series; children still play this game and it is needed.

Overall decent remake. I love the art style, chibis are cute, everything pops and the colors bring life to the game.

My main complaint -The Game Is Too Easy. Please please pleeeeeease stop woth the exp share for the entire team and when catching pokemon. The pokemon level much too quickly. Or revert to Pokemon X and Y by allowing us to turn it off. I hate feeling trapped by how I should play the game, give us a choice.

Im not going to write a novel of a review since i thought the contests and underground explorer changes add tons of gameplay time.

Now i understand this is for "children" in some peoples eyes, but a large percentage of the player base are adults who grew up with the series and have played and bought every game released. Ive been reading didnt blog posts and cannot understand how nintendo/gamefreak cant see the large exodus that will happen if they dont tweak the difficulty (or allow the users to turn the handicaps off). Greatly disappointed by this remake, not in relation to the presentation, but due to the handicaps placed on an already easy game.

That is another point id like to make. Those of us who played Red and Blue as children, we know how difficult that game was. Guess what, we beat it over and over again while learning and sharpening our skills. Stop babying and spoon feeding the current gen of kids. Its unnecessary.

…

Expand

This remake tries to be a faithful adaptation of the original, but they somehow managed to make it worse with the few quality of life

This remake tries to be a faithful adaptation of the original, but they somehow managed to make it worse with the few quality of life additions they chose to include. The worst offender is the always on XP share. It took what was one of of the closest Pokémon games to being a traditional RPG experience and turned it into a mindless slog through the antiquated design of the games unchanged original map. The change to the HM system was nice. I no longer needed to keep a Bidoof with me at all times in the overworld, but, for some reason, they decided to revert back to TMs breaking. The graphics, while trying to be a chibi reproduction of the original, somehow managed to be worse. The pixel art of the original, while probably a bit behind the times for the DS, was still elegant. I really thought the graphics of the Let's Go games was going to be Nintendo's low point for the series, but they proved me wrong. Even the movement feels bad. How they took a grid based top down game and made the movement feel bad is mind blowing to me. The controls feel imprecise and I was constantly colliding with environmental objects. The whole game just feels cheap, and yet it costs more than the original did. It just feels like they cut every corner possible to get the game out quickly. A good old fashioned cash grab. Thankfully the game was at least mostly bug free, but that's really the only praise I can give it. I regret buying this game, but not nearly as much as I regret the 24hrs I spent beating it.

…

Expand

most disappointing remake
no megas dexs sucks lazy remake gamefreak no care about series anymore

I don't recommend it.
The game has some serious issues like fps drops (30 to 19 fps). Graphics is not impressive at all compered to otherI don't recommend it.
The game has some serious issues like fps drops (30 to 19 fps). Graphics is not impressive at all compered to other switch games like Link's awakaning who uses the same chibi art style. And most importantly it has less content than the Platinum version on DS. It is the most lazy remake i ever seen.

…

Expand