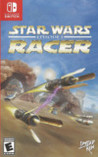 Summary:

Join Jedi-to-be Anakin Skywalker in the Star Wars race of your life! Relive all the thrills and excitement of the Podracer sequence from Star Wars: Episode I. Hang on tight - with afterburners on, Podracers max out at a simulated 600 mph! Race in furious competition against more than 21

Join Jedi-to-be Anakin Skywalker in the Star Wars race of your life! Relive all the thrills and excitement of the Podracer sequence from Star Wars: Episode I. Hang on tight - with afterburners on, Podracers max out at a simulated 600 mph! Race in furious competition against more than 21 opponents! Take on over 21 tracks in 8 unique worlds. Avoid hazards such as methane lakes, meteor showers and Tusken Raiders! Featuring spectacular 3D environments!

…

Expand
Developer:

LucasArts

Genre(s):

Racing

,

Arcade

,

Futuristic

# of players:

No Online Multiplayer

Cheats:

On GameFAQs

Rating:

E
Remembered perhaps even more fondly than The Phantom Menace itself by some fans, Star Wars Episode I: Racer is as fun as you recall. While some difficulty issues can arise, Aspyr has done a fantastic job bringing that exhilarating, break-neck speed action back to Nintendo hardware.

The feeling of speed and adrenaline that comes from pod racing have not aged one iota.

With games like Jedi: Fallen Order and The Old Republic, it's hard to say that Star Wars: Episode I Racer is one of the best Star Wars games out there, but I'd be hard-pressed to find another licensed racer I enjoyed as much as this one.

This port is certainly nothing to write home about, but the core game is a classic, priced at just $14.99. Nostalgia, and the ability to play in handheld mode, are enough to recommend STAR WARS Episode I Racer on the Nintendo Switch eShop to fans.

Star Wars Episode I: Racer is more re-release than remaster. A game that admittedly was rushed to market in 1999 to ensure it hit shelves in time for the film's release. So, the almost-there career mode feels a little undercooked in 2020 and the lack of polish to the AI stands out. But, it's simple premise – recreating the excitement and thrill of Star Wars Pod Racing is a winning one. For pure high-speed thrills in a galaxy far, far, away, they still don't get much better than this. And, getting to hear Watto hum the Cantina Theme is probably worth the price of admission alone.

As mentioned at the beginning of the review, your appreciation of Star Wars: Episode I: Racer appearing on the Switch will heavily depend on the rose tint of your glasses. On the one hand, the presentation is especially rough, and the lack of difficulty for most of the campaign makes the task of unlocking everything a chore — at least until the final few races become competitive. On the other hand, the sense of speed in races is still present, and the track design isn't bad when you consider how fast things are going. While those who have played the game before might get a kick out of being able to play it again on a modern, portable machine, others may be fine leaving this one alone.

Star Wars Episode 1 : Racer could have been a nice port on Switch, but the game still suffers from too many flaws to really satisfy. Fast and exhilarating, this Switch version seems unfinished, and features bugs, popping and clipping effects, without mentioning a horribly compressed soundtrack that does not justice to its brilliant composer.
Boas memórias da época de N64! Ótimo jogo, cheio de carisma, pistas rápidas e envolventes, mundos que saem do óbvio, poderiam ter aproveitado

Boas memórias da época de N64! Ótimo jogo, cheio de carisma, pistas rápidas e envolventes, mundos que saem do óbvio, poderiam ter aproveitado mais a franquia e fazer outras continuações! Muito legal terem relançado pra switch, mesmo se tratando de um Port.

…

Expand

Great game, very fun and challenging with nice presentation, my only gripe is the lack of online play, but aside from that it's a great game.

As a kid, Star Wars Racer was my favorite racing game on the Nintendo 64. So when I heard that they were remastering this game for the

As a kid, Star Wars Racer was my favorite racing game on the Nintendo 64. So when I heard that they were remastering this game for the Nintendo Switch, I was super excited! I picked up this game and played through it day 1. This is an interesting racer with the fact that it has several mechanics involved with it. The racing style represents a combination style of games like F-Zero and Mario Kart. There are no track battle items, but the turns aren't as cruel as F-Zero. I do have to state a couple of concerns for this game though. From time to time, I did notice a couple of graphical glitches. They did not break the game or hurt me for the most part, but I did encounter a collision glitch that happened once. The other thing I will caution to players is that the tracks can be long. While most tracks are between 3 and 5 minutes, there are some tracks that can be 8 minutes are longer. The other negative is that there was not an online mode included, but this for me is a nitpick. Overall, a very nice re-release of a old school classic.

…

Expand

I love this game so much. And I'm happy it came out on Switch, so I can play it on the go. However, there are some glitches (camera skipping

I love this game so much. And I'm happy it came out on Switch, so I can play it on the go. However, there are some glitches (camera skipping under the ground, crashes into thin air) and visual annoyances (I think it's not based on the PC version, but on one of the consoles instead, which seems like a strange choice for current-gen hardware) that distract me. I have sent my feedback to Aspyr and hope it's not an one-off release and they will still patch it :-). I will update my review right away.

…

Expand

Niemand kann mich halten, ich gehe über Wolken und wie geht es dir? Right off the bat I knew I loved Episode I: Racer. Nostalgiefaktor

Niemand kann mich halten, ich gehe über Wolken und wie geht es dir? Right off the bat I knew I loved Episode I: Racer. Nostalgiefaktor stimmt... als eine kleine Träne kullert.

…

Expand

I realise that this is not a full remake but I think anyone apart from those returning for nostalgia will be disappointed.

Star Wars fansI realise that this is not a full remake but I think anyone apart from those returning for nostalgia will be disappointed.

Star Wars fans will find the music to be very compressed. Even through an expensive home cinema system the soundtrack is tinny and has no dynamic range.

Those who haven't played the original and are just after a decent wipeout / F Zero style racer will find far better elsewhere. Fast RMX with its blinding speed and realistic graphics makes this game feel slightly boring. Its also in the same price range.

I am not saying that Episode 1 Racer is terrible. The framerate is smooth and the controls feel alright. It is just very dated and even at £12, too expensive.

…

Expand

Extremely disappointing.
LAN play was promised, but isn't there. (Checked after patch)