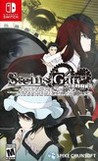 Summary:

Follow a group of young, tech-savvy "lab members" who discover the means of changing the past via e-mail using a modified microwave. Their experiments in pushing the boundaries of time begin to spiral out of control as they become entangled in a conspiracy surrounding SERN, the organization

Follow a group of young, tech-savvy "lab members" who discover the means of changing the past via e-mail using a modified microwave. Their experiments in pushing the boundaries of time begin to spiral out of control as they become entangled in a conspiracy surrounding SERN, the organization behind the Large Hadron Collider, and John Titor, who claims to be from a dystopian future.

…

Expand
Genre(s):

Action

,

Adventure

,

General

,

Visual Novel

# of players:

No Online Multiplayer

Cheats:

On GameFAQs

Rating:

M
If you've played the visual novel, this might be worth a pass, but the animation might be enough to make this a new experience for you. If you've never experienced Steins;Gate before, or you're new to visual novels, the vibrant characters, compelling story, and beautiful animation make this a perfect entry point.

One of the best visual novels ever made is back with a fantastic new look, and it is, more than ever, a game you cannot miss.

Steins;Gate Elite is a new way to discover the classic story, fusing the anime with the visual novel.

Regardless of whether you played the original game or not, this version is worth playing just only because you can witness that array of fantastic cinematic scenes. High level caring and respectful production values for an unforgettable story.

This is one of the best visual novel ever. It's a pity that this new version adds nothing more than anime style animated scenes and little extras, but, even in the way it is, we cannot recommend this story enough.

Steins;Gate is already one of the most dynamic visual novels, and the added anime cutscenes of the Elite version makes it worth exploring. If you can handle a main character who is extremely delusional and doesn't have a filter… you're probably comfortable dealing with me. Either way, Steins;Gate Elite is the best pure visual novel we've got right now.

Steins;Gate Elite lays down the welcome mat for newcomers whilst providing a much-needed excuse for eager fans to lose themselves in this stirring tale once more. Long-winded, technical dialogue segments are remedied with engaging animated scenes that keep you more thoroughly ensnared in it's compelling story.
great game kurisu best girl. definitely would recommend to any weeb out there. get it now

Steins;Gate Elite es un clásico que cualquier amante de las novelas visuales debería de probar. Una historia interesante y compleja de Ciencia

Steins;Gate Elite es un clásico que cualquier amante de las novelas visuales debería de probar. Una historia interesante y compleja de Ciencia Ficción, con personajes muy interesantes. Los gráficos, sacados del anime, son muy buenos. Los menús y controles son cómodos, y la música bastante acertada. La historia es realmente interesante, aunque en ciertos puntos pueda parecer un poco confusa. Totalmente recomendable, y una muy buena opción para iniciarse en el género.

…

Expand

The animation really brings the story to unmatched levels of perfection. Highly recommend experiencing some form of Steins;Gate, whether it be

The animation really brings the story to unmatched levels of perfection. Highly recommend experiencing some form of Steins;Gate, whether it be the game, anime or books.

…

Expand

If I could rate it above 10 I honestly would. Words alone can't describe this pure masterpiece. But I will try my best.

First of all,If I could rate it above 10 I honestly would. Words alone can't describe this pure masterpiece. But I will try my best.

First of all, Steins Gate uses butterfly effect and time travel styled plot most efficiently and incredibly than every other Movie, TV show, game, or whatever.. of those I have watched, and since I am a huge fan of this genre there aren't many that have slipped my grasp . It's thought perfectly well with so many details you can't even imagine. The story is a little bit composed at the beginning (that's not a bad thing) and serves as an introduction, but of course it's very mysterious that you love it if you are into time travel stuff. That helps so you can appreciate the ordeal of the main character later on, which a huge twist happens that changes completely the genre and turns into a thriller, with perfect development of the story with no thrill stopping moments and some of the most dramatic as well. The characters are incredibly well written and memorable, especially the main one which is one of my favorites of all time. The VN makes you overwhelmed with so many feelings and emotions (and it does that perfectly) and that makes it unforgettable and memorable for ever, and stuck in your mind for weeks later.

The dialogue is awesome, with seemingly great monologue of the main character, amazing voice acting and lots of humor, drama, despair.. You will feel everything.

The soundtrack is so good with the main theme being one of my favourite themes in general and the animations are great as well although they could be a little bit more polished here and there.

Also, the accessibility is really good with variety of options, imformation about stuff, and 50 save files!

As of the gameplay, it practically doesn't exist(except that you reply to some messages) because you only watch and read but since this is a VN, you can expect much of gameplay to begin with. The only VNs I have played before this are the Ace Attorney games (which I loved) and I never really read books in general, but after playing this one I am going to give this genre more attention since it deserves it. The game took me 50 hours to finish 100% and I loved every minute of it. I never got bored reading through it even though I am not used at reading in general. This masterpiece is a must play, best story in a video game, TV show or movie for me, that I have ever experienced and definitely one of my favorite video games of all time.

…

Expand

one of the very few games to bring a genuine tear to my eye, awesome characters, great story. might take a while to pick up but when it does

one of the very few games to bring a genuine tear to my eye, awesome characters, great story. might take a while to pick up but when it does you're in for a good ride.

and contrary to johnnyboyjr's review.... Suzuha is the best girl.

…

Expand

Great visual novel reboot using animated scenes from the anime. That's right, it's not just still images like most of the visual novels out

Great visual novel reboot using animated scenes from the anime. That's right, it's not just still images like most of the visual novels out there today -- I think this just set a new standard despite some of the shortcomings. This story starts off quite slow and it takes quite a few chapters for things to get serious... but when it does, it even gets dark. It was good enough to hook me into watching the anime and I'm compelled now to try the original visual novels to get the full experience.

Without spoilers, I noticed that there are some scenes from the anime that did not make it into the game. I'm a bit confused as to why they did this, considering that I felt those little scenes would've added a lot more definition to some of the characters. You can also tell from some very minor details that, since this game is inspired by the anime (which was a compressed version of the VN), re-stretching it out to the original VN's intent will leave some minor issues that I wish they would've worked to polish out. For instance, the anime scene might have shown a guy eating ramen and watching tv but the text says he's reading the paper. As such, I cannot give it a perfect score.

There are also some issues it suffers that other visual novels have solved years ago. This game has multiple endings, and if you don't save often, then you'll likely be doing a lot of skipping through chapters you've already been through. This game should've taken a timeline path that VLR used to help the user figure out where they need to make a different decision that will affect their ending path. I'd imagine some people get the earliest ending and don't feel compelled to keep going because they'll think "oh, that's it? This sucks!"

Not quite sure why there are so many negative user scores. My guess is either 1) they didn't stick to it until it got interesting, and/or 2) they never played a VN before and expected more interaction. My suggestion is if you've never played a VN before, then please go check out some videos of gameplay (at your own risk of spoilers, of course) before committing. It is a pricey game especially for anyone who's already seen the anime and played the original; however, from the standpoint of someone who has never experienced the content before, I felt like I got my money's worth.

…

Expand

I'm shocked at how generally positive the reception to the animation is. I loved both the show and the original game but I found them to be a

I'm shocked at how generally positive the reception to the animation is. I loved both the show and the original game but I found them to be a horrible and jarring mix here. It is great that this release gives a playable version of Steins;Gate on Switch and other modern consoles but I would absolutely not call this the definitive experience. if you're able, play the original game on Steam instead!

…

Expand