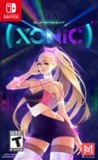 Summary:

Experience SUPERBEAT: XONiC, the new music game sensation that's bound to have you on the edge of your seat. Enjoy the visuals and effects as you play your way through over 50 unique songs and unlock tons of hidden rewards and items. Perform and perfect combos and show the world you're the

Experience SUPERBEAT: XONiC, the new music game sensation that's bound to have you on the edge of your seat. Enjoy the visuals and effects as you play your way through over 50 unique songs and unlock tons of hidden rewards and items. Perform and perfect combos and show the world you're the best by climbing the Ranking system.

…

Expand
Developer:

Nurijoy

Genre(s):

Action

,

Rhythm

,

Music

# of players:

No Online Multiplayer

Cheats:

On GameFAQs

Rating:

T
Superbeat Xonic on the Switch is another fantastic way to play one of the best rhythm games in the last few years but one that should've made better use of the platform's unique features.

A fiercely difficult but engrossing experience, Superbeat: Xonic has a sense of musical euphoria that can only be experienced in a quality rhythm game. While it might take some time to acclimate to the gameplay, you're in for a treat. Pick this up if you're a rhythm game fan: you won't regret it.

Yet another music game lands on Switch, with tons of content and very interesting gameplay.

SUPERBEAT: XONiC EX is a great musical game with cool challenges. Perfect for those who enjoy nowadays music and want to have fun playing.

Superbeat: Xonic is an intoxicating new entry for an ever-growing genre in the Switch library. A great track list and almost flawless game mechanics, unfortunately spoiled by some issues with the touch screen.

An extremely challenging rhythm game that fans of DJMax will adore. It is no fault of Superbeat: Xonic itself, but the asymmetrical design of the Switch controls means this can take some getting used to, particularly if having played extensively on PS Vita or elsewhere, but being able to play in tablet style with touch controls and the Joy-Con removed eradicates that entirely. The only problem at time of writing is that the touch controls seem bugged. A patch is on the way, which will hopefully mean Xonic will be an essential purchase for Switch rhythm fans.

From the unergonomic and inconsistent controls to glitches and a lack of content, I feel massively let down by what SUPERBEAT offers. Unless you're already a hardcore fan of this game that got rid of their Vita or want a portable version, I don't see why a rhythm gamer would fork out for this game when something like Deemo already exists on the Switch, giving a quality experience with a lot more bang for your buck.
Buen Juego entretenido dinámico con buenos temas musicales falta quizás mas modos de juego pero en general no te arrepentirás de la compra