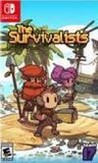 Summary:

Hunt (or be hunted by!) animals for food and an array of mythical enemies, who aren't necessarily pleased to see you. Get quests from a Mysterious Stranger or find them washed up on the shore. Prepare to trek into a procedurally generated wilderness, with a variety of biomes, for an

Hunt (or be hunted by!) animals for food and an array of mythical enemies, who aren't necessarily pleased to see you. Get quests from a Mysterious Stranger or find them washed up on the shore. Prepare to trek into a procedurally generated wilderness, with a variety of biomes, for an adventure that's unique to every player. Build Together, Survive Together. Finding the perils of island life too much or just looking to share your building expertise with friends? The Survivalists has you covered! Complete joint adventures, gain loot, trade and ultimately survive together and as you and up to three fellow castaways explore an island paradise.

Monkey See, Monkey Do!
If you're in need of a builder, a lumberjack or even a soldier, the monkeys on the island can be tamed and trained to help you with everyday tasks or back you up on raids to a fanatic camp! The Mimic System means a wide variety of functions can be performed by your banana loving friends, with monkey management becoming key to surviving the island's challenges.

…

Expand
Developer:

Team17

Genre(s):

Action Adventure

,

Survival

# of players:

Up to 4

Cheats:

On GameFAQs

Rating:

E10+
The Survivalists is a game that doesn't innovate too much but is fun thanks to its automation, its artistic design and its performance on Switch. Unfortunately, automation sometimes fails and we have a hard time knowing why a monkey doesn't do something because of its very small icons.

Ninty Fresh Magazine

Dec 21, 2020

The Survivalists adds monkeys to the classic sandbox survival formula. It's a match made in the canopies, even if it doesn't always work right. [Issue #2, p.71]

A cute, absorbing, and often clever survival game that, despite its flaws, is perfect lockdown fodder.

The Survivalists has a lot of potential and it's got a strong framework in place to evolve beyond its current iteration thanks to its tone, art style, and the unique feel of some gameplay elements. At the moment however the game is a little bit thin on the ground content-wise, and this is worth bearing in mind for those expecting a title they can pour plenty of hours into. This is no doubt going to be expanded over time, but it's worth bearing in mind for those expecting a particularly deep experience – and those who do pick it up may want to take their time with it.

The Survivalists is a classic endurance adventure with tried and tested elements, accompanied by a defining mechanic that, sadly, could be better implemented. But it's still great fun and fans of management sandbox games are well catered for.

Some will get a lot out of The Survivalists, and we'd find it difficult to argue that it isn't fun – but your mileage will seriously vary on how quickly you burn out on its lackadaisical approach to the danger that really defines the survival genre. As an entry-level take on the principles it's pretty good, but even the least experienced survivor will reach endgame gear quickly and find there's just not a whole lot left to do. Updates could (and hopefully will) mitigate this issue, but The Survivalists – as it is now – feels a little... well... deserted.

The Survivalists is the latest in a crowded genre. Bright visuals can't hide that it is a fairly light experience at present, but there is some enjoyment to be had if you can look past the slightly uncomfortable sub-text of its central mechanic.
The Survivalists is truly a hidden gem on the Switch. I have played it for around 50 hours and I enjoyed every second of it. There is tons of

The Survivalists is truly a hidden gem on the Switch. I have played it for around 50 hours and I enjoyed every second of it. There is tons of content and you truly never feel like you ran out of stuff to do. There were some small annoyances for 100 percenting the game like really hard items to find but I can't bump it down because of the small price and the large enjoyment time. I highly recommend.

…

Expand

Amazing Game. As of 2021, Switch version I did'nt experienced any bug going through it. Despite the cute graphics, this is not a game for

Amazing Game. As of 2021, Switch version I did'nt experienced any bug going through it. Despite the cute graphics, this is not a game for kids, it's a much tougher and more complex and deep game than it looks. It's true the monkeys can be a chore using at first, but if you're patient enough you'll get the hang of it. The game is also quite long, over 50 + hours for a good roundup. If you like Stardew valley but looking for something a bit more challenging this game is a must.

…

Expand

Broken port.

FIRST try the free demo. Digital = 964,00 MB; Is cheaper physical: https://www.play-asia.com/the-survivalists/13/70dj77; youBroken port.

FIRST try the free demo. Digital = 964,00 MB; Is cheaper physical: https://www.play-asia.com/the-survivalists/13/70dj77; you get raids when you are far away. sucks. Do NOT quit your game while one of your monkeys are holding a chest. I did and when I reloaded he didn't have the chest anymore and I lost SO MANY important items!

In other words, nice idea, but needs a lot of debugging. Maybe consider a second edition or a third or just forget about it. The fact the bug is present in all implementations means the devs were lazy enough to directly port the code.

…

Expand