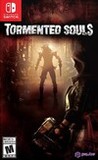 Summary:

While investigating the disappearance of twin girls at Winterlake - something terrible happens to Caroline Walker. Waking in the dead of night, naked in a bathtub - and hooked up to some decrepit medical equipment, Caroline must fight for her life as she explores the halls of an abandoned

While investigating the disappearance of twin girls at Winterlake - something terrible happens to Caroline Walker. Waking in the dead of night, naked in a bathtub - and hooked up to some decrepit medical equipment, Caroline must fight for her life as she explores the halls of an abandoned Mansion turned hospital.

Tormented Souls deliberately sets out to draw inspiration from classic survival horror. From Resident Evil and Silent Hill, to Alone in the Dark - Tormented Souls is a modern take on the fixed-perspective adventure, offering a modernised control scheme and a more dynamic camera, while retaining everything that made those games so beloved by fans.

…

Expand
Developer:

Dual Effect

Genre(s):

Action Adventure

,

Survival

# of players:

No Online Multiplayer

Cheats:

On GameFAQs

Rating:

M
Tormented Souls is a fabulous return to classic survival horror, the likes of which haven't been seen for years. Even horror novices will gel with it because it updates the genre just enough to be accessible in 2022.

Tormented Souls is a true homage to the survival horror classics of the '90s. It's sold as a modernisation of the genre, but really, it's the opposite: a game that resists the allure of polish and convenience, and instead commits to the clunky, unwelcoming design—deliberately—that makes those classics tick. That approach won't appeal to everyone, and the balance isn't always spot on, but when it comes to dredging up some creepy atmosphere and instilling a constant sense of tension and unease in the player, Tormented Souls hits the mark.

Tormented Souls is a fine addition to the survival horror genre, the influence it takes from Resident Evil and Alone in the Dark is evident, and this only adds to the creepy experience.

Tormented Souls is a great survival horror game, and on Switch it's more impressive than ever. The visuals are good, the puzzle-heavy gameplay remains engaging, and being able to quickly bring up the map makes a world of difference. If you're an old-school survival horror fan and haven't played this yet, get it bought, pronto.

Aside from the changes to the feel and efficiency with the cursor controls and some stuttering cutscenes, Tormented Souls remains one of the few successful attempts at recreating that late 90s survival horror vibe. Cinematic camera movements and a beautiful but eerie atmosphere (not to mention nightmarish monsters) lends some scariness to the game, while terrible voice acting and a strangely bare plot leaves players with more questions than answers by the time the game is over. It would seem the best and most authentic way to play Tormented Souls would be on Playstation 4, Xbox One, or PC. The very slight graphical improvements on a smaller mobile screen don't take away the benefits of playing on other consoles.

Although Tormented Souls is a commendable homage to classic survival horror games, its focus on the past is unfortunately its biggest downfall.
"Not only is Tormented Souls an excellent traditional survival horror game, but it's probably one of my favourite survival horror games too.

"Not only is Tormented Souls an excellent traditional survival horror game, but it's probably one of my favourite survival horror games too. It may not top the absolute classics, but it comes pretty damn close. Whilst the game will probably only appeal to fans of the genre, those who are should fall in love at first fright. "

https://theeliteinstitute.net/2022/04/30/tormented-souls/

…

Expand

This games great on the Switch, although playing it on the TV is recommended. If your a fan if true survival horror you need to try this game

This games great on the Switch, although playing it on the TV is recommended. If your a fan if true survival horror you need to try this game out..Sure it fall short of the REs and SHs, but it's a damn good effort..Amazing atmosphere with well balanced gameplay just like the legends use to do..I love the protagonist, she is instantly compelling in the best way making you want to save her.

…

Expand

Tormented Souls are definilly a game that have a specific nich, for fans of survival-horror of 90's like Resident Evil 1 and Silent Hill,

Tormented Souls are definilly a game that have a specific nich, for fans of survival-horror of 90's like Resident Evil 1 and Silent Hill, probablly will like the game.
The port to switch was great, unfortunelly have some graphics downgrade, but don't have nothing to do about his, but control, sounds and ilumination still great.
We need analyze the game for that he is and not for what he could be, so thinking in on the purpose of game be a Survival-Horror 90's the game are great, theunique thing that history have some lacuns and this stay open for much personal interpretation.

…

Expand

El Juego me gusta mucho, no lo había jugado hasta el momento, pero quería probarlo en Nintendo switch. Me está gustando mucho y me gusta mucho

El Juego me gusta mucho, no lo había jugado hasta el momento, pero quería probarlo en Nintendo switch. Me está gustando mucho y me gusta mucho la atención al detalle en los puzzles.
Me encanta como hace memoría a los antiguos survival horror, y mejora algo la formula, tanto en puzzles como en jugabilidad.
No todo es bueno, ya que el port de nintendo switch esta algo falto de una buena optimización y más aún en el modo DOC, aunque en el modo portable también falla algo, aunque no se nota tanto como en el modo DOC, En todas las cinematicas el juego va muy bajo en tasa de frames, y en algunos puntos del mapa, sobre todo se nota en el modo DOC, se nota demasiado el aliasing (los dientes de sierra).
Lo dicho, es un muy buen juego, me lo he pasado genial jugandolo, pero le hace falta una buena optimización, tanto en modo DOC como en modo potable.

…

Expand