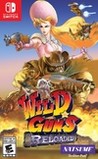 Summary:

In Wild Guns: Reloaded, Annie has tracked down the famed bounty hunter Clint to get revenge on the Kid gang. With eight stages, each with three zones, there's plenty of bad robots to blast away
Developer:

NATSUME ATARI Inc.

Genre(s):

Action

,

Platformer

,

Shooter

,

2D

,

Light Gun

# of players:

No Online Multiplayer

Cheats:

On GameFAQs

Rating:

E10+
Wild Guns Reloaded sets the new benchmark on how to bring back old Super Nintendo titles to the current generation of gamers. It not only manages to remain faithful to everything that made up the original such a stellar effort, but actually offers some worthwhile new content. With the continued absence of the Virtual Console service on Switch (and the rising costs of a complete-in-the-box original Super Nintendo versions of the game), we offer little refrain in welcoming one of Natsume's finest games home.

For gamers who still pine for the days of polished shoot 'em ups that leave nothing to chance, Wild Guns Reloaded can't be missed. Sure, it doesn't take long to reach the end, but the fun is in overcoming the impossible and doing it with style. The scoring system, while not ridiculously complex, does require players to make a lot of difficult choices. However, if they are willing to put in the work, they will soon discover that this awesome game will never let them down.

Wild Guns Reloaded is among one of the best examples of bringing an older title over to a newer system. While it would have been one thing to do a simple port job of this SNES cult-classic, the wealth of fresh new content adds another layer to this already excellent shooting gallery experience. Steeper price aside, this is a perfect fit for Switch offering an action-packed, fun time on your own or with friends.

Wild Guns Reloaded isn't necessarily a game I asked for, but I really enjoyed it nonetheless, especially on handheld mode. It's colorful, vibrant, and an artistic beauty. Among other things, it remains to be a very fun title from a time when video games were still evolving. With some extra polish and new ways to play the game, Wild Guns was remastered as best as it possibly could have been. It's not new or special in today's landscape, but I still think that it's a title everyone should pick up and play for a really great time.

The game might be dated in some respects, with a punishing difficulty and steep initial difficulty curve, but it's worth powering through to learn the intricacies. Aside from that, since it does have an arcade background, it's a tiny bit on the short side with the only carrot on the end of the stick being online leaderboards. Wild Guns Reloaded might still sidle into cult classic status on Switch, but at least if you do dive into it now, it'll be with the novel new characters, stages, and polish.
Éste juego fue para mi una joya en SNES y poder disfrutar de ésta reversión en Switch es un lujo enorme. Los nuevos personajes y niveles

Éste juego fue para mi una joya en SNES y poder disfrutar de ésta reversión en Switch es un lujo enorme. Los nuevos personajes y niveles generan una aventura bastante fresca que se disfruta sobretodo con un buen grupo de amigos para competir y cooperar codo a codo a la vieja escuela.
El juego es un shooter no tradicional, en el cual comandas en tercera persona a diferentes personajes que pueden moverse por la pantalla para esquivar ataques mientras pueden disparar a los múltiples enemigos que aparecen en la pantalla, con un estilo arcade y una dificultad avanzada.
La Nintendo Switch es el hogar perfecto para "Wild Guns Reloaded", ya que es muy fácil compartir con 4 amigos, o 2 en la pantalla de la Switch. Y en especial tenerlo portátil se disfruta a pleno ya que los gráficos no varían en una pantalla gigante o pequeña ya que es estilo 16 bits con un gran rendimiento en cualquier modo.

…

Expand

To be honest this is a bit underwhelming. I enjoyed playing the original on the SNES back in the 90s but I was really expecting more

To be honest this is a bit underwhelming. I enjoyed playing the original on the SNES back in the 90s but I was really expecting more enhancements of the original here. Some of the smallish bullet-sponge bosses are more irritating than fun to battle against and the game is really short for the exorbitant $30AUD asking price. Bot Vice on the Switch is a far better game if you are looking for something in this genre.

…

Expand