Network:

Starz

Series Premiere Date:

Jan 25, 2014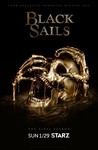 Starring:

Mark Ryan

,

Hakeem Kae-Kazim

,

Luke Roberts

Summary:

Created by creator Jonathan Steinberg as a prequel to Robert Louis Stevenson's novel Treasure Island set in 1715, pirate Captain Flint (Toby Stephens) and his crew prepare to fight the British Royal Navy over New Providence Island with the help of Eleanor Guthrie (Hannah New), a daughter of

Created by creator Jonathan Steinberg as a prequel to Robert Louis Stevenson's novel Treasure Island set in 1715, pirate Captain Flint (Toby Stephens) and his crew prepare to fight the British Royal Navy over New Providence Island with the help of Eleanor Guthrie (Hannah New), a daughter of a local smuggling kingpin.

…

Expand

Genre(s):

Drama

,

Action & Adventure
Please enter your birth date to watch this video:
You are not allowed to view this material at this time.
Not even a guilty pleasure, Black Sails is arrrrrr-estingly good. [24 Jan 2014, p.65]

A winsome opportunist (Luke Arnold), a ruthless captain (Toby Stephens) and a tough-talking tavern owner (Hannah New) are just a few of the colorful characters involved in a brutal power grab in the 18th century Bahamas.

Filmed in South Africa, Sails is awash in lush scenery, bloody expensive sets and brutal action. You've probably never seen a sword fight like the one that caps tonight's episode.

Black Sails is a handsome illusion at times, but it rarely finds its way beyond that.

The drama is nothing more than a video game, with a story secondary to the blood and sex.

The cast is stunning, the music enticing. Yet Black Sails lands too quickly on an island (shot in Cape Town) and the best parts of the spectacle--the open sea vistas and the claustrophobic shipboard scenes--run aground.

What's mystifying is why Starz and the creators of Black Sails seem to think that, given the expanding array of options available to consumers, any content creators can get away with peddling fare that can't even manage to be consistently mediocre.
It baffles me that people give this show anything below a 7. Simply put this show is amazing. Every single episode is almost like watching a

It baffles me that people give this show anything below a 7. Simply put this show is amazing. Every single episode is almost like watching a full length, big budget movie. 1. The storyline is amazing with it's plot twists, and the killing of main supporting characters just like in GOT. 2. The costumes, settings and scenery are absolutely stunning, there is almost no CGI involved, and whenever there is some, it looks realistic and uses spectacular angles, like flyby's and birds' eye's view of ship battles. 3. The acting by all actors is top notch, cand find a flaw in any of it. This is the ONLY show that i can put along sides with Game of Thrones, and due more realistic setting, I prefer this shows at some level, more than GOT.
There is also a good line of moral philosophy that is being used throughout the series, especially in the later seasons, and it's not some random scripted stuff, but philosophy that actually makes sense. Absolutely a must watch, this show deserves more credit, it's simply the best show until GOT is out.

…

Expand

Black sails is an amazing action, adventure drama set in 1715 at the golden age of piracy. Unlike other series it has a sense of realism that

Black sails is an amazing action, adventure drama set in 1715 at the golden age of piracy. Unlike other series it has a sense of realism that is made from the violence, nudity, language and plot similar to game of thrones. The characters, setting and plot are all amazing and keep you at the edge of your seat. Infact this may be my favourite series yet behind GOT.

…

Expand

This is really a decent pirate show... If you like the style and atmosphere of Starz's Spartacus series you'll certainly fall in love with

This is really a decent pirate show... If you like the style and atmosphere of Starz's Spartacus series you'll certainly fall in love with this too - raw and real experience of a pirate's everyday life including brutality, violence, sex and nudity. Cast seems to be fine and especially Toby Stephens works quite well as Captain Flint. Visuals, music and costumes are amazing both on sea during the action as well as on the land. Big budget works pretty good and I have to admit that this shows looks very promising after the first episode.
Hint: Don't take mainstream (full of unsound and empty arguments filled with "political correctness") reviews too seriously

…

Expand

Uncommonly good. This under the radar series can more than hold its own (and then some) with any of the other current premium channel series

Uncommonly good. This under the radar series can more than hold its own (and then some) with any of the other current premium channel series out there, with the possible exception of Game of Thrones. Two episodes in and Season 2 is off to a great start.

…

Expand

Good production but a few technical flaws, one that stands out is the black flag flowing opposite of the wind on the sails of the ship.

Good production but a few technical flaws, one that stands out is the black flag flowing opposite of the wind on the sails of the ship. Another is the small splash of the cannon shot into the water. Free view masked the nudity and some of the gore. Good work on the dialogue but too modern for the 1700s, one would think the vocabulary of sailors to be a bit less.
So far it seems to be a good story, waiting for more....

…

Expand

Black Sails is a pretty realistic depiction of piracy and not the stereotypical kind. Most of the main characters are pragmatic and rarely let

Black Sails is a pretty realistic depiction of piracy and not the stereotypical kind. Most of the main characters are pragmatic and rarely let emotions get the better of their decision making. As such, it makes for a pretty interesting story as characters make some bold and tough decisions. It also has some pretty gruesome violence which is appropriate for piracy. The first season is rather slow, as there are many characters to introduce along with their personalities. After that though it picks up pretty quickly and is a lot more entertaining. Aside from that the only other problem with the show that I have is the seemingly random and unrealistic turn to bisexuality added at one point to a specific character.

…

Expand

What a load of pretentious nonsense this is. I was so looking forward to watching this before I subscribed to Amazon Prime, especially as the

What a load of pretentious nonsense this is. I was so looking forward to watching this before I subscribed to Amazon Prime, especially as the concept looked inviting, but it just goes to show that IMDb's ratings can sometimes be so wrong.

Some of the acting is laughable: the Charles Vane character is right over the top. And "Long" John Silver doesn't look too long to me. Billy Bones looks like he's been in the gym too long, and the women all look like models from Playboy. And can Anne Bonney stop trying to look enigmatic all the time with that silly hat on?! At least Calico Jack seems real.

The drama isn't credibly dramatic at all, and apart from a few London accents there aren't any Cornish/Devonshire etc accents at all: too many of these pirates sound like BBC newsreaders. It's obvious that a load of money has been thrown into this, however it would have been money well spent if they had hired some decent script writers rather than trying to make early 18th C Nassau look like Benidorm. Definitely for the American market.

…

Expand