Network:

HBO

Series Premiere Date:

Oct 9, 2016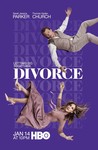 Summary:

In the comedy created by Sharon Horgan, Frances (Sarah Jessica Parker) decides she wants to end her decade-long marriage to Robert (Thomas Haden Church) but discovers it's hard to completely let go and start anew.

Genre(s):

Comedy

,

Drama
Season 1 premiere date:

Oct 9, 2016

Episode Length:

30
Please enter your birth date to watch this video:
You are not allowed to view this material at this time.
Its characters and situations are alternately aggravating, humorous and, to a lesser extent, poignant. Parker and Church are fully in charge throughout as a perfectly imperfect duo. Yes, they're both that good--in a series that demands just that.

Divorce struggles at first with tone, leavened somewhat by comically absurd supporting characters (including "Saturday Night Live" alum Molly Shannon as a friend of Frances's who pulls a gun on her own husband during a 50th birthday party). ... Divorce is best when it sticks to its title.

The laugh-out-loud viciousness of the opening, which involves both a gun and vomit, is clearly the work of series' creator Sharon Horgan, who also co-writes and stars in Amazon's brilliant Catastrophe. But Divorce isn't always as biting as it is in those moments, leading to a solidly acted but somewhat mundane exploration of a breakup.

Though the central relationship is captivating, Divorce makes missteps with its comedy.

It would seem that Horgan has a fixation on anxiety-inducing titles, but "Catastrophe" has an upbeat pulse that permeates its humor that is sorely lacking in Divorce. ... [The] best scenes in Divorce aren't carried by Parker, which is a shame and an error, considering her role as the center of this off-kilter miniature galaxy. Instead, Church generates most of the comedy in the show's opening episodes, which is terrific.

Divorce in the early going is not just dark but also slow and mopey--sometimes downright depressing.

Frances and Robert are just irritating, and you really need more character complexity and a better actress for irritating to be funny. They deserve each other, but, alas, they don't deserve us.
SJP is back! A smart, funny, honestly difficult adult show like only HBO knows how to do. Beautifully acted and produced - Divorce rises to

SJP is back! A smart, funny, honestly difficult adult show like only HBO knows how to do. Beautifully acted and produced - Divorce rises to the top of my in the crop of new programs. Looking forward to seeing where SJP takes her character. Kudos!

…

Expand

Best new show in a long time. The actors are perfectly cast. Hayden Church and SJP are perfect together and apart. Other cast member

Best new show in a long time. The actors are perfectly cast. Hayden Church and SJP are perfect together and apart. Other cast member compliment their story perfectly. Love the combo of drama and comedy.

…

Expand

This show definitely gets juicier with each episode and is worth giving it a chance if you are hesitant about investing time in a new series.

This show definitely gets juicier with each episode and is worth giving it a chance if you are hesitant about investing time in a new series. It builds and builds with each storyline and the premise is one that most people will relate to on many levels. Sarah Jessica Parker and Thomas Haden Church deliver amazing performances. Great new series!

…

Expand

This review contains spoilers

, click expand to view

.

I really really really am hoping to like this show, eventually. And I keep watching for that exact reason, hope. Esp. because SJP is my favorite actress, and Thomas Haden Church actually has really good dry humor jokes - but together it is a very awkward hard to watch show. I'm just so sad because I want to love this show but I can't :(

…

Expand

This show is unwatchable Sarah Jessica Parker has a very strange speech pattern and makes the show impossible to watch No real story being

This show is unwatchable Sarah Jessica Parker has a very strange speech pattern and makes the show impossible to watch No real story being told three episodes in and I hate it just as much as I did when I watch the first episode can't recommend when I won't even watch it again myself

…

Expand

My wife and I were extremely disappointed. Poorly written and overacted, with completely unbelievable characters, this is the worst HBO

My wife and I were extremely disappointed. Poorly written and overacted, with completely unbelievable characters, this is the worst HBO production I can remember. It seems to intentionally insult the viewer.

…

Expand

Comedy?? this is depressing stuff, maybe a laugh track to identify the humor would help. SJP must have a strong anti-nudity clause in her

Comedy?? this is depressing stuff, maybe a laugh track to identify the humor would help. SJP must have a strong anti-nudity clause in her contract given the number of layers she wears during the bed scenes and what mother takes kids of those ages to the bus every day? There's too much better fare for streaming than this.

…

Expand