| Diablo Immortal | Disney Mirrorverse | Desta: The Memories Between |
| --- | --- | --- |
| | | |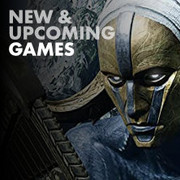 Find release dates, trailers, and scores for major upcoming and recent videogame releases for all platforms, updated weekly.
1.

Dicey Dungeons

In this new fast-paced deckbuilding roguelike from Terry Cavanagh, Chipzel, and Marlowe Dobbe, you'll fight monsters, find better loot, and level up your heroes as you work together to take down the Goddess of Fortune, Lady Luck herself. Balance your carefully planned strategies against the unknown of a dice roll. Play as six different characters, each with their own unique play styles and abilities. Master each class and figure out which one best fits your style in this charming world filled with a growing array of twists and secrets. Can you make it out alive? Maybe, but luck is definitely not on your side.

2.

Hindsight

From the creator of Prune, Hindsight is a narrative exploration game spanning the entirety of a woman's life, from birth to present day, as she tries to make sense of it all. Revisit her childhood home, sort through personal belongings, and step through windows to memories frozen in time. Hindsight asks you to slow down and pay attention to the little things left behind. Piece these things together and shift your viewpoint until you find just the right perspective to pull you deeper into the past.

3.

Yu-Gi-Oh! CROSS DUEL

If you want to duke it out in real-time with Duelists worldwide in a brand-new style of card game, then look no further! In addition to 4 Player Match Mode, you can play together with characters from the Yu-Gi-Oh! series in Single Player Mode, or head to 4 Player Co-op Mode and team up with other Duelists to overcome a fearsome Raid Boss! Aim to become the best Duelist in whichever mode suits you!