| MARVEL Future Revolution | NieR Re[in]carnation | My Friend Pedro: Ripe for Revenge |
| --- | --- | --- |
| | | |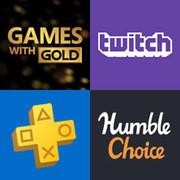 A frequently updated list of free games available from Epic Games Store, PS Plus, PS Now, Xbox Game Pass, Xbox Games With Gold, Twitch/Prime, Humble, EA/Origin Access, IndieGala, Steam, and other services.
1.

LEGO Star Wars Battles

Lead your favorite LEGO Star Wars characters into real-time, multiplayer PvP battles in arenas inspired by iconic locations from throughout the galaxy! What happens when an Ewok takes on a Tusken Raider? Can a flock of porgs tackle a stormtrooper in a standoff? Could Chewbacca go toe-to-toe with Boba Fett? Who would win in a showdown between Yoda and Darth Vader? Collect and upgrade LEGO Star Wars characters, troops, and vehicles and craft formidable light and dark side armies. Build LEGO towers on the battlefield and develop a strategy to attack, defend, and capture territory as you push towards the enemy base to claim victory! Download this exciting LEGO game that brings together every era of Star Wars storytelling in a tower defense style.

2.

Pikmin Bloom

Make every step count! Grow your Pikmin, make flowers bloom, and keep track of your precious memories, all through the simple act of walking. Whether you're going for a short walk around the corner or commuting to work, today's the very first day of the rest of your Pikmin adventures! Gather your squad and embark on a journey of rediscovery where every step counts. _______________ Walk to grow more Pikmin. Pikmin grow from seedlings with every step you take. Once they are big enough, pluck them out to have them trail along. The more you walk, the more Pikmin will join your squad! Walk to make flowers bloom. Collect flower petals from your Pikmin's heads and plant them as you walk to leave trails of beautiful flowers in bloom everywhere you go. Walk to log your memories. At the end of the day, check out your step count along with the path you walked, and revisit the pictures you took throughout the day. Don't forget to send your Pikmin out on expeditions to pick up the fruit and seedlings you passed on your way back home! Lots of Pikmin to meet. There are seven types of Pikmin in total, and all of them have their own unique characteristics. For example, some can fly, and others are incredibly strong. When your friendship level reaches a certain threshold, your Pikmin may bring back a gift with an item that will help them become a Decor Pikmin. Tackle challenges with Pikmin. Nearby mushrooms are a great way to get lots of fruit. When you come across mushrooms blocking your path, you can send your trusty Pikmin squad to charge forth and make way.

3.

Final Fantasy VII The First Soldier

Can you become history's first SOLDIER? FINAL FANTASY VII THE FIRST SOLDIER is a battle royal action game set in Midgar before the events of FINAL FANTASY VII. As a SOLDIER candidate, the player will make full use of their magic and abilities in a battle for their survival.