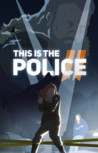 Summary:

Interpret the law as you will. Run the sheriff's department, manage your cops, investigate, interrogate, incarcerate, make tough decisions – and try to keep out of prison yourself. – in this story-driven mixture of adventure and strategy, set in a cold border town riven with violence.
Developer:

Weappy Studio

Genre(s):

Simulation

,

Virtual

,

Career

# of players:

No Online Multiplayer

Cheats:

On GameFAQs

Rating:

M
Please enter your birth date to watch this video:
You are not allowed to view this material at this time.
This Is The Police 2 - Official "Welcome to Sharpwood" Trailer
Few stories in games can successfully make me hate the "protagonist" and at the same time draw me compulsively further into the events and plot twists. Paired up with the simplistic and impressionistic art of the story frames, the atmosphere and the complexity of the intertwining yet opposing factions bandying for influence over hopelessly corrupt Jack Boyd and you have a Noir story set in the 80's that could rival the classics.

This is the Police 2 is a big step forward for Weaapy Studio, who delivered a much better experience compared to the previous game.

An excellent sheriff simulator that should be a little shorter.

While it's far to long, This Is the Police 2 is a cool little game, with a interesting scenario and lot of different situations to work on. But most of our reproaches for the first game stand still.

Interesting and direct, this game offers an intense management experience trying to make the Police Department work and also to discover the main character's past; it's also a little repetitive from the first release... and that is not sexy.

An overall improvement on the original but the lack of focus encourages too many unwanted features, that dilute an otherwise interesting portrayal of law enforcement.

The game pulls its punches when depicting the rot at the heart of a northern border city's law enforcement.
This review contains spoilers

, click expand to view

. Dieses Spiel ist ein Meisterwerk

Ich kann nicht von vielen Spielen behaupten, dass ich sie komplett durchgespielt habe und nicht irgendwann angefangen habe durchzurushen, weil es einfach zu langweillig wurde. This is the Police 2 hat alles zu bemängelnde vom ersten Teil richtig gemacht. Wo This is the Police 1 nur mit einer sehr interessante Story und mit ein paar echt coolen Momenten überzeugen kann, bietet der zweite Teil so viel Diversität. Man hat sich einfach so viel überlegt bei dem Spiel, ohne dass man die bereits bestehenden Stärken des Spiels runterkrubeln musste. Das Spiel überzeugt mit neuem Design, ein paar 3D cutscenes und den ständigen lustigen Dialogen.

Ich bin gespannt ob es einen dritten Teil geben wird. Jack Boyd hat das Zeug dazu ein drittes Spiel zu füllen.

…

Expand

A very good story, nicely told, it's a game who call for attention. I greatly appreciate it, if you like fargo, breaking bad... it's for you !

Грамотное продолжение первой части, возможностей больше, рутины меньше. Из минусов все такие же непредсказуемые последствия ваших действий +

Грамотное продолжение первой части, возможностей больше, рутины меньше. Из минусов все такие же непредсказуемые последствия ваших действий + высокая сложность стелс миссий.

…

Expand

Поиграл 1 час. История неплохая, но игра очень скучная, играть мне дала мне всего пару раз.

Поиграл 1 час. История неплохая, но игра очень скучная, играть мне дала мне всего пару раз.

i did play the first game in the series, that game would receive a 8 from me. but this particular game i don't hart. way to hard!

Extremely dull and boring intro. The xcom like missions are cool but misclicks occur way often. Annoying and unnecessary cinematics in between days.

blah blah blah + blah blah blah + 1 min of gaming + blah blah + blah blah blah

The most boring game ever. Useless graphomania, endlessblah blah blah + blah blah blah + 1 min of gaming + blah blah + blah blah blah

The most boring game ever. Useless graphomania, endless cutscenes, bad characters burns your life, literally. 10% of gameplay time and 90% of that trash ? No thanks. The only one new thing is XCOM-style tactical missions even without saves?
2/10.

…

Expand