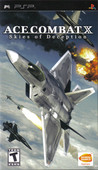 Summary:

With licensed aircraft such as the F-14D and Tornado F3, and a strategic AI system where the course of the player's actions directly affect their mission objectives, Ace Combat X: Skies of Deception allows the player to take on the role of an ace pilot trying to liberate his home country of

With licensed aircraft such as the F-14D and Tornado F3, and a strategic AI system where the course of the player's actions directly affect their mission objectives, Ace Combat X: Skies of Deception allows the player to take on the role of an ace pilot trying to liberate his home country of Aurelia from its neighbor, Leasath. A country filled with secretive motives veiled behind long-internal conflicts, Leasath, has invaded and taken over Aurelia. Defending the invaded country, the player's mission is to take them to the battle-filled skies in order to take down the enemy and restore freedom and peace to his homeland. Rounding out the list of features, Ace Combat X: Skies of Deception allows players to tune their original aircrafts with parts unlocked in Campaign Mode to further enhance their flying experience. [Namco Bandai]

…

Expand
Developer:

Project Aces

Genre(s):

Simulation

,

Flight

,

Modern Jet

,

Modern Jet

,

Combat

# of players:

Up to 4

Cheats:

On GameFAQs

Rating:

T
Please enter your birth date to watch this video:
You are not allowed to view this material at this time.
Ace Combat X: Skies of Deception (working title) Official Movie 1
Instead of simply porting over one of their best-selling PS2 titles, NamcoBandai took a couple extra steps to move the series forward as it made it portable. With only the small misstep in the customizable planes department, Skies of Deception could very well be seen as one of the best titles in the series.

A must-own flight/combat game. It's not just the best PSP has to offer – it's the best any handheld has ever seen.

Pretty similar to PS2 efforts but X's multi-player side helps elevate it to 'well worth a play' status. [Nov 2006, p.72]

The splendid level design, and the attention to action make this worth playing, and if you're into the local multiplayer, it makes it worth buying.

Too bad it's only ad-hoc - a true online mode would have brought all the Ace fans together in a maelstrom of missiles and inappropriate language. Instead, we'll all happily settle for a portable version that, despite its flaws, is a rocket-powered ballet that'll ensnare new and old players alike.

If only there were a longer solo mode and game sharing option, it could have been really ace. [Jan 2007, p.60]

There's certainly a decent sized campaign and there is the added multi-player to increase longevity, albeit not online enabled, and graphically the game is very impressive for a PSP game which means long loading times are not created along the way.
Ace Combat X is a fantastic game and may very well be my favorite game on the PSP. It has the perfect blend of simulation and arcade action

Ace Combat X is a fantastic game and may very well be my favorite game on the PSP. It has the perfect blend of simulation and arcade action that doesn't frustrate the player who's not a pilot yet still gives you the thrill of flying. The graphics and gameplay are top-notch, exactly what you would expect in an Ace Combat game. I see some people knock the story line, but I found myself enjoying it; it gave good context as to why I was out flying and fighting (as opposed to, say, the story line of the Japanese version of Ace Combat 3). The controls are smooth and customizable. I enjoyed the branching story lines which give the game a high re-playability factor. The missions are varied with some presenting a little more challenge than others but that just keeps the game fresh as you progress forward. You could certainly play the whole game with nothing but the gun and stock missiles, but upgrading your ordinance is a fun option and gives you something else to try out (and a new way to murk people). The framerate is steady throughout, and at no point was I frustrated (or even noticed) that my experience was limited by playing on a handheld. The game is immersive and a lot of fun…and it's nice to pick up and play a Free Mission if I have a few minutes to kill!

…

Expand

After playing AC games on Playstation 1 I felt in the right place with this game.

Great game. But there is one thing I didn't like: too many futurustic planes.

This is everything you expect from an Ace Combat game, the electronic music, the fast paced action, the occasional side mission, branching

This is everything you expect from an Ace Combat game, the electronic music, the fast paced action, the occasional side mission, branching paths to take and replay value to earn every unlockable.

Compared to other entries in the franchise this one holds up really wel, especially knowing it's a portable game, the story is perhaps the most meager part, but that is definitely no reason not to play it.
Controls are tight and while it may feel awkward to control your plane with only 1 analog nub, you will be used to it by the end of the 2nd mission...

One point of negativity tho, the game sometimes has slowdown when there is a lot going on...

If you are a fan of arcade like flight action games, this is the game for you...

…

Expand

It is a great game from the start. Game-play is very good, sounds are excellent and graphics are awesome. But play it again and again and you

It is a great game from the start. Game-play is very good, sounds are excellent and graphics are awesome. But play it again and again and you will just get used.. The levels will be very easy for you and eventually you will be bored.. But this is a great game and i recommend it for all people.

…

Expand

good game and definitely the best plane/simulator game for the psp....................................................................................

I had high hopes for this game, and was very excited to hear that the psp would finally get some quality titles. However this doesn't

I had high hopes for this game, and was very excited to hear that the psp would finally get some quality titles. However this doesn't fill the void the way I want it to. The graphics are decent the gameplay is decent... but for some reason... it just doesn't feel quite right. Not to mention the fact that I didn't like the controls too much or the combat, and I was mostly bored playing it.

…

Expand
| | |
| --- | --- |
| 41 | |
| 18 | #18 Most Discussed PSP Game of 2006 |
| 8 | #8 Most Shared PSP Game of 2006 |