Publisher:

SCEA

Release Date:

Jan 17, 2006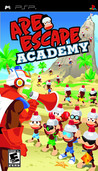 Summary:

Compete in more than 40 mini-games including hockey, golf, dodge ball, karate and more, with a wide variety of game styles, each brimming with frantic fun and wacky-humor. Featuring Wi-Fi wireless LAN (Ad Hoc) connectivity, up to four players with a PSP and the game can challenge each other.
Developer:

Shift

Genre(s):

Miscellaneous

,

Party

,

Party

,

Party / Minigame

# of players:

Up to 4

Cheats:

On GameFAQs

Rating:

E10+
Apart from the slow loading times, this is one of the best games on PSP. [PSM2]

The loading times between games somewhat diminishes the fast-paced feel that Wario Ware delivers. [Feb 2006, p.113]

With more than 45 mini-games in the mix, it is not surprising that the quality of them is fairly mixed — it is Ape Academy's major weakness that while many are rather too easy (the one- metre dash, for instance), others seem impossible (catching the contents of a kebab on a sword).

It's almost unbelievable to me that some very small problems, all related to the nature of the system the game chose to appear on, can turn a mediocre but charming game into a mess with little play value, but that's certainly what happened with Ape Escape Academy.

Control of the minigames themselves is sluggish at best, making you feel like all the monkeys have been shot with a tranquilizer gun.

With more mini-game variety (a lot more) and better multiplayer support, it could have been a simple, fun diversion. As it is, however, it's often an exercise in tedium and frustration.

Everywhere that the "WarioWare" series succeeds, Ape Academy fails spectacularly. Where one provides a blisteringly fast succession of well-designed quickfire mini-games, the other serves up a painfully slow collection of loading times interspersed with faulty, bland nonsense.
I tried to get into this game, but I just couldn't. It's got a unique way of playing the mini games, but a lot of the mini games aren't that

I tried to get into this game, but I just couldn't. It's got a unique way of playing the mini games, but a lot of the mini games aren't that fun. Some are, but from what I played, most aren't and they kept repeating as you progress so you see a lot of the same ones over and over. Not that that's always a bad thing, but like I said, most aren't that good.

…

Expand
| | |
| --- | --- |
| 90 | #90 Most Discussed PSP Game of 2006 |