Publisher:

Tecmo

Release Date:

Mar 30, 2010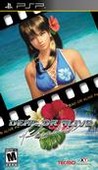 Summary:

Welcome to paradise! Hang out with the sexy ladies of Dead or Alive and have some fun under the sun. Picture yourself relaxing on the shores of New Zack Island where you get to mingle, flirt, play, take snapshots, and challenge the girls in various mini-games during a two-week vacation!
Developer:

Team Ninja, Tecmo

Genre(s):

Action

,

Miscellaneous

,

General

,

General

,

Party / Minigame

# of players:

No Online Multiplayer

Cheats:

On GameFAQs

Rating:

M
Fun, deceptively deep, but the 'globe' physics fail to distract from a lack of variation.

At best forgettable; at worst downright creepy. [Issue#192, p.89]

And, well, that's about it. You jump between islands (well, still shots of islands), you give and receive arbitrary gifts from Zack and the other girls which supposedly determine who will and won't be your friend (these girls really are quite shallow y'know) and you play a bunch of dire mini-games. If that sounds fun – Paradise is the place for you, or Zack Island, or, whatever it's called.

While Dead or Alive: Paradise may appear exciting to a sex-starved 16-year-old, the game is insulting to all other audiences; a huge backwards step in an industry desperately trying to mature. Remember this, kids: ultimately you're getting yourself worked up over polygon meshes, skin coloured textures and clever algorithms. Unless you're really struggling for ways to entertain your libido, the game should be categorically avoided.

Avoid at all costs. Playability is awful and even the girls aren't that sexy: they are destroyed by low polygon count models and horrible textures.

Everything about the game reeks of both not understanding women at all, and then not understanding how to make a game that is allowed to be naïve as long as it's full of fan service that we can get off to.
Actually best destroying heart pounded game in the stratosphere please do yourself a flavor a i buy this game if you want it good

Actually best destroying heart pounded game in the stratosphere please do yourself a flavor a i buy this game if you want it good loooooooooooooooollllllllllloooooooooooooooolllllllllllloooooooo 80

-ConsoleMaster

…

Expand

For its time, the game is very cool, as a fan of the Dead or Alive fighting game, I really like the idea of relaxing with the characters on

For its time, the game is very cool, as a fan of the Dead or Alive fighting game, I really like the idea of relaxing with the characters on the beach, in a fighting game I can play seriously and after these games go to relax with the characters on the beach, it's also a great idea to make the player fall in love with you. I really like these female characters to this day.

…

Expand

The in-game economy is pretty fun, the poker games are the best games on there, the rest are really fickle. It's an okay game if you don't

The in-game economy is pretty fun, the poker games are the best games on there, the rest are really fickle. It's an okay game if you don't take it seriously, it's a video game calm down liberals.

…

Expand

if you want to see hot, wet bouncy girls playing sports with each other then this game is for you. This game got me past my development period

if you want to see hot, wet bouncy girls playing sports with each other then this game is for you. This game got me past my development period but thats not important. However, if you don't like having too much half naked girls fooling around and doing non combat things then perhaps this isnt for you.

That aside, the mini games in this are actually pretty fun to play and you would be surprised to see what this game has in store.

…

Expand

a game that is based on your love for the DOA girls mixed with how much you like volleyball . i use to play in tourneys so i love me my

a game that is based on your love for the DOA girls mixed with how much you like volleyball . i use to play in tourneys so i love me my volleyball . i dont care much for the dress up part with the girls but the volley ball is pretty solid although still has the same camera issue's it would be nice if the camera was adjustable to differnt views and they had some tourney style play . this is basically a direct port of DOAX2 for the 360 with things taken out instead of added minus they did add one new girl . there are no new swim suites from what ive seen so if your into collecting all that and where hoping for new stuff you can forget it unlessed i missed them. the graphics for the PSP are actaully pretty good minus the girls do have alittle jaggy look . its only 29.99 new but since the reviews wernt good i waited to get it cheaper and have already gotten a copy of it on ebay new for $15 . which after playing it is about the right price. they removed the water slide and jet ski racing and online play. which didnt care much for the water slide but the jet ski's were kinda fun and i guess no one played the first one online any way because the servers sucked so bad. so if you are a fan of DOAX 1 amd 2 you will probubly enjoy this as long as you are not expecting any thing new.

…

Expand

This game is definitely a gravure fanfest. The various mini games are fun, the graphics however are awful everywhere except the casino. The

This game is definitely a gravure fanfest. The various mini games are fun, the graphics however are awful everywhere except the casino. The photographing is so pixelated that theres no reason to even bother with it. DOA Paradise is essentially the same game as DOA Extreme 2 from the Xbox 360 without the water jet racing. There is no real challenge here if you just buy a girl a new bikini every other day and play volleyball once a day, you'll eventually unlock everything. The pole dancer video is unlocked by collecting 99 percent of the the girls venus clips which will unlock christies slot machine and from there you just need to hit jackpot. This is basically a dumbed down port of the Xbocx 360 game and features nothing new.

…

Expand

Dumb, retarded, and everything in between. DOAP has reached a new level in pathetic as all you do is volleyball, and blackjack. the photo mini

Dumb, retarded, and everything in between. DOAP has reached a new level in pathetic as all you do is volleyball, and blackjack. the photo mini game is creepy, and the "boob physics" (Why did I just say that) make me want to throw up. I dont even own the game and I hate it! DO NOT PLAY!!! It will burn your eyes!

…

Expand
| | |
| --- | --- |
| 57 | |
| 12 | #12 Most Discussed PSP Game of 2010 |
| 10 | #10 Most Shared PSP Game of 2010 |