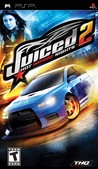 Summary:

Juiced 2: HIN evolves the current street racing scene, letting players experience the culture of the real-life HIN tour, the nation's largest lifestyle custom car show in an intense racing experience. Featuring track and drift racing at real-world locations around the globe, next-gen AI and

Juiced 2: HIN evolves the current street racing scene, letting players experience the culture of the real-life HIN tour, the nation's largest lifestyle custom car show in an intense racing experience. Featuring track and drift racing at real-world locations around the globe, next-gen AI and vehicle customization, Juiced 2: HIN brings street racing to life, allowing players to test their skills at live street racing events against a back-drop of DJs, fashion, models and musicians. New features include addictive drift/ powersliding races and "Driver DNA" that tracks gamers' personal driving traits. These profiles, along with the profiles of select celebrities will be available for download across all online gaming systems. Racing developer Juice Games has evolved the game-play in its online racing, giving players the power to create their car, assemble their crew and put it all on the line in intense pink slip and crew races. Gamers can bet cash on each event, bringing a gambling element to the game that greatly increases the importance of each race. [THQ]

…

Expand
Developer:

Juice Games

Genre(s):

Driving

,

Racing

,

Simulation

,

GT / Street

,

GT / Street

,

Automobile

# of players:

Up to 6

Cheats:

On GameFAQs

Rating:

T
Please enter your birth date to watch this video:
You are not allowed to view this material at this time.
Juiced 2: Hot Import Nights Official Trailer 1
The D-pad has never felt so right for steering. [Dec 2007, p.78]

Surprisingly unpretentious and an awful lot of fun too, the juice is definitely worth the squeeze. [Issue#160, p.87]

It may be a pimped up ride, but underneath the bonnet it has the heart of a true racing game.

Sarcastic gripes against weird game elements aside though, Juiced 2 is a more than satisfactory racing game that offers some fun car stuff, all packaged up in a presentation featuring lots of busty girls in small amounts of tight clothing, which - speaking as a hot blooded male - is never a bad thing.

Juiced 2: Hot Import Nights has its share of strengths and weaknesses. The layout of the Career mode is nice, and there's lots to do. However, some aspects of the car customization are poor, and the track design is fairly generic.

Juiced 2 does some things right. It requires balanced skills in both racing and drifting, and the Spook Meter is a kick. Ultimately, though, it doesn't do enough to stand out in an already crowded field of PSP racers.
amaaaaaazing omg i love the steering and it works sooooo well on the psp somehow

Omg I LOVE THIS..i havent played any other installment of this racing game but this REALLY OWNS>....awesome gameplay.....and really amazing

Omg I LOVE THIS..i havent played any other installment of this racing game but this REALLY OWNS>....awesome gameplay.....and really amazing handling....gfx right upto the mark..Get this!

…

Expand

J2 HIN is the best handling/drifting PSP racer out there so far, and I have nearly every racer going, and certainly the best street

J2 HIN is the best handling/drifting PSP racer out there so far, and I have nearly every racer going, and certainly the best street racing/Fast and Furious style for the PSP, better than NFS Carbon own the city for then handling alone. As a big fan of Gran Turismo (and still waiting for the PSP mobile verion if it ever arrives!) I like relaistic handling when it comes to dirfting. We have here finally a racer that lets you drift with the throttle, brake, hand brake, and angle of attack, which various depending on one of the 100 odd cars in the game, and in full proper scoring drift events too. Don't get me wrong, the drifting challenges are not easy, especially with the stupidly high targets in the edurance drift events, but it certainly is rewarding if you can patch many drifts together, epsecially while drifting against others/kings and having to alter speed and angle of attacks while keeping it all going. The racing events can be very close, the career detailed, and its pretty simple to understand the performance rating of 1 to 100 for how quick the car will perform against others in the racing stakes (although I still prefer to see bhp figures that are missing). The car graphics and light effects are excellent (although there is the old clitch on replays), the many cars sounds are as real life i.e. suburu boxer engine rubbles, proper V8's etc like GT series on the PS2, and the music suits the game well, but with the decent adustability if you want it all switched off. It has many different type of racing and drifting events, including last-man-standing, a race for those who want to be realistic and not hit the sides or your elimated, and in DNA area the ability to customise your own races with exacly what cars you want to race against, how many (upto 6) and where they and you start on the grid, plus loads of decal and bodywork mods if your into that. It all adds up to decent options. Down sides?.. Well the game misses on-line play on the PSP (eg like Test Drive), it only has average street circuits like london, rome, tokyo etc (no properTsukuba type circuits), and although it has racing replays from outside sadly the drift event replays are only front bumper type. But most frustrating is the mentioned drifting edurance targets are just set far too high early on in the game (eg for tuning packages). Overall a great racer, and the dirfting side of the handling should be followed by anyone making a racer for the PSP. One of the best in my collection of nearly 30 PSP racers!

…

Expand

This game is the closest racing game on the psp you can get to a consle game. The graphics and controls are very good and thecostomisation

This game is the closest racing game on the psp you can get to a consle game. The graphics and controls are very good and thecostomisation with vynals is the best on the psp. You can actually move them around! Its a great game that you should get if you are a racing fan!

…

Expand