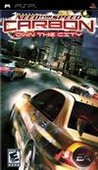 Summary:

Need for Speed Carbon Own the City features all-new crew-based gameplay and an exclusive east coast open-world city to explore. The unique to handheld story thrusts you into an ongoing turf war. You are challenged to build an unstoppable crew, win races against fierce rivals, and outwit the

Need for Speed Carbon Own the City features all-new crew-based gameplay and an exclusive east coast open-world city to explore. The unique to handheld story thrusts you into an ongoing turf war. You are challenged to build an unstoppable crew, win races against fierce rivals, and outwit the cops. How you choose and manage your crew will be the difference between victory and defeat. Crew members improve with race experience and you'll have to choose either to develop each crew member over the course of the game or swap them out when hot new recruits come available. Take control of the city and dominate the race scene in Need for Speed Carbon Own the City. [Electronic Arts]

…

Expand
Developer:

EA Canada

Genre(s):

Driving

,

Racing

,

Simulation

,

Arcade

,

GT / Street

,

GT / Street

,

Automobile

# of players:

Up to 4

Cheats:

On GameFAQs

Rating:

E10+
Please enter your birth date to watch this video:
You are not allowed to view this material at this time.
Need for Speed Carbon Gameplay Movie 5
It's one of the rare times where you should purchase both the console versions and the PSP version since both offer different yet extremely compelling racing.

We're definitely keen on the PSP version, serving up some solid racing fun that'll get your heart pumping and your fingers moving. Just be sure to get by with a little help from your friends.

Own the City is a very different game from the console versions of Need for Speed Carbon, but it's still an exciting racer in its own right.

Official Playstation 2 Magazine UK

The classy presentation and slick action capture the spirit of the PS2 game, but this is nothing more than a competent racer. [Christmas 2006, p.100]

Technically solid – if increasingly familiar – racing action but set within a dynamic that often feels unnecessarily controlled.

Own the City still has framerate issues and a gameplay engine that hasn't really changed, but it's still a fun game.

The story might be terrible, but somehow it is still better than nothing and the wingman system does work, even if it is a bit odd.
A great game once cars have been unlocked. I will be posting a savegame on this game soon, 100% complete w/ all cars.

I think that nfscown the city is one of the best nfs games. it has awsome graphics for a handheld and has alot of customization varriations.

I think that nfscown the city is one of the best nfs games. it has awsome graphics for a handheld and has alot of customization varriations. you can name your crew customize your crew and u dont have crew members in midnightclub dub edition. you have a limited # of NOS on dub edition, on carbon your NOS grows back for the things u do. also, you dont get lost on the races and you can get chased by the cops.

…

Expand

The best arcade racing game on PSP! Cool plot, graphics, physics and a lot of content!

Need For Speed Carbon: Own the City looked and played surprisingly well for a PSP game.

Some people may say this game is good but i'm here to say that the driving physics are very strange. I don't think the tires have grip.. you

Some people may say this game is good but i'm here to say that the driving physics are very strange. I don't think the tires have grip.. you just slide around. But if you are a person that isn't a racing fan, this game may be for you.

…

Expand

It's an okay.. game but u know midnight club 3 for psp is much better than nfs carbon own the city midnight club 3 gives much more

It's an okay.. game but u know midnight club 3 for psp is much better than nfs carbon own the city midnight club 3 gives much more details on the cars and has much better cars. Get midnight club 3 insted of nfs carbon own the city if I were u!!!

…

Expand

Poorly-made game,lack of content,god-awful handling physics,customization literally is the only good thing about this,a very disappointing NFS

Poorly-made game,lack of content,god-awful handling physics,customization literally is the only good thing about this,a very disappointing NFS game for the PSP.

…

Expand
| | |
| --- | --- |
| 50 | |
| 11 | #11 Most Discussed PSP Game of 2006 |
| 29 | #29 Most Shared PSP Game of 2006 |