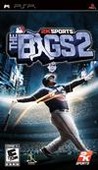 Summary:

The Big Leagues just got BIGGER! Available on all major video game consoles, The BIGS 2 allows fans to experience heroic gameplay, legendary game modes and incredible player models. Elevating The BIGS 2 to new heights are bigger power-ups, amazing visual effects, and an all new career mode.

The Big Leagues just got BIGGER! Available on all major video game consoles, The BIGS 2 allows fans to experience heroic gameplay, legendary game modes and incredible player models. Elevating The BIGS 2 to new heights are bigger power-ups, amazing visual effects, and an all new career mode. Featuring exciting player animations and pick-up-and-play controls, The BIGS 2 delivers an action-packed, heroic MLB video game experience. Epic Arcade Baseball Action: Larger-than-life gameplay, stadiums and player models provide a truly heroic baseball experience. Batter's Wheelhouse: Pitches thrown into the Batter's Wheelhouse are more likely to be launched into the next time zone, but sneaking a pitch past the hitter will shrink his wheelhouse for the rest of the game. Do you have the guts to pitch into the Batter's Wheelhouse? Legend Challenge: Unique story mode allows users to pit their created player against MLB legends past and present as they strive for a World Series championship and MVP trophy. [2K Sports]

…

Expand
Developer:

Blue Castle Games

Genre(s):

Sports

,

Traditional

,

Team

,

Baseball

,

Arcade

,

Arcade

Cheats:

On GameFAQs

Rating:

E10+
A true improvement in every way The BIGS 2 proves Blue Castle Games wasn't just a one-hit wonder, and they've established themselves as the premier torch bearer for arcade sports games.

The excitement of arcade-style supermoves, combined with the deep mechanics of the real sport, makes The Bigs 2 a thrilling baseball game.

We're absolutely in love with The BIGS 2 on consoles, but just don't feel it on the PSP. It could've and should've had more to do, especially in the multiplayer arena. When it comes to baseball on the small screen, you're better off sticking with the sublime Show.

The Bigs 2 isn't necessarily a bad game of baseball, but it just doesn't pack enough new content to make it worthwhile for those who invested in The Bigs the first go-round.

Overall, The Bigs 2 falls short of providing balanced difficulty, instead easy is too easy, while hard is unnecessarily merciless.