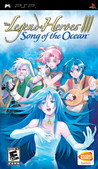 Summary:

A standalone story set in the rich universe of The Legend of Heroes series, The Legend of Heroes III: Song of the Ocean has players take on the role of Forte, a young musician living in the dark Numeros Empire who sets off on an adventure that could determine the fate of the world. With over

A standalone story set in the rich universe of The Legend of Heroes series, The Legend of Heroes III: Song of the Ocean has players take on the role of Forte, a young musician living in the dark Numeros Empire who sets off on an adventure that could determine the fate of the world. With over 50 hours of gameplay, players take Forte and his group of wandering musicians on a journey to discover a long-forgotten song of mysterious power left behind by a legendary composer. The 100 unique illustrated characters bring the adventure to life and the familiar RPG gameplay lets anyone with a PSP system become a hero. With a unique pet system and the ability to save anywhere, The Legend of Heroes III: Song of the Ocean delivers a classic RPG experience. [Namco Bandai Games]

…

Expand
Developer:

Microvision

Genre(s):

Role-Playing

,

Console-style RPG

,

Console-style RPG

,

Japanese-Style

# of players:

1 Player

Cheats:

On GameFAQs

Rating:

E10+
If you're into RPGs for that rush of fun and adventure, avoid this game. Heck, avoid the whole Legend of Heroes series. But, if you've stuck it out so far and have enjoyed the storyline created by Falcom, a company respected by many a J-RPG fan, know that this game has a plot that enriches the others even as it proves its own value to the gamers' imagination.

A traditionally produced RPG that hits many of the right notes for old-school RPG fans, and even new-school RPG gamers. Because of the intense focus on dialogue in this game, it won't appeal to those who want more action.

It's the strongest title of the trilogy, but it's still a ways away from being a must have RPG.

The Legend of Heroes III: Song of the Ocean is a competent and lengthy role-playing game, but it's painfully generic without the slightest tinge of originality or creative flair.

LOH III ends a series that at first was tolerable, but with a frightening flatline in the level of quality, it only cements itself as dead-center average.

Playstation Official Magazine UK

It's so weighted down by uninspired foundations. [Aug 2007, p.114]

Legend of Heroes needs more innovation in the areas that actually matter – scenario writing, game design, the tricky stuff like that – before it'll spawn an installment worth playing.
Elementary graphics, pretty good effects with a good story line. If its 3D then I might have given it a 9.

Game: The Legend of Heroes III: Song of the Ocean
Genre: RPG
Developer: Falcom Publisher: Bandai Namco System: Playstation Portable (PSP)Game: The Legend of Heroes III: Song of the Ocean
Genre: RPG
Developer: Falcom
Publisher: Bandai Namco
System: Playstation Portable (PSP)
Year of Release: 2007
Length of Playthrough: 62 Hours

Total Score: 80/100
Value Score: 8/10

• Story: 9/10
• Characters: 9/10
• GamePlay: 7/10
• Graphics: 7/10
• Sound: 7/10
• Music: 7/10
• Length: 10/10
• Replay Value: 6/10
• Player Value: 8/10

Pros
+Decent story and cast of characters
+Decent OST
+Remake of the 1994 game with improved visuals , effects and sound
+Special Side quest system that allows you to access areas of the first two games via save files (if you have them)
+Very long game, longer than the first two combined.

Cons
-Bad translation in narration and in game play
-Gameplay can be clunky at times in terms of both battles and outside of battles
-Some dungeons are too short while others are too long
-Due to the translation, sometimes its easier to get lost in what way you need to go to
-Slow battle system and sometimes characters/animations lock up for a few seconds

…

Expand