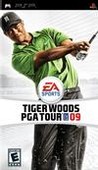 Summary:

This year's Tiger features dynamic, personalized gameplay via Tiger Woods' personal coach, Hank Haney. Looking to drive the ball long and straight? Trying to nail the pin with the approach shot? An all-new addition to this year's game, Haney will assist gamers as they hit the links and try

This year's Tiger features dynamic, personalized gameplay via Tiger Woods' personal coach, Hank Haney. Looking to drive the ball long and straight? Trying to nail the pin with the approach shot? An all-new addition to this year's game, Haney will assist gamers as they hit the links and try to advance their career to win the FedExCup. In Tiger Woods PGA Tout 09, a player's skill level is dynamic, constantly adjusting throughout the round just as it would during a real afternoon out on the links. Following each round, Haney will deliver customized feedback on a player's performance. This feedback system allows all gamers, rookies or PGA TOUR pros, to compete and enjoy the game at any level. EA SPORTS GamerNet is a ground-breaking online innovation that features a refined, easy-to-use interface in Tiger Woods PGA Tour 09. EA SPORTS GamerNet challenges, such as long drive, approach shots and putting will be delivered instantly throughout all game modes and players have the ability to post their challenges from the fairways. EA SPORTS GamerNet also features an all-new daily leaderboard and challenges customized to fit an individual's playing style. Online play has also been enhanced with Simultaneous Play. This all-new online engine gives up to four players the ability to play each hole at the same time, allowing players to get in a rhythm, swing when they are ready and make one round of golf even faster and more competitive than ever before possible. [Electronic Arts]

…

Expand
Developer:

Exient Entertainment

Genre(s):

Sports

,

Traditional

,

Individual

,

Golf

,

Sim

,

Sim

Cheats:

On GameFAQs

Rating:

E
Tiger Woods PGA Tour 09 has limitations, and something should've been done with the putting game outside of selecting a manual option. Aside from that, it's a decent golf offering for PSP owners, especially those seeking a challenge.

Play Tiger Woods 08 and skip this year's tour. It's a much more polished game with a lot more features.

While Tiger 09 is still a mostly solid golf experience (the best on the PSP) I cannot recommend this title over previous Tiger games. This game is a significant step back in gameplay that lacks some of the most vital elements.

Shorn of many of last year's features and lumbered with an awkward control method, Tiger Woods 09 singularly fails to improve on its predecessor and in many respects is a definite regression.
This version struggles to better last years game on PSP, the main negative being the ridiculous putting mechanic-using the analogue swing

This version struggles to better last years game on PSP, the main negative being the ridiculous putting mechanic-using the analogue swing makes it almost impossible to gauge a putt under 100% strength! On the plus side, the selection of courses is superb and varied-20 courses on a handheld golf game is amazing!! If you havent got last years game buy it, if you have then wait another year for EA to fix the things that didnt need messing with in the first place ie.the putting!

…

Expand

An ok game, not nearly as fun as woods 08, which is more fun to play. the analog driving is more difficult and less satisfying, and the

An ok game, not nearly as fun as woods 08, which is more fun to play. the analog driving is more difficult and less satisfying, and the proshop offers fewer options to enhance your character, plus it takes alot longer to load. finally, i cant figure out how to take the hat off of my character. the graphics are superior to the 08 version, but the colors arent as vibrant. overall, a decent game, but it failed to hold my attention over time as much as the previous version.

…

Expand

The game is step back from TW 09. The graphics suck, the gameplay is weak, and there is very little new content, except a few new courses. I

The game is step back from TW 09. The graphics suck, the gameplay is weak, and there is very little new content, except a few new courses. I strongly recommend TW 08, or wait for the next version.

…

Expand