Publisher:

Konami

Release Date:

May 7, 2007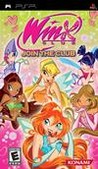 Summary:

The first Winx game for the PSP combines magic, fashion and action to create a must have game for girls of all ages. Welcome to the magical world of Winx Club where players can explore a wide range of new characters, interactive environments and fun mini games that incorporates the fashion,

The first Winx game for the PSP combines magic, fashion and action to create a must have game for girls of all ages. Welcome to the magical world of Winx Club where players can explore a wide range of new characters, interactive environments and fun mini games that incorporates the fashion, friendships, and magic of the Winx Club world. Players will be able to enjoy a simple, social and fun game experience that is designed specifically for girls 6-11. The storyline based on the second season of the hit animated series. Fast paced mini-games for each playable character. Win items to customize your character and dorm room. [Konami]

…

Expand
Developer:

n-Space

Genre(s):

Action

,

Miscellaneous

,

Platformer

,

Platformer

,

Party / Minigame

,

2D

,

2D

# of players:

1-6

Cheats:

On GameFAQs

Rating:

E
More an advert for the cartoon than a game. [July 2007, p.84]

This should only be attracting to the fans of the television series that devote every Saturday morning to watching the show.

Winx Club: Join the Club is a bad game and really not worth your time to look at much less subject your child to.

A poor collection of simplistic mini-games with terrible load times. Fans will find clips and such from the show, but they're much better off with a DVD set of said cartoon.

Not only a bad game, but also a reprehensible one. Do not buy this.

But the real deal breaker for Winx Club Join the Club is a very familiar problem for PSP owners: load times. Players will spend more time watching the game load than they will actually playing the game. And these load times are ridiculously long.
This game is awful. I got this for my daughter, and she's only 8, and she agrees if I could give minus numbers for scores, I most

This game is awful. I got this for my daughter, and she's only 8, and she agrees if I could give minus numbers for scores, I most certainly would. If you buy this, you are either rich, or stupid.

…

Expand

I recently got this from my aunt as a gift. It is absolutely horrible. The loading time was so slow,that I was able to read 320 pages of my

I recently got this from my aunt as a gift. It is absolutely horrible. The loading time was so slow,that I was able to read 320 pages of my book. The mini games were not challenging at all and I was bored throughout the game. Do not buy this,I would suggest buying something else. I would suggest playing something online.

…

Expand