Publisher:

SCEA

Release Date:

Feb 12, 2008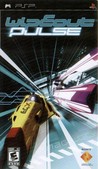 Summary:

As is tradition with the series, gamers trench race at high speeds in futuristic vehicles outfitted with weapons. New to the franchise with Pulse is a mag-strip, a part of the track that locks the vehicles onto the track, allowing them to race through loops, 90-degree-angled parts of the

As is tradition with the series, gamers trench race at high speeds in futuristic vehicles outfitted with weapons. New to the franchise with Pulse is a mag-strip, a part of the track that locks the vehicles onto the track, allowing them to race through loops, 90-degree-angled parts of the track, and steep drops. The game features seven different modes, wireless support, 24 new tracks, and eight teams (including one called EG-X). Downloadable content is available immediately upon release. The game's soundtrack features tracks from Stanton Warriors, Loco Dice, and Mason, but players can opt to play their own MP3 files from a memory stick.

…

Expand
Developer:

Studio Liverpool

Genre(s):

Driving

,

Racing

,

Arcade

,

Futuristic

,

Futuristic

# of players:

Up to 8

Cheats:

On GameFAQs

Rating:

E10+
A nearly perfect experience. Feel the Pulse.

It feels more like WipEout Pure 2 than an original title of its own, but there are so many options, customizable features and settings, as well as online play and expected developer downloads, that makes Pulse to go from a teetering try to a full must-buy.

The gameplay is very tight and easy to get into, whether you're going solo through Campaign or Racebox or challenging others through AdHoc and Infrastructure. The downloadable content is hot, too. It may not be easy, but this Pulse definitely rates high.

Another solid entry in the series, continuing to scream by with fantastic production values, tight controls, lots of objectives, and above all, an intense sense of speed. Its biggest weakness lies in the time it takes to unlock a decent number of courses, but fans willing to look past that should strap in and hang on.

Wipeout Pulse is more of the same, but the new additions, primarily in the shape of online play, mean this is essential for Wipeout fans and adrenaline junkies.

The visuals in Wipeout Pulse are a subtle improvement over Pure. Interestingly, the opponent AI appears a lot more aggressive which makes for a much more interesting race.

For some people and maybe even for you, WipeOut Pulse is worth the effort involved and then some.
I would give this game a 9.5 if there was the option (you can only choose whole numbers). The eliminator mode is totally fun and the grid

I would give this game a 9.5 if there was the option (you can only choose whole numbers). The eliminator mode is totally fun and the grid single player campaign does an excellent job of mixing up the relatively linear style of the single player campaign in previous Wipeout games. I keep coming back to this game. Definitely a great game and a great value for your $.

…

Expand

As you race you feel like you are the craft and also you feel your body react like you would if you where in the vehicle.

Don't listen to the negative reviews! Wipeout Pulse is superior to Pure in every way! The graphics are spectacular, the presentation is

Don't listen to the negative reviews! Wipeout Pulse is superior to Pure in every way! The graphics are spectacular, the presentation is much better, the music sounds great, the all new tracks are interesting, fun and challenging, and new editions like online mulitplayer are a lot of fun. The singleplayer tournaments are in greater abundance than Pure and are nicely organized into "grid" sections, and with the promise of downloadable content (nothing is available yet, for some reason), it looks like there will be A LOT more racing to do! Multiplayer on the technical side works and plays pretty well and is a lot of fun, and races are highly customizable. Wipeout Pulse has to be one of, if not my most favorite PSP game of all time! A MUST HAVE!

…

Expand

This game is absolutely fantastic. They took everything from the previous WipEout game on PSP and piled on better tracks, better music, and

This game is absolutely fantastic. They took everything from the previous WipEout game on PSP and piled on better tracks, better music, and more FUN. Fans of the series would do themselves a disservice to not own this game.

…

Expand

An incremental improvement over Pure in many ways.

Improved performance, a rock solid 60 FPS compared to the variable frame rate of PureAn incremental improvement over Pure in many ways.

Improved performance, a rock solid 60 FPS compared to the variable frame rate of Pure that targeted 60 but sometimes dropped into the 40's and even 30's during single races and tournaments. Also there is no more 30 FPS lock for Time Trial and Zone modes. But most of this is not the result of code optimization on Studio Liverpool's part. It is due to Sony's firmware update allowing developers to take advantage of the PSP's 333 MHz CPU clock (compared to 222 MHz at the PSP's launch). There are some improvements to the graphics such as more polygons for vehicles (which are beautifully modeled and even have cockpit interiors) and better texture detail, but there is one aspect of the graphics that took a step backwards (more on this later).

There are subtle improvements to the A.I. and they fixed barrel rolls which is nice. There are more options and modes (such as Eliminator and Head-to-Head) which add variety but they aren't as well suited to the game's core design as the standard Single Race and Tournament modes. Structure and progression is much better. The new grid style is a welcomed change and fits well within the aesthetic of the game.

They tweaked the controls and made them tighter. Veterans may prefer the old controls at first but its simply different and takes getting used to. The sense of speed in the game is slightly faster now which was a good change.

The soundtrack in Pure was superb so its very hard to beat what came before. But Studio Liverpool managed to put together a soundtrack for Pulse that is fantastic. It may even be the best soundtrack in a WipEout game. And now you have the option to add your own songs which is great. Though there are a few less songs provided this time (16 in Pulse vs 19 in Pure).

Honestly there is very little to nitpick about. The only sore spot would be the race tracks. Although the track design is generally great and there are even a few gems (Moa Therma comes to mind), some of the tracks are merely good. And many of them lack the visual appeal that made Pure's tracks amazing not only to play but to just look at. There are now two versions of each track, the "White" version (forward) and "Black" version (reverse). But the differences between them are more than just going in opposite directions. Some of them have fundamental changes that make them feel almost like different tracks. All of the tracks in Pulse are also available for Zone mode which was a great change and they are given an abstract visual makeover just for the mode and they look beautiful.

Pure originally shipped with 12 tracks and Pulse also shipped with 12 tracks. So at first glance it might look like you are getting the same amount of content but Pulse makes far better use of the content it has compared to Pure. Even with all of Pure's DLC, Pulse still manages to be competitive in this regard.

The issue of track design prevents Pulse from being an improvement in every way compared to Pure. Pulse is however the more polished and accessible WipEout with more options and ways to play making it slightly better overall.

Even in 2016 I still find myself coming back to this game on PC with an emulator. I'm very impressed with how well it holds up today and it looks great in HD. A testament to the art direction and slick presentation. Graphically it doesn't look as good as WipEout HD of course but both games share a lot in common. After all, WipEout HD is essentially a remix of the PSP WipEout games and borrows heavily from the advancements made in Pulse. It is the closest you can get to WipEout HD on PC without actually having WipEout HD. And clearly I still love it, enough so to make a passionate review about it over 8 years later.

…

Expand

F U N .

I've been playing it for hours and hours on my PSP and it's very enjoyable. The higher the vehicle class, the faster and the moreF U N .

I've been playing it for hours and hours on my PSP and it's very enjoyable. The higher the vehicle class, the faster and the more exciting it gets (and also the less controllable to be fair), and the fact you can add up to 30 songs to the game's playlist and you can take pictures of replays and make them your console's wallpaper is an extra I really liked.

Also, if your PSP has custom firmware and you crank up the CPU speed to the max (333MHz), the game will run at 60 FPS. Nice bonus. Should be the game's default, but at least that you can do to play it best...

…

Expand

Personally I find this game to be a step backwards from Wipeout Pure. The craft now turn on a dime which lead me to hitting the apex of every

Personally I find this game to be a step backwards from Wipeout Pure. The craft now turn on a dime which lead me to hitting the apex of every corner for the first 30-40 minutes, as I was more used to the drifting nature of previous titles. The soundtrack is not terribly diverse or engaging and the tracks lack the unique neon cyberpunk feel of old. It also succumbs to Fusions reliance on weaponry, as many a time my race was completely ruined on the last straight as number 2 and 3 shot 7 shade of s*** up my rectum. Why can't they give us the weapons off option that was featured in Wipeout 3? Stick with Pure, nothing new or exciting to see here.

…

Expand
| | |
| --- | --- |
| 7 | |
| 9 | #9 Most Discussed PSP Game of 2008 |
| 26 | #26 Most Shared PSP Game of 2008 |