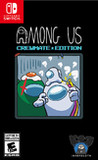 Summary:

An online and local party game of teamwork and betrayal for 4-10 players...IN SPACE!

Play with 4-10 player online or via local WiFi as you attempt to prepare your spaceship for departure, but beware as one or more random players among the Crew are Impostors bent on killing everyone!An online and local party game of teamwork and betrayal for 4-10 players...IN SPACE!

Play with 4-10 player online or via local WiFi as you attempt to prepare your spaceship for departure, but beware as one or more random players among the Crew are Impostors bent on killing everyone!

Originally created as a party game, we recommend playing with friends at a LAN party or online using voice chat. Enjoy cross-platform play between Android, iOS and PC.

THE CREW
Objective: Fill Group Task Bar or Discover the Imposter!

* Win by completing tasks to prepare the ship or ejecting all Impostors.
* React quickly to undo the Impostor's sabotages.
* Check the Admin map and Security cameras to keep tabs on other Crewmates.
* Report any dead bodies immediately to start discussion of who the suspected Impostor is.
* Call emergency meetings to discuss suspicious behavior.
* Vote to eject suspected Impostors.

THE IMPOSTER
Objective: Kill Off the Crew!

* Kill crewmates and frame bystanders.
* Pretend to run tasks to blend in with the crewmates.
* Sneak through the vents to quickly move about the ship.
* Use sabotages to cause chaos and divide the crew.
* Close doors to trap victims and kill in private.

Features:
* Customization: Pick your color and hat.
* Lots of game options: Add more impostors, more tasks, and so much more!
* Quickly find a game online from the host list.
* In-game text chat.
* Rich discord integration.
* Cross-platform play between PC, Android, and iOS!

…

Expand
Developer:

Innersloth

Genre(s):

Action Adventure

,

General

,

Survival

# of players:

Up to 15

Cheats:

On GameFAQs

Rating:

E10+
Please enter your birth date to watch this video:
You are not allowed to view this material at this time.
Nintendo Indie World Showcase 12/15/2020 - Full Presentation
Among Us is a brilliant multiplayer experience and one that's sorely needed given the current climate. While I wouldn't recommend playing this against randoms online, if you can gather nine friends and set up a voice chat, then you're guaranteed one of the best gaming experiences of 2020.

Among Us is a superb multiplayer game that is great on Nintendo Switch. It's easy to pick up, but difficult to put down.

Nintendo Force Magazine

May 17, 2021

We needed an experience like Among Us to cope with the events of the previous year, and its emergent possibilities ensure that we'll continue to enjoy it for many months or years to come. [Issue #51 – March/April 2021, p. 26]

A good port of an excellent game that works perfectly despite requiring a Nintendo Switch Online subscription and isn't missing anything that the mobile or PC version doesn't already have.

Flaws aside, Among Us is a clever game that deserves its time in the spotlight. It works a surprisingly complex concept into a simple and accessible package where matches are quick, fun, usually hilarious, and sometimes even intense.

Among Us is an instantly accessible and super-addictive casual gaming experience that serves up some hilarious whodunnit hijinks in short bursts that are perfectly suited to portable play. There are a few niggles here with regards to controls that make communication fussier than it really needs to be, but this is a fine port that finally enables Switch gamers to jump in and see what all the fuss is about with this most unlikely of gaming sensations.

If you want nothing more than a party snack, this is it – especially with the cross-platform gaming. But in the long run it lacks variety.
When the imposter is sus, and they come out to you, very emotionally. It's okay to be sus, y'all.

The last time you clicked on a minecraftWhen the imposter is sus, and they come out to you, very emotionally. It's okay to be sus, y'all.

The last time you clicked on a minecraft video was probably like 5 years ago. Don't worry, i'm in that camp too. I'd rather watch paint dry than watch another hunger games lets play. My name is Schlatt, and today we're gonna talk a bit about how a stupidly simplistic sandbox became my favorite game. Where I think it took a turn in the wrong direction, and why even after all the new changes, even after how god-awful the community's become, and even after...mine...coins? There's still a soft spot for it in my heart. Minecraft came out for the Xbox 360 on May 9th, 2012. Coincidentally, that was the day that 12 year old Schlatt found his new favorite game. Remember Bionicles? Yeah I had more than you did, so naturally a game where you could build whatever you wanted was right up my alley. And the 360 release of minecraft was a barebones version of an already barebones game. It was charmingly simple, dropping you into a world with no real instructions or goals. There wasn't much to do. But things you could do, the game nailed. Combat was straightforward and fun, especially with a group of friends. Building stuff was almost therapeutic, and the quiet times spent mining in preparation for what was to come. That space to organize your thoughts and plan out your next move, all the while being serenaded by those faint piano melodies in the background. That was the icing on the cake. I was in love with this game. It let me be creative, adventurous. You could do with everything around you what you pleased. And to this day some of my fondest gaming memories have come from open world games like that. Day., GTA4, Sakura Beach… W-wait Every day i'd hop off the bus, throw myself on the couch and log back in. There was only one world I played on. I wanted to be the only of my friends that played on two, so I crammed as much cool **** on there as I could. I built minecarts, Mob traps, I exploited this duplication glitch and built a diamond house out of diamond blocks. Listen. I was a perfectionist. And this world had to be perfect. Or else all I would have been doing was wasting away in front of a TV every day. But even after the countless hours I pumped into minecraft, I was still pretty ass at building. So I started watching other people play to figure out what I could do or build to make my world a little better. And as a result, I found an entire new avenue of the game. I was never a huge fan of lets plays. My introduction to the genre was...well…loud. Even back then was a screaming contest. And even though I was twelve, that kind of stuff just didn't sit well with me. I felt myself gravitating towards more reserved and laid back youtubers like Monkeyfarm, who in the let's play space was a breath of fresh air. He took a very methodical approach to building, and his videos were more about that process rather than about him. And as I watched more videos, I eventually found my way into modded Minecraft through these two guys, Sips_ and Shin_. They were the quieter side of the Yogscast, and even though they both sucked at the game, it was hilariously fun to watch them dick around and trying to figure things out. These boys were the perfect lets play combo, and their SipsCo series where they automate the process of dirt collection is single handedly responsible for my foray into Tekkit. Tekkit was a different beast altogether. A collection of technology-oriented mods that looked like minecraft, but offered an entirely new way to play the game. If you didn't like mining, you didn't have to do it. You could build one of these things and it'd dig for you. If you didn't like building, well guess what. Anything you wanted to do could be done with the right machines, and it led to some pretty incredible stuff. Tekkit's charm wore off quickly, though. After the sipsco series ended, I found myself getting bored with mods, and gradually, I made my way back to Vanilla. But the charm was gone here, too. I tried to put my feelings into words on the Minecraft forum, and I left an extremely controversial post. I feel like minecraft is becoming too complicated. I liked it the old way better. Now there's weighted pressure plates and these sun things. I still don't know how to use anything from that redstone update. Why is everything becoming more complex? I thought minecraft was popular for it's sipmlicity (or at least that's why I liked it). I think I summed it up pretty well. I had stopped playing with mods because I preferred that simplicity - and with each new update and each round if new items and gameplay mechanics added to the base game, I felt like minecraft wasn't minecraft anymore. So that begs the question… what is Minecraft? For me, minecraft is not knowing how to play Minecraft. It's generating that first world and thinking to yourself "what next?". It's standing at the the foo

…

Expand

red sus! i saw red vent! vote red out! he faked keys! i saw him kill on cams! vote him out now! vote him now or we'll lose!

Red was not an imposter

A really cool game at a low price.
I like to play with my friend, we laught and have fun together.

I just bought this game. There are many glitches and issues with the game. Firstly is the accessing or navigating the lobby is via touchscreen

I just bought this game. There are many glitches and issues with the game. Firstly is the accessing or navigating the lobby is via touchscreen and there are none of the additional options seen in other platforms. Often games end on a black screen but with the sound still running like the game is still playing. So many matches are not properly concluded.
Where there are conclusions to the game these are not satisfying, especially as matches are affected by frequent departures of other players which can accelerate the game. Having three imposters in a group of ten seems badly designed as each round of voting can only result in the removal of one player and in-between that there are three players that can kill three others, only five need to be killed for the team to be outweighed.

I had heard of among us and was really fascinated by it, I had high expectations, but it seems more like the limited scope/quality seen in online team work free games like Lost Reavers. There is no sense of great ambition, although some updates/events are announced.
Maybe blaming my own high expectations is a way of excusing the real disappointment I feel about this game and the lost opportunities and potential it could have for team play.

Discussing and voting can often take too long and I am sure that there could be a better implementation to keep things flowing. Chat is not very intuitive and there can be frustrations in joining matches and then finding out that the room host is AFK or having some kind of attention-seeking strop.

Lastly, other aspects of the game are missing, such as the sense of progression in the game, so that the often repetitive rounds actually count for something other than a bunch of randoms with a short lived meaningless experience.

It is not a fully realised game but its existence may inspire the next full step taken to make a game that takes the best parts of it forward.

…

Expand

So many people are hyped for a casual mobile game, which gameplay is repetive and bores quickly. I may understand that the developers tried

So many people are hyped for a casual mobile game, which gameplay is repetive and bores quickly. I may understand that the developers tried and even cried with happiness when their game received the title of "best mobile game of 2020", even though it was released in 2018. But still, this game is overrated, and it became popular because the streamers promoted it. And now we have a terrible community, consisting of toxic kids and marginals.

Guys, I love indie games. By indie games I mean good ones like Hades or Forgotten Anne. Not this meme material **** And many people are worshipping Among Us as the best game of 2020. I played this game for a few days and it was dissapointment. There are so many cheaters here. The whole gameplay is nothing but just a guess game. I expected a good detective story, but instead we got oversimplified version of Werewolf.

…

Expand

How did this gme get more than the fantastic hit from two-thousand and five, Shadow the hedgehog?

Don't buy it. I bought the Nintendo Switch version. The first time I started it, it created an account that I can't delete or change. I

Don't buy it. I bought the Nintendo Switch version. The first time I started it, it created an account that I can't delete or change. I accidentally ticked the wrong birth year and online play is over. The birthdate cannot be changed, the game has activated parental control and requires email verification and my credit card number in order to charge $0.30. Are you kidding me? What's worse, the account can't be deleted even after deleting the game and all save data, apparently it's linked with a nintendo account. Don't buy it.

…

Expand