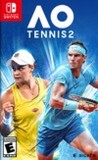 Summary:

AO Tennis 2 is the only tennis experience designed for and by its community. Create your own players, stadiums and legendary matches. Enter the competition to reach the top of world tennis in Career Mode.
AO Tennis 2 is a huge improvement on the original game and extremely close to being the perfect package. The lack of star players and unbalanced difficulty levels are the only things that hold it back from rivalling the best tennis games throughout history.

While the original AO Tennis may have launched with enough squandered potential to make even Nick Kyrgios shake his head, AO Tennis 2 has taken a major stride forward to more closely resemble an Ash Barty-style all-rounder. It could yet benefit from more balancing and bug fixing post-release, but as it stands AO Tennis 2 is the best videogame simulation of the sport in years.

AO Tennis 2 is this generation's Top Spin 4. It takes over a baton that has been carried through mis-steps and let-downs as tennis fans young and old finally have a game worth their time and effort. It's not perfect by any stretch but up against the competition and its predecessor it stands head-and-shoulders above them.

When everything works as intended, AO Tennis 2 is a contender for one of the best tennis games on Nintendo Switch. Closing out tense rallies and the satisfaction of winning from a losing position is immense. However, various performance issues on Switch limit its full potential in comparison to its beefier console counterparts. Updates will come, but the Xbox One and PS4 versions of AO Tennis 2 are much easier recommendations right now.

A port that doesn't stand out in the graphic and technical section. However, its gameplay is wonderful for lovers of pure and realistic tennis.

There's a genuinely brilliant game hidden away somewhere in AO Tennis 2, but you need to have the patience of a saint to put up with its horrendous frame rate issues and the impact they have on its already tricky stroke timing system. The Career mode is a joy and the level of customisation and user creations is unlike anything we've ever seen in a tennis game, so tennis fans may still want to give it a look, as long as they can cope with its infuriatingly erratic performance. It may not be a popular thing to say on a Nintendo site, but if you have access to another system, you may want to look into how it runs on that instead.

AO Tennis 2 on the Nintendo Switch sets expectations high but for a tennis simulation, everything falls below the required standards. While the career mode and the player creation tool are interesting, the game's cast of players feels disconnected from reality, while the gameplay feels too demanding and the graphics are simply out of date for the current time. Adding some performance issues to that doesn't make AO Tennis 2 any better and in the end, what could have been a good tennis simulation falls into a more disappointing side of the spectrum.
When playing against AI opponents in "PLAY NOW", I have never lost a match in the "rookie" level (this lack of challenge obviously removes any

When playing against AI opponents in "PLAY NOW", I have never lost a match in the "rookie" level (this lack of challenge obviously removes any potential for enjoying the game in rookie mode), and have never won a match when the level is set to "amateur". Wish amateur mode could be tweaked by the developers so that AI opponents aren't quite as hard to beat. I rarely can win any points in amateur level. Hoping for an update soon that improves this situation. If that occurs, I will increase my rating.

…

Expand