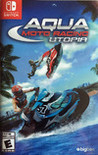 Summary:

Experience the thrill of high-powered watercraft and break-neck stunts in a utopian world. Race through heaving oceans along sandy beaches in the Tropics, Greece and Africa. Perform insane stunts and go around the buoys closely to charge your turbo and get the edge against your opponents.

Experience the thrill of high-powered watercraft and break-neck stunts in a utopian world. Race through heaving oceans along sandy beaches in the Tropics, Greece and Africa. Perform insane stunts and go around the buoys closely to charge your turbo and get the edge against your opponents. Earn cash by participating in races and spend it on better jet-skiis. Unlock new Championships and Achievements on your quest for Legendary Status. Compete against your friends in local and online multiplayer mode multiplayer mode.

…

Expand
Developer:

Zordix

Genre(s):

Racing

,

Arcade

,

Other

# of players:

Up to 8

Cheats:

On GameFAQs

Rating:

E
If you are looking for a aqua moto arcade experience to play wherever you are and you can forgive its faults, this title can satisfy you especially due to the good water representation.

Aqua Moto Racing Utopia wants to be the next Wave Race, but fails to deliver the experience in a few aspects.

I consider Aqua Moto Racing Utopia to just be a sub-par release. Again, it's not bad, it's just not great. Maybe casual/younger race fans might find some enjoyment out of it, but don't jump into this pool unless you find standing around in the shallow end to be fun.

Aqua Moto Racing Utopia is a solid and fun, if unspectacular title. Hunt down the physical copy if you must, but it won't break the bank on the eShop.

Aqua Moto Racing Utopia initially appeals for being a rare water-based racer. Scooting around on your jet-ski often feels more like riding a bucking bronco than driving a vehicle, and that makes it stand out from regular landlocked racers. However, it's lacking several layers of finesse and balance, the presentation is deeply unappealing, and those aggressive water physics are a mixed blessing. We're just going to have to wait patiently for Nintendo to return to the Wave Race universe, aren't we?

Unfortunately it doesn't do a successful job at presenting a memorable game, as its control is far from effective, its AI is often too aggressive and the game betrays its origins as something designed for mobile devices, rather than for gaming consoles.
Fun! Cool graphics. Maybe need a little better steering sometimes. But overall its a great game to play on Nintendo Switch. Looking forward

Fun! Cool graphics. Maybe need a little better steering sometimes. But overall its a great game to play on Nintendo Switch. Looking forward for more releases from this developer.

…

Expand

Great game for Switch! Gives me old feelings from Wave Racer. The party modes are awesome and really funny to play with friends and family.

Played it a few hours and the game really got me. Its hard but fun and really nice to play with friends. Give me also feeling from Wave racer!

Aqua moto racing is a Nintendo Switch game published by Bigben Interactive in France. You can call it an ode to the Wave Race series that

Aqua moto racing is a Nintendo Switch game published by Bigben Interactive in France. You can call it an ode to the Wave Race series that first debuted on Nintendo Game Boy. Without further ado I can say that this is a great game. The environments looks stunning. The gameplay is adrenaline inducing and will totally test your skill. The main feature is the races, and in them you race two types of jet skis. The regular one where you sit down and a more advanced nimble one where you stand up. You compete in championships and earn money by winning or picking up cash chips in the levels. For the money you can buy new and better jet skies. If you place well in a championship you unlock more races and more difficult championships. There is also a party mode with split screen play that has some fun game modes. There is actually a king of the hill mode with the jet skies where the developers have made an actual water hill! Imagine that!

…

Expand

critic reviews are very low rated but despite that the game is fun to play get past some courses easily but other courses and the controls can

critic reviews are very low rated but despite that the game is fun to play get past some courses easily but other courses and the controls can defeat you it gets a little clunky and the AI is beastly good screw up and there on you....
once you know the course and have better gear the game is more fun modes tracks are fun mini games are a nice distraction but they should have more arenas for the fun hockey game which is a blast
some tracks if not all were a challenge to me I'm Just lousy at race games but it the fun factor
modes are limited and the tracks buoy passing race base system is annoying on some tracks I'm hoping for a buoy free mode so I can enjoy the tracks the handling is similar to wave race but can be awkward...hard to explain but I found fun in this game and my kids love playing it...so recommended if they add more modes fix the AI and add a buoy free mode I'm sure its a must buy for anyone

…

Expand

This is a really well made water scooter game. You have races and you have stunt mode which consist of making stunts for points while keeping

This is a really well made water scooter game. You have races and you have stunt mode which consist of making stunts for points while keeping a multiplier active. I would have liked to see my opponents in the stunt mode but I guess you can´t have all. The water physics is really impressive and I feel like im driving a water scooter. It´s so much fun catching a big wave and making the big jump!

…

Expand

I think this game is pretty decent, it is a jet-ski racing game, it could have more customization options but it is pretty good