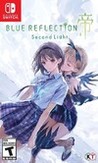 Summary:

Blue Reflection: Second Light follows the adventures of three students – Ao Hoshizaki, Kokoro Utsubo, and Yuki Kinjou – who find themselves transported to a mysterious floating academy, searching for clues to find their way back home, with only their names as memories. One day, a path

Blue Reflection: Second Light follows the adventures of three students – Ao Hoshizaki, Kokoro Utsubo, and Yuki Kinjou – who find themselves transported to a mysterious floating academy, searching for clues to find their way back home, with only their names as memories. One day, a path leading to a new land appears, but when the three protagonists set off to unravel the mystery, they're met by a series of deadly monsters. By battling the fiendish creatures, they unlock unknown powers that only seem to deepen the cryptic nature of their surroundings. Throughout the adventure, the three friends cooperate and struggle to make their everyday-life as rich and as fun as possible. While spending every day trapped in this unknown world, the characters' true feelings and personalities will be revealed, and as their bonds grow deeper, they will acquire new strengths and abilities.

…

Expand
Developer:

Gust

Genre(s):

Role-Playing

,

Japanese-Style

# of players:

No Online Multiplayer

Cheats:

On GameFAQs

Rating:

T
Blue Reflection: Second Light is a good sequel. It improves many aspects of the original game while being entertaining and a cool JRPG. Despite a few shortcomings, any Gust fan will have a blast with it.

Blue Reflection: Second Light improves on almost every aspect of the original, with a mystery that feels more personal as the characters become closer. The relationship between the girls as they seek to discover why they were brought to this strange world is the star of the show; though the combat is fun, it is always a vehicle to get you more story rather than the driving force of the game. Second Light is a fantastic-looking anime adventure that you'll love, so long as you can accept that combat isn't the focus.

Blue Reflection: Second Light provides an intriguing story and challenging battles despite its derivative gameplay. As such, I'd easily recommend it to fans of both anime and JRPGs.

Despite visual cutbacks, Blue Reflection: Second Light on Nintendo Switch is a fine way to experience a very good and relaxing JRPG. The game itself has one annoying mechanic, but is still worth playing if you're a fan of Gust's output. Hopefully it does well enough to get a port of the original game for Nintendo Switch.

Although it falls just short of the similar (but more intricate) Atelier games, those who enjoyed them will be entertained by Blue Reflection: Second Light. The fun characters, moving story, and familiar (albeit lighter) crafting / battle systems typical of Gust games are a great way to fill the time while we await the release of Atelier Sophie 2.

A slower-paced J-RPG but which offers a calm and soothing experience that will especially appeal to fans of Japanese productions.

Blue Reflection Second Light is not a game that will suit everyone, but it remains interesting on several aspects. Whether it is for the diversity of its environments, or the improvements compared to the previous game, which allow our heroines to evolve a little as we want. This second opus brings a bit of freshness with its new fighting system and it's encouraging for the future. And if you are interested, we advise you to test the demo.