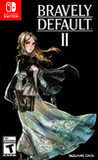 Summary:

Step into a brand-new world with four brand-new heroes. A new world, a new story, and all-new Heroes of Light await in an original RPG experience arriving on the Nintendo Switch system in 2020! This successor to the original Bravely Default game comes from the team that brought you the

Step into a brand-new world with four brand-new heroes. A new world, a new story, and all-new Heroes of Light await in an original RPG experience arriving on the Nintendo Switch system in 2020! This successor to the original Bravely Default game comes from the team that brought you the Bravely series and Octopath Traveler, and features music from Revo (Sound Horizon/Linked Horizon), acclaimed composer of the Bravely Default soundtrack.

* Brand-new entry in Square Enix's Bravely Series
* Travel the world in search of the four Crystals with the latest incarnation of the brave band known as the Heroes of Light
* Latest creation from Team Asano, creators of the Bravely series and Octopath Traveler
* New world filled with new characters, but with the atmosphere and excitement the Bravely series is known for

…

Expand
Developer:

Claytech Works

Genre(s):

Role-Playing

,

Japanese-Style

# of players:

No Online Multiplayer

Cheats:

On GameFAQs

Rating:

T
Please enter your birth date to watch this video:
You are not allowed to view this material at this time.
Bravely Default 2 - Nintendo Direct Mini Trailer
It seems inevitable to me that there are going to be a lot of people that dismiss Bravely Default II as a "retro-style JRPG." They'll see the turn-based combat, the very "JRPG" design of the characters, and all the other genre tropes that the game indulges, and assume that that's all it is. Nothing could be further from the truth. Nuanced writing, impeccable design and subtle subversion highlight that Bravely Default II is, instead, a game that uses its genre rather than allow it to become beholden to it. In many ways it's a highly metafictional thesis that explores what people love about JRPGs, and what is genuinely important to the genre. In doing so the game has become this wonderfully nuanced, beautiful, entertaining and emotive experience, and in my book, that makes it a masterpiece.

The wait for Bravely Default II has been long and hard, but now that it is finally here it convinces with high quality graphics, storytelling, gameplay and sound. While this title is not without flaws, these are minor compared to the overall excellence of this title. A joy to play at home on the big screen or on the go, this title is a great addition to any turn-based RPG fan's library.

Bravely Default II is a fun sequel that does it's best to improve on it's predecessor. While the dungeon designs are simplistic and the side quests lack variety, it's hard to ignore what Bravely Default II does well.

As a standalone title, Bravely Default II stands as a superb JRPG. But when it gets to be compared to the original, it sadly falls short. No matter how great its strengths are, they will always be remembered as being even greater before. Yet you should still not miss it if you are into the genre or if you loved the original, as it is a wonderful title no matter what you compare it to.

Bravely Default 2 is a nice JRPG with a strong combat system, that only falls short in terms of its story.

Bravely Default 2 is a decent JRPG cut from the same cloth as its inspirators. The combat is undeniably addictive, but its old-school sensibilities see it occasionally suffer from poor pacing and frustrating periods of grind.

AIt hits all of the usual story beats and it will scratch an itch for JRPG obsessives, but there's an absolute lack of substance. There's no discernable creativity, flair, or ingenuity in any part of it. It doesn't want to either reinvent the wheel or even add a lick of polish to it. It is a game which exists and functions as it was meant to; a JRPG as by-the-numbers as they come, I just wish the developers had been brave enough to take a few more risks.
Best RPG in a while. Definitely better than P5R where there is only repetitive combat.

Best Jrpg recently.
If you like the turn based Jrpg, it's a gorgeous game for you.

Original graphics, dignified history gave a good rpg, classic battle system and impeccable soundtrack

It doesn't try to reinvent the wheel and that's why I personally enjoy the game a lot.
You either know what you're getting yourself into;It doesn't try to reinvent the wheel and that's why I personally enjoy the game a lot.
You either know what you're getting yourself into; i.e. an old-school RPG in the image of the golden days of Final Fantasy, or you don't and you might feel surprised by sudden Difficulty bumps at each boss fight.

Not being able to steamroll through the game like in a lot of modern RPGs? Sign me up.

…

Expand

The spiritual successor of old-time classic ATB Final Fantasy.

First, tbh, I partially lose my hope with how SE do jrpg for quite some timeThe spiritual successor of old-time classic ATB Final Fantasy.

First, tbh, I partially lose my hope with how SE do jrpg for quite some time and never play new FF after X. This game is a true spiritual successor to classic FF I-V.
If you love FF V, this game is quite similar to many aspects such as job system and class change.
The story is simple and set in a fantasy world, something FF I-V and IX did well. No time traveling or change the timeline bs that the newer FF and even FF VII remake tried to add but failed to execute well, leaving the story as incomprehensible.

The art style is glorious and beautiful, in particular, background, world map, and town. I hope more jrpgs follow this style, even though it is harder on their artists.

The downside is that, since it is modernized of ATB FF, it might not be for you if you don't like turn based. Some mechanics are conservative. This means if you are more of a fan of modern jrpg or wjrpg, check the demo first if you still like the game as this game might not be mainstream.

My score 8/10 is a temporary score as I just got my game today and it is based on the demo and the first few hours of the actual game. Will update my score and review it when I play more.

…

Expand

Bravely Default - 9/10 awesome
End Layer - 7/10 pretty good
Bravely Default 2 - "meh" I feel like the ones praising this never played theBravely Default - 9/10 awesome
End Layer - 7/10 pretty good
Bravely Default 2 - "meh"

I feel like the ones praising this never played the 3ds games, like yeah its not that bad but I don't see how you can look past the added chunkiness of the UI and bigger focus on tedious grinding and consider it on the same level of quality as the first 2 games. The story never hooked me, the other games weren't amazing at this either but this entry is probably the worst yet, In my opinion you should play the first game because it rocks and maybe end layer if you want more but skip this one.

…

Expand

this game has very boring gameplay mechanics and a very boring soundtrack. I don't like this game it all