Publisher:

Nintendo

Release Date:

Jun 5, 2020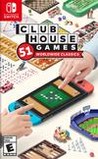 Summary:

Play and discover 51 board games, tabletop games, and more all in one package -- Clubhouse Games: 51 Worldwide Classics. This diverse collection includes games from all over the world across multiple genres, from familiar favorites like Chess to international hits like Mancala that have been

Play and discover 51 board games, tabletop games, and more all in one package -- Clubhouse Games: 51 Worldwide Classics. This diverse collection includes games from all over the world across multiple genres, from familiar favorites like Chess to international hits like Mancala that have been around for 100s of years!

Enjoy familiar favorites and learn hidden gems from around the world in this collection of 51 board games, tabletop games and more! Whether you like to sit and strategize or rely on reflexes, Clubhouse Games: 51 Worldwide Classics contains games from across an array of genres for you to play and discover. Each game is presented with stunning detail as dice clack and marbles glimmer.

Strategic players will feel right at home with games like Four-in-a-row and Renegade, while those who prefer to use their reflexes can enjoy games like Slot Cars and Toy Boxing!

With board games, card games, sports, solitaires and more, Clubhouse Games: 51 Worldwide Classics is an eclectic collection of games to play and discover on your Nintendo Switch.

…

Expand
Genre(s):

Miscellaneous

,

Party / Minigame

# of players:

Up to 4

Cheats:

On GameFAQs

Rating:

E
There's something that draws you to a good game, be it board, card or pencil and paper. 51 Worldwide Games presents high quality, faithful renditions of both classics and lesser known games, providing challenge and enjoyment in equal measure.

51 Worldwide Games is a brilliant collection of some of the best (and in some cases oldest) games out there. From cards to dominoes and boards to balls, you'll find a varied mix both familiar and fresh all wrapped in a wonderfully clean and polished package. Much like Animal Crossing: New Horizons, 51 Worldwide Games is another one of those releases that can be enjoyed by anyone be they a gamer or not. It may not have the earth-shaking excitement of a new Mario or Metroid backing it, but it certainly delivers on the fun. Do not pass on this delightful gem.

Nintendo Force Magazine

Oct 26, 2020

Having so many great, timeless classics all together and so easy to pick up and put down at a moment's notice is spectacular. [Issue #48 – September/October 2020, p. 70]

A polished package of classic and modern games the entire family will enjoy.

Clubhouse Games: 51 Worldwide Classics is a solid compilation of some fantastic games. No, not all of them are winners, but the vast majority are engaging simple versions of the best tabletop games around. Though the single-player experience might be slightly lacking, Clubhouse Games is undoubtedly one of the best local multiplayer experiences on the Switch.

This can stand tall knowing that it compiles a number of brilliantly addictive games that can be fun to play alone or with friends. Almost all can be played in a quick pick-up and play fashion, which can be handy for those looking to play in short bursts, whether on a short commute, or in a party scenario. Online matchmaking should perhaps be refined so that people match players first, and select games after, but this aside, 51 Worldwide Games is a fantastic budget title that all Nintendo Switch owners should buy.

Clubhouse Games looks good but lacks any real substance beyond its large catalog of games, many of which offer little more than the most basic of strategies. It's as if Nintendo decided to collect free games put out for Windows 98 and then give them an HD render, offering some idle amusement. Once Clubhouse Games gets discounted (and I'm sure that it won't be long), it might be worth the price tag, but I wouldn't invest in a full-price version right out of the gate.
greatest game ive ever played. theres a little something for everyone. i really like it. better than oot

I am a huge fan since it was announced! My girlfriend gifted it to me and we enjoy it a lot playing together. We have learned a lot of games

I am a huge fan since it was announced! My girlfriend gifted it to me and we enjoy it a lot playing together. We have learned a lot of games to play with our friends as well.

Furthermore, it has outstanding graphics for a game of this kind: it looks so pretty, especially in toy games! And music is really chill and comfortable to play with in the background.

Sincerely, one of the games I am enjoying the most on the Switch even for it being so simple.

…

Expand

Very solid minigame collection for $40. A lot of fun so far and very enjoyable. If you're in the mood for some classic games, check this one out.

It's true that with friends this game can be hella fun, though it doesn't last long due to it allowing only 2 players per one console, even in

It's true that with friends this game can be hella fun, though it doesn't last long due to it allowing only 2 players per one console, even in games which could normally be played by 4 players, and I see no reason for that. I also see no reason for why should games like poker or blackjack have only round-limited game modes. It's only a few examples of the game lacking in functionality but with that said, the real joy of this game I found playing on my own. There is something really relaxing and enjoyable about just playing those classic board games, and especially learning ones that you have never played before. They all have how-to sections with which you can easily learn the basics, and some tips if you want to become a bit better. And those which seem more complicated even have their own tutorial mode. Thanks to that I, for example, learned how to play Riichi Mahjong, and spent many hours delving into it, as where without it, having a physical version of it, I would have probably just skipped it.
It is not a game which I would play day after day, but I'll definitely come back to it once in a while, whether on a plane trip, or chilling at home, and with the amount of games it has, it is definitely worth the price.

…

Expand

Le jeu est excellent avec une interface très simple et clair, une ambiance sonore et un travaille sur l'audio qui ajouté vraiment une

Le jeu est excellent avec une interface très simple et clair, une ambiance sonore et un travaille sur l'audio qui ajouté vraiment une immersion. Le jeu en ligne fonctionne bien, la variété des jeux est là avec de très bonne explication pour découvrir de nouveaux jeux.
Après certain jeux sont moins fun à joué comme le golf ou la pêche. Pas moyen de mettre des jeux en favoris pour les lancé rapidement ce qui est dommage ou encore certain jeu limité sur une Switch de par la taille d'écran ou de statistique détaillé avec pourquoi pas des récompenses sur le online.

…

Expand

Once they fix the online play, this will be a 10. But my games are lagging online playing a CARD GAME!

You are forced locally to play with joycons which is trash, and on top of that you have no other option of playing with them besides hand

You are forced locally to play with joycons which is trash, and on top of that you have no other option of playing with them besides hand held. Wanted a fun game to play on the TV but it sucks now this game is useless for the family. Don't buy Nintendo doesn't do refunds because they are a trash company. Waste of $40. Not everyone wants to use your dumb lamecons. Now I'm stuck with a. Trash game I will never use and sadly the controls of the joy con suck imagine Wii sports but 100 times worse that is how bad this game is. Nintendo needs to get their crap TOGETHER.

…

Expand