Publisher:

Nintendo

Release Date:

Jun 5, 2020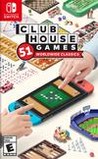 Summary:

Play and discover 51 board games, tabletop games, and more all in one package -- Clubhouse Games: 51 Worldwide Classics. This diverse collection includes games from all over the world across multiple genres, from familiar favorites like Chess to international hits like Mancala that have been

Play and discover 51 board games, tabletop games, and more all in one package -- Clubhouse Games: 51 Worldwide Classics. This diverse collection includes games from all over the world across multiple genres, from familiar favorites like Chess to international hits like Mancala that have been around for 100s of years!

Enjoy familiar favorites and learn hidden gems from around the world in this collection of 51 board games, tabletop games and more! Whether you like to sit and strategize or rely on reflexes, Clubhouse Games: 51 Worldwide Classics contains games from across an array of genres for you to play and discover. Each game is presented with stunning detail as dice clack and marbles glimmer.

Strategic players will feel right at home with games like Four-in-a-row and Renegade, while those who prefer to use their reflexes can enjoy games like Slot Cars and Toy Boxing!

With board games, card games, sports, solitaires and more, Clubhouse Games: 51 Worldwide Classics is an eclectic collection of games to play and discover on your Nintendo Switch.

…

Expand
Developer:

Nintendo, Nd Cube

Genre(s):

Miscellaneous

,

Party / Minigame

# of players:

Up to 4

Cheats:

On GameFAQs

Rating:

E
There's something that draws you to a good game, be it board, card or pencil and paper. 51 Worldwide Games presents high quality, faithful renditions of both classics and lesser known games, providing challenge and enjoyment in equal measure.

Clubhouse Games: 51 Worldwide Classics doesn't simply offer classic board games and some sports. It offers a magnificent representation of them on Nintendo Switch. This title achieves that players of all ages, fans or not of video games, take a Joy-Con and enjoy up to 51 very varied and fun games. An essential game to play at parties with friends or family.

Clubhouse Games: 51 Worldwide Classics is sure to provide hours of entertainment whether you prefer playing solo, online, or with local chums. Seeing as it's bursting with tons of enjoyable games, this is one must-have collection.

Featuring a potent mix of classics like chess and mahjong, Clubhouse Games is an excellent compilation of what might as well be public domain board games and card games. The titles are a blast while playing solo or online, but some games offer limited local multiplayer options.

Clubhouse Games: 51 Worldwide Classics is a solid compilation of some fantastic games. No, not all of them are winners, but the vast majority are engaging simple versions of the best tabletop games around. Though the single-player experience might be slightly lacking, Clubhouse Games is undoubtedly one of the best local multiplayer experiences on the Switch.

Despite the aforementioned quibbles I have with the shared-screen multiplayer experience and the lack of incentive for repeated solo play, I still think 51 Worldwide Games is an excellent package. You know why? Because Chess is really fun. As is Connect 4 and Hanafuda (another new experience for me). Combine the vast selection of games available with the ease of use of playing with the touch screen or Joy Con controls, plus the terrific teaching tools on offer, and 51 Worldwide Games is an impressive value proposition.

Clubhouse Games looks good but lacks any real substance beyond its large catalog of games, many of which offer little more than the most basic of strategies. It's as if Nintendo decided to collect free games put out for Windows 98 and then give them an HD render, offering some idle amusement. Once Clubhouse Games gets discounted (and I'm sure that it won't be long), it might be worth the price tag, but I wouldn't invest in a full-price version right out of the gate.
This collection of games is providing the most fun, by far, that I've had with my Switch. It's apparent that a great deal of time, coding

This collection of games is providing the most fun, by far, that I've had with my Switch. It's apparent that a great deal of time, coding skill and creativity went into the development of every one of these 51 games. As a 72-year-old, I appreciate that Nintendo has produced a collection that has a wide variety of games likely to appeal to players of all ages, even old folks like me.

…

Expand

best deal ever!!! with 51 games you will find a few to love and many to like.
it also each game has a tutorial to learn how to play , so thebest deal ever!!! with 51 games you will find a few to love and many to like.
it also each game has a tutorial to learn how to play , so the you know how to play the real game too.

…

Expand

greatest game ive ever played. theres a little something for everyone. i really like it. better than oot

It's an excellent collection of games that'll keep you and your friends entertained for a long time.

ClubHouse Games 51 Worldwide Classics is exactly what the name of the game implies, there is over 51 unique and engaging games to get through

ClubHouse Games 51 Worldwide Classics is exactly what the name of the game implies, there is over 51 unique and engaging games to get through and they are all well made. There is card games board games and other unique games as well, the game is also pretty charming and it's always fun to play with friends and family. Sadly there is weird limitations while playing 3-4 players that really ruin some of the fun, also there is questionable choices in the online mode. However the online is still great and works perfectly, and the charming soundtrack always delivers. ClubHouse Games 51 WolrdWide Classics is a very enjoyable game alone or with family and friends it's always great to play both engaging and unique games all the time, I just wish the weird design choices and dumb limitations would be fixed, but overall this game is so much fun especially with others so I recommend this game to those who want to play with their friends and families. (Good 3/5) Give It A Try!

…

Expand

Once they fix the online play, this will be a 10. But my games are lagging online playing a CARD GAME!

You are forced locally to play with joycons which is trash, and on top of that you have no other option of playing with them besides hand

You are forced locally to play with joycons which is trash, and on top of that you have no other option of playing with them besides hand held. Wanted a fun game to play on the TV but it sucks now this game is useless for the family. Don't buy Nintendo doesn't do refunds because they are a trash company. Waste of $40. Not everyone wants to use your dumb lamecons. Now I'm stuck with a. Trash game I will never use and sadly the controls of the joy con suck imagine Wii sports but 100 times worse that is how bad this game is. Nintendo needs to get their crap TOGETHER.

…

Expand