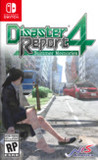 Summary:

Through the game, players can experience the fear brought on by an earthquake, and can learn that wisdom, bravery and people's bonding through mutual assistance are necessary for survival. Can players escape from the disaster?
Developer:

Irem

Genre(s):

Action Adventure

,

General

,

Survival

# of players:

No Online Multiplayer

Cheats:

On GameFAQs

Rating:

T
I see great potential in Disaster Report 4: Summer Memories! I do think that there will be patches to fix the frame rate, and maybe even DLC chapters continuing the story.

Disaster Report 4: Summer Memories features many over-the-top dramatized survival scenarios that are incredibly enjoyable. The resource management and systems kept me playing regardless of the low framerate and aged graphics. Each scene is cleverly written and features some memorable characters who make surviving through these natural disasters so very worth it in the end.

Disaster Report 4: Summer Memories has arrived, and it has many good ideas; but also a rather lacking technical realization.

At best, Disaster Report 4 recalls the mundane and absurd human dramas seen in Yakuza and Deadly Premonition, though shares more of the latter's rough low-budget execution. Ultimately, it's an acquired taste but might just scrape through on its peculiar charms to be a cult favourite.

Disaster Report 4: Summer Memories shows its side to undeniable technical criticisms, caused by a bad optimization and a game structure that would have been dusty fifteen years ago. However, it remains a cult game, made with heart and with a great concept behind it.

From a technical perspective, the Switch port of Disaster Report 4: Summer Memories is an absolute mess. Narratively and artistically, however, it's one of the most fascinating games in recent memory. Its emotionally engaging exploration of a disastrous incident's human aftermath is about as far as it's possible to get from the Hollywood blockbuster treatment – and it's all the better for it. If you can fight past the technical shortcomings – which, it's worth stating, are pretty considerable – then you'll find an experience that's totally unique on Switch, and that's no mean feat when you consider the depth of the console's library.

Initially meant to be released in 2011, Disaster Report 4 was not worth the wait. The Switch version of the game is a complete mess (old-timey textures, frequent FPS drops...) and the experience is not very captivating overall, gameplay-wise. The only appeal of the game is in its atmosphere, paradoxically slow-moving and contemplative.
It's a legitimately bad game. Saying it was rushed or even finished would be an overstatement. Having said that, I really enjoyed it and

It's a legitimately bad game. Saying it was rushed or even finished would be an overstatement. Having said that, I really enjoyed it and played it to the end. Some of the stuff that happends is just mental. I've never played anything like it. I was captivated.

I got it half price, and it was just about worth it. Don't buy it full price and use a guide because some of the "puzzles" literally make no sense, But enjoy the weirdness.

…

Expand

Disaster Report 4: Summer Memories est bourré de bonnes idées et son concept est unique. Certaines scènes du jeu sont bouleversantes car faire

Disaster Report 4: Summer Memories est bourré de bonnes idées et son concept est unique. Certaines scènes du jeu sont bouleversantes car faire finalement très réalistes, et certains choix vous marqueront et resteront sans doute longtemps dans votre esprit. Mais voilà, le gros souci principal du jeu est sa technique et ce sera rédhibitoire pour une majorité de joueurs. Même sur Switch, il est difficile d'accepter de joueur à un jeu si faible graphiquement. C'est dommage car le jeu a quand même une proposition intéressante et qui sors clairement de nos habitudes de joueurs.

…

Expand

I am saying it here, if this game was on sale, maybe its worth it but not the full price tag. The graphics is ok, but due to the controls, the

I am saying it here, if this game was on sale, maybe its worth it but not the full price tag. The graphics is ok, but due to the controls, the whole thing comes off as laggy and unpolished. Seems like they are just trying to push out a game. The game play itself is fine, and the reaction of the NPCs and their speeches are accurate to the culture and people, but that's really all the positives I have for this game.

…

Expand