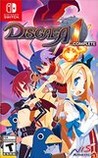 Summary:

The Overlord is dead. The Netherworld is in turmoil. Time to kick some ass! Netherworld Prince Laharl awakens to fight for his throne and it's up to him and some unlikely allies to defend what is rightfully his. Together with his devious vassal Etna, the angel trainee Flonne, and a whole

The Overlord is dead. The Netherworld is in turmoil. Time to kick some ass! Netherworld Prince Laharl awakens to fight for his throne and it's up to him and some unlikely allies to defend what is rightfully his. Together with his devious vassal Etna, the angel trainee Flonne, and a whole cavalcade of explosive characters, Laharl will slash, shoot, and punch his way to the top. Build your squad to level 9999 and unleash crazy special skills, team attacks, and spells to deal millions of points of damage in this zany high-definition remake of an RPG classic.

…

Expand
Developer:

Nippon Ichi Software

Genre(s):

Strategy

,

Turn-Based

,

Tactics

# of players:

No Online Multiplayer

Cheats:

On GameFAQs

Rating:

T
Please enter your birth date to watch this video:
You are not allowed to view this material at this time.
Disgaea 1 Complete - Launch Trailer
Disgaea 1 is the one least likely to overwhelm people who aren't deeply familiar with tactics JRPGs and complex JRPG systems. For this reason, this remaster is the perfect entry point for the curious, and anyone interested in the history and heritage of Nippon Ichi's premier franchise will get a kick out of it too.

This is easily the best version of the Disgaea bringing in all the improvements and enhancements from other versions with a lot of polish. The only problem is the asking price.

If you're an existing fan or want to get into the series then Disgaea 1 Complete is a must-buy remake. Its gameplay, humour, and vast amount of content hold up impressively well 15 years after its debut and it looks better than ever, too.

Even if the game grew old not very well, Disgaea 1 is one of the most significant exponent of this genre. Despite of the PC version, there are no significant differences.

Japan-based developer Nippon Ichi's Disgaea 1 Complete, an HD re-release of 2003's Disgaea: Hour of Darkness, presents grinding as a spectacle of artful, sometimes comical, excess.

Disgaea 1 Complete is a somewhat lazy port that adds nothing relevant to the original experience you probably played already when it was released again on PC a couple years ago, except for the revamped sprites and animations that admittely look quite good.

Still one of the best strategy role-playing games ever made and a great place for newcomers to the franchise to start – assuming they've got the dedication necessary.
The game is good, however it is too lazy and not a remake, they brought no gameplay improvements.
Also asking price to steep.

As a Fan of the complete Disgaea Saga, i' m so sad to have to put this score to this game. But it is what it deserves.

This is not aAs a Fan of the complete Disgaea Saga, i' m so sad to have to put this score to this game. But it is what it deserves.

This is not a Remake, is just a ReSkin. It won't be a great deal if the price wasn't near like a new game (49€).

There is a list of the problems:
- No QoL improvements. Everything is like the first game in every aspect, even in the negative things.
You can't Skip animation skills by pushing a button.
You can't make the geochanges go faster.
You can't gain exp by healing.
Item world still with imposible rooms.
The innocents in item world problem from the first game comes back.
No Machichange.
Changing voices to characters.
Continue in the same battle if you die.
Canceling just the attack or the movement or moving until ending the action.
Nothing comes with the game.

- The Re-skin is REALLY lazy. They just use assets from the new games and put them on the characters. But they don't change the old ones from the story, so you have a mix of New sprites in battles and old sprites in the reading.

- Some old monsters, where they didn't came in the other games are gone and changed by the new ones, just to use that skins. So, wingeds, Galactic demons... They are gone. They didn't even tried to make new skins for them. This adds to the lazyness.

Yes, the story is good, but that's not an excuse as it's been there for more than 10 years.. If i just wanted to play Disgaea as before, i could just buy the old one on Steam for 14,99€ instead of 49,99€. Don't buy the game. It doesn't cost this price at this moment. It's just a cash grab.

…

Expand