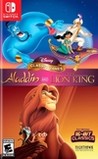 Summary:

2 of the most beloved Disney games of all time make their long-awaited return to modern consoles in Disney Classic Games: Aladdinand The Lion King. This package of Disney classics is filled with plenty of new features, enhancements, game modes, and display options, plus multiple versions of

2 of the most beloved Disney games of all time make their long-awaited return to modern consoles in Disney Classic Games: Aladdinand The Lion King. This package of Disney classics is filled with plenty of new features, enhancements, game modes, and display options, plus multiple versions of the games.

…

Expand
Developer:

Digital Eclipse

Genre(s):

Miscellaneous

,

Compilation

# of players:

No Online Multiplayer

Cheats:

On GameFAQs

Rating:

E10+
Disney Classic Games: Aladdin and The Lion King is a delightful collection for two of the greats of their generation.

This is an essential entry into the greater view of video game history and I'm so happy that a collection like this exists.

Overall, this is a great package of some excellent games from the 16-bit era. While I personally believe that the Genesis version of Aladdin is much better than the one seen on the Super Nintendo, the Disney Classic Games collection could've used the Super Nintendo version of Aladdin to make this feel more like a complete package. However, the art gallery, quick-save features, and added extras such as the final cut of Aladdin solidify this collection as the definitive way to experience these games. It would certainly be great to have more Disney compilations following this.

This is a fantastic collection of fantastic games. Most of them have aged quite well, and all the extras included are just incredible –a true treasure for the video game industry. However, some absences like SNES Aladdin are hard to justify.

Disney Classic Games: Aladdin And The Lion King is a collection for current-gen machines of the action platform games so popular in mid 90s. The museum sections offers some sweet fan-service, together with a good amount of value for nostalgic players and Disney lovers.

Aladdin and The Lion King is a well-thought compilation : with only two games (plus some of their handheld variations), Nighthawk put so much extra content to please fans of both the movies and the games : interviews, guide books taken from the movies... We wish we would have more games to play, but the intention is really there.

While Aladdin got a fairly decent treatment in the Disney Classic Games port, The Lion King is left just as barebones and hard as the original.
I was very disappointed when I realized after I purchased this game that the Aladdin is NOT the Super Nintendo version. I wouldn't have bought

I was very disappointed when I realized after I purchased this game that the Aladdin is NOT the Super Nintendo version. I wouldn't have bought this if I would've known, since that version of the game is so much better.

…

Expand

These games are decent, Lion King for me was a bit harder compared to the older ones since sometimes, on this newer one, it just wasn't

These games are decent, Lion King for me was a bit harder compared to the older ones since sometimes, on this newer one, it just wasn't responding as quickly as the older one. Aladdin was alright but it still had a flaw where the fire pits were to big to jump across completely where I would jump right when I get to the fire but still fall onto the fire pit a few times.

…

Expand

Just saw this on the eShop. Lol 35€ for a couple of 25-year-old games. You have GOT to be joking. I feel sorry for anyone who buys this at

Just saw this on the eShop. Lol 35€ for a couple of 25-year-old games. You have GOT to be joking. I feel sorry for anyone who buys this at full price. Especially considering that you can get games like Okami HD or Ori & The Blind Forest for 20€.

…

Expand