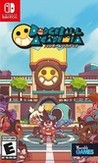 Summary:

In a world where dodgeball is life, you join Otto at the academy and train to become the ultimate dodgeball champion. Across eight episodes, you'll forge friendships and create rivals, all in the name of developing the best dodgeball team. Level up Otto and develop a dynamic team across a

In a world where dodgeball is life, you join Otto at the academy and train to become the ultimate dodgeball champion. Across eight episodes, you'll forge friendships and create rivals, all in the name of developing the best dodgeball team. Level up Otto and develop a dynamic team across a vast and customizable party progression system. All the while, explore the vast Dodgeball Academia and uncover the long hidden truths that reside within the very walls you live, learn, and dominate in.

…

Expand
Developer:

Pocket Trap

Genre(s):

Sports

,

Individual

,

Other

# of players:

No Online Multiplayer

Cheats:

On GameFAQs

Rating:

E
With a great combination of RPG and dodgeball, Dodgeball Academia plays a lot of balls and hit the nail on the head.

The best part of Dodgeball Academia though is when everything clicks as an RPG. It's a joy to figure out the right strategy to win a tough fight. I love exploring the world and seeing what happens next in the goofy story. This isn't just a great sports game, it's also a superb RPG that, like the likes of Golf Story, should appeal to those who aren't inclined to sport.

Dodgeball Academia is releasing on many platforms, but personally, I would heavily recommend playing this game on the Switch. Thanks to a fixed camera angle, the controls are simple enough to grasp efficiently, and I suspect they will suit the portable factor rather nicely. I could absolutely see this becoming a new favorite party game.

Dodgeball Academia is a joy to play with hard-hitting balls to the face action. The tone of the story may be a bit too hyperactive for some, a shame when we're talking about an RPG, but there's still enough joy and genuine laughs to be found to be worth your time.

When it's all said and done though, Dodgeball Academia is much better than I was expecting. I enjoyed the style, the zaniness, the characters, and only got frustrated by the gameplay a couple of times. Given my childhood history with the sport and my general anger over not being able to win in every game, a couple of times of frustration is a MASSIVE win. While the RPG elements to it are a little on the light side, the open-ish world and all of the side quests/daily challenges you get to tackle on top of the story have you 3 hours deep into dodgeball games before you know it. The fun and light hearted aspects of the game outweigh the negatives, making Dodgeball Academia a good pick up if you're looking to hear that SPLAT once more.

Dodgeball Academia breaks off at an appropriate point and leaves a good feeling behind; there's enough about the game to enjoy its content. It successfully evokes the feelings that come from watching fun cartoons, though on the gameplay side it feels like it would benefit from having more standout and extended matches as regular encounters towards the end because it felt like they were mostly making up the numbers. There's definitely scope available for Pocket Trap to build on what it has created here, and I'd be very happy to see it do so.

Dodgeball Academia does admittedly come together in a rather compelling way, but we're critical of the independent elements that make up this package. You might find yourself caught up in the storyline, which could potentially make up for its other shortcomings, but we found it a little disposable. It's clear that love has been poured into this adventure and it's absolutely superb to look at and listen to — we just wish the central sport was a more enjoyable to play and the dialogue wasn't so interminable. You might dig this game more if you get hooked into the grind, so to speak — battles are over quickly and levelling up is always fun — but overall, if you're not willing to get by on sheer aesthetics, you might want to dodge this one.
I've been playing Dodgeball Academia this weekend and it has surprised me how much fun I'm having with it. I played it on Xbox Game Pass on a

I've been playing Dodgeball Academia this weekend and it has surprised me how much fun I'm having with it. I played it on Xbox Game Pass on a whim, but after a few hours I bought it on the Switch to play it portably (without using the cloud) and have been enjoying it even more.

It's a 2.5D Dodgeball RPG that's very reminiscent of the GBA versions of Mario Tennis/Golf in formula but with a lot more story/dialogue like Golf Story. Definitely not as comedic and witty as GS but there are some funny and charming moments in it. It feels like a Saturday morning cartoon/anime with its art style kinda reminiscent of OK K.O. It also has a lot of elements from Pokémon and parodies it often with a rival character that keeps coming back to challenge you, random kids who will run to you when you pass them to force you into a match etc. The music is also pretty similar in a good way.

Gameplay is really fun and challenging at times. As far as I've been playing you slowly get introduced to new mechanics that make the game more fun and adds depth to the matches. You play with different characters who all have unique abilities with their Charge Throw, Focus ability and Balltimate but the opponents also have unique abilities too and that makes each match feel different (besides the fodder side quest characters).

The RPG elements are great too as you gain XP and level up, boost stats with items, choose equipment that further enhances your stats etc. There's a lot to this game that keeps the game fresh and keeps you wanting more. You'll find a lot of these items running around the map and finding chests and boxes that are hidden or just laying around.

All in all, the 9 or so hours I've played so far have been a blast and if you're a fan of the games I mentioned above like I am, this game tends to tick most of the boxes that made me fall in love with those games. I can't recommend it enough.

…

Expand

Dodgeball Academia is a super mix of Pokemon + Mario Tennis + Shonen satire, which together make an action RPG fun and full of charismatic

Dodgeball Academia is a super mix of Pokemon + Mario Tennis + Shonen satire, which together make an action RPG fun and full of charismatic characters.

If you like any of these elements you will possibly love this game, new elements are introduced in each new chapter leaving the game play that is simple, with a great complex depth.

Despite having a gameplay of about 15h the game delivers a lot, and we get a taste of wanting more!

…

Expand

I want more Humble Games!
Please make a 2,3,4 like Inazuma Eleven!

Beauty!

I played Mario Tennis, then Mario Golf on my Switch, and i felt so disappointed with these Arcade Sports "slash" RPG games.
Then, I foundI played Mario Tennis, then Mario Golf on my Switch, and i felt so disappointed with these Arcade Sports "slash" RPG games.
Then, I found this jewel for the system. Nintendo definitively should hire this company to develop the next Mario Strikers.
The RPG elements are superb and the sports elements feels like a 16-bit with updated mechanics.
A must-buy.

…

Expand

Idea 10/10
Game Design 10/10
Art 99/10 Music 9/10 Story9/10 This game was the surprise of the year! All the devs must be very proud ofIdea 10/10
Game Design 10/10
Art 99/10
Music 9/10
Story9/10

This game was the surprise of the year! All the devs must be very proud of it! I started playing on Xbox but I've decided to buy on Switch! Danke!

…

Expand

The catch and dodge mechanic don't work at all. Its just a game you have to grind and force your way through. Not fun at all after ten hours.

The catch and dodge mechanic don't work at all. Its just a game you have to grind and force your way through. Not fun at all after ten hours. Liked the idea but lack in game play and execution. 0 out of ten

…

Expand