Publisher:

Nintendo

Release Date:

Jan 3, 2020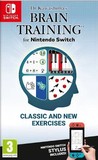 Summary:

Get ready to challenge your brain in a variety of ways in Dr Kawashima's Brain Training for Nintendo Switch. Enjoy new exercises, some of them making use of the right Joy-Con's IR Motion Camera*, or tap and train with classic exercises from past Brain Training games that you can play using a

Get ready to challenge your brain in a variety of ways in Dr Kawashima's Brain Training for Nintendo Switch. Enjoy new exercises, some of them making use of the right Joy-Con's IR Motion Camera*, or tap and train with classic exercises from past Brain Training games that you can play using a stylus (included with the packaged version from retail stores) or your finger. It's in your hands.

…

Expand
An effective update of the proven formula that we enjoyed many years ago. Anyone can enjoy it, although we expected a little more variety.

Quick, fun, entertaining and now multiplayer, Dr Kawashima's Brain Training is a good entry in the franchise. The cons are some really new elements and not being full compatible with Nintendo Switch Lite.

Dr Kawashima's Brain Training for Nintendo Switch certainly isn't as good as its predecessors. With its letter and number recognition problems and the Switch's controllers not detecting arm movements accurately, there are some minigames that players will definitely be put off by. But its unique new additions that utilise the Switch's IR camera are a real joy to play – and more than anything, even if it's not perfect, it's just lovely to have Dr. Kawashima on the Switch at last.

This game is exactly what you'd expect: an hommage to the Nintendo DS classic with a few new features. Most of it is still great, but the infrared is technically lacking.

Dr. Kawashima fits for short gaming sessions based on memory games and it's always fun to track your progress. But, the whole game isn't as new as we would have hoped and it lacks precision.

Dr Kawashima's Brain Training for Switch doesn't feel suited to Nintendo's latest portable, with the awkward use of the stylus and flimsy handwriting recognition sapping the joy from sharpening your smarts. There's still plenty of fun to be hand with the brain-teasing puzzles, but limited content ensures this is a far cry from the Nintendo DS original.

Regardless of what it may or may not do to your brain age, this is a disappointingly low effort remaster with serious technical issues and a lack of interesting content.
I played most of Doctor Ryuta Kawashima games on Nintendo DS and 3DS for a few years and I was really happy to play them again on Switch. No

I played most of Doctor Ryuta Kawashima games on Nintendo DS and 3DS for a few years and I was really happy to play them again on Switch. No big changes from the original games so I'm a bit disappointed but this game shares a few new features and free updates. Plus there's a free stylet in the original copy. The game's price is just fine. I have fun trying to get scores on mini-games and I still love to find my "brain age" SO it's not the brand new game with exclusive incredible features but it's a nice game to play to when you have a short time, a few times a week ! Love it !

…

Expand

Le jeu est très bien, fonctionne bien, notamment le shifumi qui fonctionne très bien avec les capteurs IR. Les autres mini-jeux sont classique

Le jeu est très bien, fonctionne bien, notamment le shifumi qui fonctionne très bien avec les capteurs IR. Les autres mini-jeux sont classique mais reste sympathique. Dommage qu'il faut débloquer les différents mini-jeux au fur et à mesure des jours.

…

Expand

if you want to play it alone and actually test your brain then go for it. If you want a lighter experience though i would recommend big brain

if you want to play it alone and actually test your brain then go for it. If you want a lighter experience though i would recommend big brain academy more.

…

Expand

With the lastet update, the game added a Working Memory section with a game like the ones found on Devilish Brain Training. I hope more

With the lastet update, the game added a Working Memory section with a game like the ones found on Devilish Brain Training. I hope more updates like this in the future. Otherwise, the game is very similar to the first Brain Training. I miss a section with the recopilation of the advices of Kawashima like in Devilish Brain Training, this game was more complete than the version for Switch.
The number and letter recognition I think that in the previous versions of the game was quite better.
However if you liked the previous Brain Training this game will no disappoint you.

…

Expand

Very polished with multiplayer and leaderboards to test your abilities against the world. I would not be surprised if some of the regulars at

Very polished with multiplayer and leaderboards to test your abilities against the world. I would not be surprised if some of the regulars at the top are bots, AI, superhuman or all three.

…

Expand

All my family play this game, my parents, my sister and me. I have the Nintendo DS version, and it is a original game of thinking and solving

All my family play this game, my parents, my sister and me. I have the Nintendo DS version, and it is a original game of thinking and solving problems, a classic.

…

Expand

Frustrating and anger inducing game. The paper, scissors, rock game seems fun at first, but its trivial use of the joycon camera makes

Frustrating and anger inducing game. The paper, scissors, rock game seems fun at first, but its trivial use of the joycon camera makes recognition slow and finicky. The sudoku game has pretty bad handwriting recognition when writing quickly and penalises you heavily if it recognises a number wrong. There is nothing redeeming on top of all the issues.

…

Expand