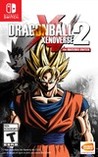 Summary:

DRAGON BALL XENOVERSE 2 builds upon the highly popular DRAGON BALL XENOVERSE with enhanced graphics that will further immerse players into the largest and most detailed Dragon Ball world ever developed.

DRAGON BALL XENOVERSE 2 will deliver a new hub city and the most characterDRAGON BALL XENOVERSE 2 builds upon the highly popular DRAGON BALL XENOVERSE with enhanced graphics that will further immerse players into the largest and most detailed Dragon Ball world ever developed.

DRAGON BALL XENOVERSE 2 will deliver a new hub city and the most character customization choices to date among a multitude of new features and special upgrades.

* Relive the Dragon Ball story by time traveling and protecting historic moments in the Dragon Ball universe
* Brand new hub city more than 7X the size of the original game with 300 players online at the same time
* Next-gen visuals bring the Dragon Ball anime experience to life
* New characters and boss fights
* More in depth character creation system and battle adjustments
* Free updates and post launch support for more than a year

…

Expand
Developer:

Dimps Corporation

Genre(s):

Action

,

Fighting

,

3D

# of players:

Up to 6

Cheats:

On GameFAQs

Available On:

Stadia

Rating:

T
Please enter your birth date to watch this video:
You are not allowed to view this material at this time.
Dragon Ball: Xenoverse 2 - Goku v Gogeta Match Gameplay
Two points deducted from the original 91% for the paid DLC and the miniscule downgrade in graphics, but five added for Xenoverse story missions and the portability the Switch offers.

An excellent port that gets even bigger on Nintendo's hybrid system because of its new controls.

While not a huge fan of Dragon Ball in general, I can say that I'm a fan of Dragon Ball Xenoverse 2 on the Switch. It does have its flaws. Namely with the camera and some of the training. Plus the combat can get repetitive as you mash out the same combos, at least in the early going. But I can definitely say that I found a Dragon Ball game that I can enjoy coming back to from time to time.

Overall, Dragon Ball Xenoverse 2 for Nintendo Switch is a fun game which works well when you get over the steep learning curve of fighting the game's controls. Playing through the entirety of the DBZ story is a blast, and while some design flaws persisted to the port to the Switch, the game is still worth a play if you are a fan of the series.

Dragon Ball Xenoverse 2 was an entertaining but flawed game when it was released last year and it remains such on Nintendo Switch. If anything, this port feels like the worst version to pick up, with numerous graphical sacrifices and severe frame rate issues in the hub city whilst playing on the handheld mode. It does include the main story quests from the first game so newcomers won't miss out on anything (even though the sequel's story is similar), but the newly-added motion controls, while a novel idea, are far from the ideal way to play the game. The only appealing aspect for someone who has already enjoyed Dragon Ball Xenoverse 2 is that this version allows you to play it on the go, but even then it's a messy port. For those new to the series, this is a solid entry point, but don't expect it to set your world on fire.
Un port para switch muy bien trabajado con añadidos mas que decentes.
Siendo fan de la saga Dragon Ball este juego es genial para tenerlo enUn port para switch muy bien trabajado con añadidos mas que decentes.
Siendo fan de la saga Dragon Ball este juego es genial para tenerlo en la experiencia portátil que Switch puede ofrecer.

…

Expand

Dragon Ball Xenoverse 2 for Nintendo Switch is the best version of the game. It's exclusive portability and motion controls makes it extremely

Dragon Ball Xenoverse 2 for Nintendo Switch is the best version of the game. It's exclusive portability and motion controls makes it extremely wonderful to play. The joy con controls suprised me by the way they worked so smoothly. I love that it comes with Goku Black which is amazing!!

…

Expand

As someone who had never played a xenoverse game, I was pleasantly surprised with this game. Excellent combat, tons of stuff to complete and

As someone who had never played a xenoverse game, I was pleasantly surprised with this game. Excellent combat, tons of stuff to complete and collect, online and offline multiplayer (even comes with a single-joycon 1v1 mode to play with friends). I've yet to give the motion controls a try so I can't really comment on them, but I've been able to have tons of fun with traditional button inputs. If you're lacking a solid fighting game on your Switch (like there's many to choose from), look no further.

…

Expand

A great port for the nintendo switch. Looks amazing both portable and docked. The solo/single player game is really addictive and will keep

A great port for the nintendo switch. Looks amazing both portable and docked. The solo/single player game is really addictive and will keep you occupied for many hours. Multiplayer can be a bit weird since there is no split-screen. Also, you cannot remove the time limit which restrains you to 3-minute fights, which is a very small amount of time for fights. Even though it's not as good as Dragon Ball Budokai Tenkaichi is, it's a game that I would recommend for Dragon Ball fans mainly for the great single player experience it offers.

…

Expand

I love this game, almost 400 hours in and I still love it. This game is really fun to play if you don't feel like doing anything, sometimes

I love this game, almost 400 hours in and I still love it. This game is really fun to play if you don't feel like doing anything, sometimes you love it and some times you don't want to play it. This game is just amazing.

…

Expand

This game could have a better combat sistem and better graphics, but it has a good history mode and a lot of content and fanservice for

This game could have a better combat sistem and better graphics, but it has a good history mode and a lot of content and fanservice for DragonBall fans. If you're not a big fan I don't think you will like this game, but if you like DB you should play it besides it could be better, because you will enjoy it a lot.

…

Expand

The dlc mission 113 is excessively difficult and many mechanics in this game make it EXTREMELY frustrating. In all honesty dragon ball has

The dlc mission 113 is excessively difficult and many mechanics in this game make it EXTREMELY frustrating. In all honesty dragon ball has been one of the laziest franchises when it comes to core requirements to anything they produce ever since the end of dragon ball Z.

…

Expand