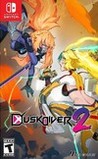 Summary:

Yang Yumo, a college student with a daily part-time job. Her body had been suffering from the aftermath of the Youshanding incident a year back.

In an ordinary day, Choas Beasts reappeared in the streets of Youshanding, and Yumo had to once again step onto the battlefield! A journey ofYang Yumo, a college student with a daily part-time job. Her body had been suffering from the aftermath of the Youshanding incident a year back.

In an ordinary day, Choas Beasts reappeared in the streets of Youshanding, and Yumo had to once again step onto the battlefield!

A journey of adventure and guardianship is about to unfold!!

The fully enhanced Ximending action game sequel! New characters! New scenes! New customizations! It's the all new Dusk Diver 2!!

…

Expand
Developer:

Wanin International

Genre(s):

Action

,

Role-Playing

,

Action RPG

,

Beat-'Em-Up

,

3D

# of players:

No Online Multiplayer

Cheats:

On GameFAQs

Rating:

T
Dusk Diver 2 is a stylish, well-thought-out, and addictive hack n' slash game, and while budgetary constraints might've bogged it down in a few areas, you still shouldn't pass it over.

Dusk Diver 2 won't crack any TOP10 chart, but it is promising and catchy action adventure with good concept, solid characters and rich combat system. Opponents are getting stale, but bosses and dungeons are usually promising.

This is a solid sequel but it tries to mess with the original recipe a bit too much. If you didn't play the first one or were expecting to blast through waves of beat em up opponents, you will be confused and a bit disappointed. Check it out on a sale or if you really enjoyed the first game in the series.

Dusk Diver 2 is a perfectly adequate action RPG, but the tedious side quests and numerous issues with the Switch port make it hard to recommend.

While Dusk Diver 2 mostly feels geared towards existing fans of the series, those looking to step into this franchise for the first time will still find it rewarding - provided they are down with the beat-em-up combat and anime tropes. The story is more compelling and the gameplay improvements are most welcome, resulting in an across-the-board upgrade to a well-liked hidden gem. The great thing about Dusk Diver 2 is that if it looks like your kind of game, then it probably is. Just bear in mind that the Switch version has some technical issues, at least of this writing.

Dusk Diver 2, like the first game, has potential; the cast of characters and storyline are both engaging, and the world could definitely host more interesting stories in the future. However, this sequel sadly fumbles things on the gameplay front, with a disappointing mixture of damage-sponge enemies and drawn-out encounters. While we didn't enjoy Dusk Diver 2 as much as we had hoped, there is something there — a kernel of potential as yet unrealised — and there are going to be people who absolutely adore it despite its faults. For us, a potential Dusk Diver 3 will hopefully boast combat engaging enough to match the writing on display here.

Many of its ideas are commendable, with emphasis on the growing cast of playable characters, making the plot more interesting to explore with new characters at the player's disposal. However the combat, which there is a lot of, is harmed by an overall sense of boredom and repetitiveness which end up harming the player's motivation. The level design could use improvements as well, as the dungeons have little in terms of originality and don't manage to captivate the player to keep going. There was a lot of potential to explore in Dusk Diver 2 but as it is, it feels like a half-effort towards something that can be much more interesting.