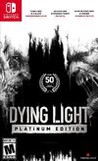 Summary:

Features:

Dying Light - the full award-winning game. Dying Light: The Following - a huge expansion complete with a new story, vast original map, and a customizable buggy to drive. Dying Light: Bozak Horde - a challenging game mode with its own side story. Cuisine & Cargo - two additionalFeatures:

Dying Light - the full award-winning game.

Dying Light: The Following - a huge expansion complete with a new story, vast original map, and a customizable buggy to drive.

Dying Light: Bozak Horde - a challenging game mode with its own side story.

Cuisine & Cargo - two additional quarantine zones.

Ultimate Survivor Bundle - exclusive weapons and outfits.

Crash Test Skin Pack - a madcap cosmetic pack.

Hellraid - a new game mode in a dark-fantasy setting.

A large collection of skins and weapons that will make slaughtering zombies even more fun.

…

Expand
Developer:

Techland

Genre(s):

Action Adventure

,

Survival

# of players:

Up to 5

Cheats:

On GameFAQs

Rating:

M
There aren't really any other games like this on the Switch, so as long as you're okay with — or at least willing to tolerate — visuals that pale in comparison to how they look elsewhere, then you're in for one of the last gen's best zombie games.

Even though the graphics and performance took a hit, Techland manages to maintain the speed and excitement of Dying Light on the Nintendo Switch.

Fortunately, Dying Light Platinum Edition for Nintendo Switch is a successful porting for Nintendo's hybrid. Despite the obvious and inevitable need to downgrade, the portable version remains enjoyable with a huge amount of content and a sufficiently solid frame rate.

Dying Light: Platinum Edition looks surprisingly good on Switch, and even more impressive is that load times are kept short and the framerate stable. So, with a journey to Harran being as captivating today as it was in 2015, there's no reason why those who love exploring open worlds filled with zombies wouldn't want to pick this up. Add in a whole smorgasbord of additional content, features and modes, and you have a package that's a highlight in the Switch's extensive catalogue.

Dying Light is six years old, but it hasn't lost its edge. A fantastic parkour system, extensive combat customization, and a unique take on the zombie-filled post-apocalyptic world mean Techland's horror game still holds its own after so long. Sure, the resolution could be better on Nintendo Switch, and it's still the same iffy story, but having Dying Light portable and with all the DLC more than makes up for that.

Dying Light has found a new home and is worth returning to for both veteran fans and those touching down on Harran for the first time. Playing again made me excited for the sequel's release and made me appreciate this title even more. This and more is what a port should do, so good luck and good night.

Dying Light: Platinum Edition is another impressive Switch port, but the game itself is just OK. Its design threw everything at the wall, often to its detriment. While it has some pretty high highs, they lie almost exclusively in the movement. If you do want to chase those highs you're better off on other platforms until another patch or two comes along.
very good port of one of the best zombie-survival game, a lot of content make this release a good investment

This review contains spoilers

, click expand to view

.

Прекрасная и очень недооцененная критиками игра добралась до портатива свич, что сказать, оптимизация отличная,картинка не намного хуже старших собратьев, в общем подарок!

…

Expand

Amazing port. Hands down best ported game so far on Switch. Runs great and feels made for the handheld console. A must buy and also GOTY even

Amazing port. Hands down best ported game so far on Switch. Runs great and feels made for the handheld console. A must buy and also GOTY even if its 6y old.

…

Expand

Интересная игра, с более-менее вменяемым сюжетом.
Кому понравился Dead Island, обязательно к ознакомлению.Интересная игра, с более-менее вменяемым сюжетом.
Кому понравился Dead Island, обязательно к ознакомлению.

It's amazing what the Switch can run if some talented people put their hands on a port. From a technical standpoint, Dying Light is top notch

It's amazing what the Switch can run if some talented people put their hands on a port. From a technical standpoint, Dying Light is top notch for a Switch port. The frame rate, the graphics, the gameplay... everything is absolutely phenomenal. The game itself is scary enough to get you on the edge of your seat, especially at night time and the pure number of zombies can bring into some tense situations if you're not careful enough. All DLCs are included which is also very nice, you get value for money.

…

Expand

Although being a few years old and on other plamforms this game is still great on the Switch. Its got alot of things to do and has alot of

Although being a few years old and on other plamforms this game is still great on the Switch. Its got alot of things to do and has alot of fun doing it. Graphics look better then i thought and it runs smooth. Yea its not 4k, but pulling games like The Witcher, both Dooms, all 3 Crysis games and now this game, i cant comeplain about anything that runs this well on a hybrid. Great job Techland/Nintendo!!

…

Expand

Отличная игра, превосходно портированная ! Выглядит просто великолепно! Очень надеюсь на дальнейшие патчи и всевозможную поддержку! Море

Отличная игра, превосходно портированная ! Выглядит просто великолепно! Очень надеюсь на дальнейшие патчи и всевозможную поддержку! Море контента и много часов геймплея
Great game, perfectly ported! It looks just great! I really hope for further patches and all kinds of support! Sea of content and many hours of gameplay 8/10

…

Expand