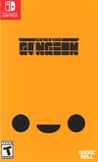 Summary:

Enter the Gungeon is a gunfight dungeon crawler following a band of misfits seeking to shoot, loot, dodge roll and table-flip their way to personal absolution by reaching the legendary Gungeon's ultimate treasure: the gun that can kill the past.
Developer:

Dodge Roll

Genre(s):

Action

,

General

,

Shooter

,

Shoot-'Em-Up

,

Top-Down

# of players:

No Online Multiplayer

Cheats:

On GameFAQs

Available On:

Stadia

Rating:

T
Please enter your birth date to watch this video:
You are not allowed to view this material at this time.
Enter The Gungeon Co-Op Gameplay On Switch
Enter the Gungeon is a full-clip of awesome, loaded into a gun of perfection and fired onto the most interesting console.

Games as good as Enter the Gungeon don't come along very often. There's so much to discover here that you'll be playing this game for a long time. And you'll still come back even after you see everything. Gungeon is the pinnacle of rogue-like design.

Enter The Gungeon is a brilliantly tactile, endlessly replayable twin-stick roguelike that sits right up there with the very best indie games on Nintendo Switch. With satisfying combat, random levels, and an endless supply of inventive weapons, items and secrets, it's always a total joy to play. Yet another modern indie classic has found a natural home on Nintendo's console.

Enter the Gungeon hits the Nintendo Switch with a special version-complete physical edition of one of the finest action roguelikes ever made.

Enter the Gungeon was a super-fun game back in 2016 and now, it's even better. So, if you still haven't played it and you have a fondness for roguelike twin-stick shooters, picking up a copy of this delightful package is a must. [Physical Edition]

One third bullet hell, one third shoot 'em up, and one third roguelike, Enter the Gungeon is a magnificent blend of three genres that go together impressively well. The wide variety of guns keeps each playthrough feeling fresh, regardless of the character chosen, and the diverse enemy design is sure to keep players on their toes as they force their way through the Gungeon. There are some issues that rise from the randomness of it all, par for the course for a roguelike, but the fluid gameplay, massive weapon cache, and bullet-heavy atmosphere make Enter the Gungeon one incredibly endearing experience.

Enter the Gungeon can be brutal. However, you'll find yourself laughing at its quirky dialogue and obviously ridiculous weapons, and you'll dust yourself off and jump back in. And each time, you get a little bit better, get a little bit farther, discover a secret area on the map, and prepare to die — just one more time.
Great game. Portable option is amazing for many games, especially for ETG.
The only issue - some lags while fighting few bosses with a lot ofGreat game. Portable option is amazing for many games, especially for ETG.
The only issue - some lags while fighting few bosses with a lot of bullets in the air. Hope it will be fixed with patches.

…

Expand

Compra imprescindible, mecánica de juego súper adictiva, no te dejes engañar por sus gráficos , título muy similar al Biding of Isaac. Su

Compra imprescindible, mecánica de juego súper adictiva, no te dejes engañar por sus gráficos , título muy similar al Biding of Isaac. Su portabilidad lo convierten en un amigo inseparable para esas partidas rápidas sin muchas complicaciones.

…

Expand

I thought this game was pretty fun. It is not for people who are not up for a challenge, as it is very challenging. The reason that I did not

I thought this game was pretty fun. It is not for people who are not up for a challenge, as it is very challenging. The reason that I did not rate it higher is because I think there are similar games like Binding of Isaac that are slightly better.

…

Expand

A great rogue like game that is all about guns. Lots of replay value with potential new weapons and items to be unlocked in every run. Fun

A great rogue like game that is all about guns. Lots of replay value with potential new weapons and items to be unlocked in every run. Fun dodge and shoot mechanics make this game addictive.

…

Expand

Un bon petit rogue lite gungeon crawler! les boss sont tous fabuleux! petit bémol: les niveaux manque de panache et le jeu devient redondant,

Un bon petit rogue lite gungeon crawler! les boss sont tous fabuleux! petit bémol: les niveaux manque de panache et le jeu devient redondant, mais sa reste une bonne petite expérience (a jouer a deux pour en soutirer toute sa valeur.)

…

Expand

The game is fun at first, but doesn't last long. Game load times are a bit long. The controls need to be reassigned and after several

The game is fun at first, but doesn't last long. Game load times are a bit long. The controls need to be reassigned and after several changes they still don't feel right (part of the blame belongs to the comfort of the Switch). This game is very challenging, paired with the random level designs, random enemies, and random boss encounters, makes using trial and error not an option. Sometimes as you enter the next room the enemies are right there ready to greet you with a bullet to the face, other times nobody is home. I never got past the first boss. In the five attempts I encountered Bullet King twice and Gatling Gull thrice. Extra hearts or extra lives and/or quicker reload times would have made this playable for me. I did not play Co-Op mode. Maybe Co-Op mode would have made it enjoyable or easier to play. Someone with more skill and more time could play and score this positively. I wish, I had my money back.
For comparison I've finished Axiom Verge in 20 hours, 74% Item, and 92% Map. And Celeste 14 hours without attempting to get strawberries or B-sides.

…

Expand