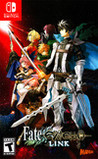 Summary:

Picking up right where the 2017 smash hit Fate/EXTELLA: The Umbral Star left off, Fate/EXTELLA LINK adds 10 Servants to the original roster of 16. The high-speed action gameplay has been refined, and players will battle their way through massive invading armies to wrest back control of

Picking up right where the 2017 smash hit Fate/EXTELLA: The Umbral Star left off, Fate/EXTELLA LINK adds 10 Servants to the original roster of 16. The high-speed action gameplay has been refined, and players will battle their way through massive invading armies to wrest back control of SE.RA.PH. from an invading force. Players on the PlayStation®4 can now engage in massive 4-on-4 online battles with up to 7 other players. Choose your favorite Servant and make your foes quiver at the true name of their Noble Phantasm.

…

Expand
Developer:

Marvelous Inc., Marvelous First Studio

Genre(s):

Action

,

Beat-'Em-Up

,

3D

# of players:

Up to 8

Cheats:

On GameFAQs

Rating:

T
The nature of the genre makes it pretty tough to do a Musou game wrong, but it's also rather difficult to do one that's truly right, providing an experience that's capable of rising above the repetition and relatively easy difficulty. Fate/Extella Link manages to do just that, including all of the trappings of a Musou outing while sprinkling in a handful of fun, engaging, or creative changes to the overarching design and style to escalate this release a bit above the competition (and certainly above its predecessor). If you've never much been a fan of mindless hack 'n' slash games, we'd say this is a great way to test whether this genre is for you, and if you consider yourself to be a Musou nut, this is one of the best distillations of the concept we've yet seen. Either way, Fate/Extella Link is well worth your time; we'd recommend you add it to your Switch collection at some point.

Fate/Extella Link doesn't provide an experience that's a million miles away from Fate/Extella: The Umbral Star, but pretty much everything about it is just better. Its story is shorter but more entertaining, its combat is massively improved thanks to you having more abilities at your disposal, and it both looks and sounds better too.

Fate/Extella Link lands on the Nintendo Switch with the deserved distinction of being the most content-full game of the series when it comes to characters and their variety and a myriad of customization options that will make the delights of Fate fans. On top of that, the improvements made to the combat system and its sharper controls make Fate/Extella Link a game that fully deserves its place in the collection of every single Fate fan out there.

With the big Nintendo-related hack and slash franchises (Fire Emblem and Hyrule Warriors) already present on Switch, the Fate/EXTELLA titles don't usually get a lot of attention. But the Fate series is sneakily popular, largely due to the popularity of the Grand Order mobile game, and fans of Fate will find a good time here. For everyone else, your enjoyment of Fate/EXTELLA: LINK will largely depend on your tolerance for anime stereotypes.

Whilst the muddled story that immediately assumes you know the lore found in previous titles limits the draw of the campaign, Fate/EXTELLA LINK easily provides a surprisingly deep, content-rich adventure that is certain to become a time-sink should you let yourself go unchecked.

Considering the multitude of Dynasty Warriors-type games out there, Fate/EXTELLA LINK manages to stand out from the crowd with its refined and addicting gameplay and combat. Fan of Musou titles or the Fate series should find plenty of satisfaction with this. Completing every stage of the game's main story takes about fifteen hours, yet players can spend much more time completing the side missions, unlocking the costumes, and increasing their bond levels with Servants. The game does get repetitive fast, but the fast-paced action and short missions are enough to keep players thoroughly entertained, especially in short bursts.

Fate/Extella Link continues offering the same entertaining blend of musou action and RPG-like progression, in a package that is bigger and better. Still, unless a big fan of the franchise, it's not exactly a must-have, as it mostly feels like an improvement that generally keeps things annoyingly safe.
There is no doubt this game is much funner if you have knowledge on the Fate universe. With that being said this is a solid musou game that

There is no doubt this game is much funner if you have knowledge on the Fate universe. With that being said this is a solid musou game that greatly improves over the first game Umbral Star. However, I didn't enjoy the story nearly as much in this one as Umbral Star. Umbral Star has a lot more of the qualities you would find in a VN than Link, but Link has by far the better combat system, and also quite a good list of servants my favorite addition being Scathatch. This is a very fun and entertaing musou game with a somewhat underwhelming story. People without knowledge of Fate universe will have a harder time enjoying this game, but I don't think it is completely necessary. If you are a fan of any Musou games like Dynasty Warriors, or are a fan of the Fate franchise you will have a great time with this game. Umu!

…

Expand

Very great experience that I thoroughly enjoyed. A great selection of characters, and I especially loved the noble phantasms. I would

Very great experience that I thoroughly enjoyed. A great selection of characters, and I especially loved the noble phantasms. I would recommend this to any Fate fan!

…

Expand