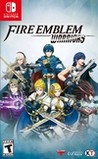 Summary:

Clash with legions of soldiers and fierce monsters as Marth, Xander, Corrin, and other Fire Emblem heroes unleashing over-the-top-powerful Dynasty Warriors-style moves. Take direct control of known and original Fire Emblem characters, issue them strategic commands in the midst of battle,

Clash with legions of soldiers and fierce monsters as Marth, Xander, Corrin, and other Fire Emblem heroes unleashing over-the-top-powerful Dynasty Warriors-style moves. Take direct control of known and original Fire Emblem characters, issue them strategic commands in the midst of battle, pair up heroes to unleash stunning attacks, and more. Unlock new playable heroes, each with their own unique moves, special attacks, weapon types, and voiced dialogue in this large-scale action game from the Hyrule Warriors team.

…

Expand
Developer:

Omega Force

Genre(s):

Action

,

Beat-'Em-Up

,

3D

# of players:

No Online Multiplayer

Cheats:

On GameFAQs

Rating:

T
Please enter your birth date to watch this video:
You are not allowed to view this material at this time.
Fire Emblem Warriors - Gameplay Launch Trailer
The marriage between the Warriors and Fire Emblem franchises has yielded one of the deepest and most engaging games the Warriors series has done to date.

Fire Emblem Warriors delivers with enjoyable gameplay that blends mechanics from both Fire Emblem and Warriors games into something unique and unlike anything else on the Nintendo Switch.

Hyrule Warriors may be one of my favourite games on the Wii U, and while I wasn't as engaged in the characters and world of Fire Emblem Warriors, I loved every minute of the game both on N3DS and Switch. While the game is still fresh and will have several DLC and updates in the months to come, if you have any interest in a musou game, this is easily the best and smoothest on the Switch so far.

Fire Emblem Warriors is more than just a Warriors game with Fire Emblem personalities in place of classic Chinese historical figures. It manages to retain a distinct Fire Emblem flavour despite dishing out a style of action that is arguably the polar opposite of what Fire Emblem fans expect.

An attempt to blend Fire Emblem with Dynasty Warriors might seem an odd idea. Where's the common ground between a tactical RPG and an over-the-top slasher, right? It actually worked out pretty well, as the game managed to retain Fire Emblem's atmosphere. If you're a fan of the series and not allergic to Dynasty Warriors' formula, give it a try. [13/2017, p.36]

Although it won't go down as an especially memorable title, there's a lot of fun to be had with Fire Emblem Warriors. The interesting usage of all the aspects from the tactical RPG series certainly added to some freshness to the standard Musou formula, and it was great to see a lot of the characters given the high-definition treatment and the interactions between them are sure to please a lot of fans.

Fire Emblem has the potential to make a great partner, but this badly made and painfully simplistic crossover is as disappointingly dumb as all the other Dynasty Warriors games.
One of the best switch games so far. Plays far smoother than Hyrule Warriors ever did, and obviously looks better too. A must buy for any fan

One of the best switch games so far. Plays far smoother than Hyrule Warriors ever did, and obviously looks better too. A must buy for any fan of the series.

…

Expand

Let's make one thing clear starting out: THE STORY MODE IS NOT THE ONLY MODE Some are under the impression that Story Mode is all there is--

Let's make one thing clear starting out: THE STORY MODE IS NOT THE ONLY MODE Some are under the impression that Story Mode is all there is-- that there is no 'Adventure Mode' like in Hyrule Warriors, this is a fallacy. Fire Emblem Warriors features History Mode.

In History Mode you are presented with a map which recreates the layout of a battle from an original Fire Emblem game. The enemies on this map each signify a stage and as you defeat stages more stages appear in the form of enemy reinforcements. You progress by defeating these stages until you reach the Boss of the map. Beating the Boss of the map unlocks a new reward in the form of a new costume or even a new character. in addition to that new battles appear (Warp Hole Battles) that you become able to challenge depending on your performance on the first stages you were presented. Doing things like completing all the stages, getting S ranks on all stages, and getting an S rank on the Boss stage will allow you to attempt these Warp Hole Battles. There are 5 maps available in total (you unlock new maps by progressing through Story Mode, which the game will alert you when you've unlocked more) these maps ramp up in difficulty and enemy number the further you go and History Mode can easily take as much time as Hyrule Warriors' Adventure Mode did.

Moving on, I want to address the graphics. While they aren't the greatest to look at one will hardly notice a large difference from Hyrule Warriors when playing the game. A few of the errors, like a 2D picture of rocks as the floor texture, have already been addressed by Nintendo and fixed in a day one patch. This was an issue seen in early screenshots and admittedly most who bring it up now are simply jumping aboard the FE:W hate bandwagon. Honestly, unless you really look deep, you're not likely to focus on the environment enough to see these niggles and, being a Dynasty Warriors game at its core, no one really expects groundbreaking graphics going in-- they're not the point, the gameplay is. We place too much stake in graphics nowadays and it really detracts from an otherwise enjoyable experience.

Next, the characters. The roster is small and most of the characters are from Awakening and Fates, so if you aren't big on those games you're not likely to get too into this until the DLC starts rolling out. It's also been brought up that some characters play the same, and this is true. While disappointing it's understandable from a gameplay perspective, since you're able to jump to various units during battle having to adapt to using a new character can be jarring to some. As such, just like the original Fire Emblem games themselves, characters of the same class play the same. Even still there is enough variety to keep most content and you'll be able to commit to perfecting a character instead of suffering from a case of 'too many cooks in the kitchen'.

The problem I'm seeing a lot is people placing too many expectations on FE:W too soon. While Hyrule Warriors has a lot of content now that's only because it's had a lot of DLC. People forget HW had a small roster and only 2 Adventure Mode maps starting out as well. FE:W still has a great deal of content on the way and it's bound to reach HW levels of content by the time it's DLC is created and released.

Try not to let people talk you out of trying this out for yourself. I've been seeing a lot of misinformation and a decent helping of baseless claims on various forums and it's what truly disappoints me when it comes to this game. Leave your judgement at the door until you've had a chance to delve into the game for yourself-- you may be surprised.

…

Expand

This is my very first Koei Tecmo game, but I am a BIG fan of Fire Emblem and I must say, besides the roster of characters aren't big Super

This is my very first Koei Tecmo game, but I am a BIG fan of Fire Emblem and I must say, besides the roster of characters aren't big Super Stars per say, the game is an absolute blast! The game plays smoothly and it's visually beautiful. The plot of the game isn't quite complex as a typical RPG, but the star of the game is its gameplay and the intricate addition of Fire Emblem elements to this strategical Hack & Slash RPG. I hear that the Postgame content provides great future challenges which add to its replayability so that's a super plus for me! It may not be a game for everyone, nor is it perfect, but the elements that it excels at so far definitely has opened my eyes to what Koei Tecmo is capable of with other Nintendo-inspired spin-offs

…

Expand

This review contains spoilers

, click expand to view

.

The game feels like a slightly worse, but real time version of Disgaea where the story is essentially the tutorial. Fliers are absolute trash when archers exist and there isn't much of a difference between Marth, Chrom, Lucina and only a slight difference with Lyn. Fun to kill time and is worth it though.

…

Expand

Believe me when I say I was ecstatic when I heard Fire Emblem was getting its own Warriors spin off. So now that it's finally here, did it

Believe me when I say I was ecstatic when I heard Fire Emblem was getting its own Warriors spin off. So now that it's finally here, did it live up to all the hype? Ehh, kind of.
The gameplay is that classic dynasty warriors feel of mowing down thousands of troops with the occasional fight against an enemy commander, if it aint broke, don't fix it.
The game primarily focuses on Fire Emblem Awakening and Fates for its roster of characters. At first I didn't mind this until I discovered that a majority of the characters are CLONES! So the roster of 26 characters feels more like 13. This is even worse considering there are 9 more scheduled for DLC.
The game's story mode is generic at best; the writers at Koei Tecmo aren't winning any awards any time soon, and the voice acting is passable, not good, just passable. The real fun lies in the "history mode" which is just a Fire Emblemized version of adventure mode from Hyrule Warriors.
The game boasts quite a bit of content, despite the character shortcomings, with plenty of unlockables, upgrades for characters, and weapon drops.
There are also several forced mechanics from the Fire Emblem franchise that simply don't do very much. The only one I found enjoyable is a pair up system during combat.
Overall, I do enjoy the game, and continue to enjoy it. I even hope there are more Nintendo Warriors crossovers in the future, but I hope they're done a bit better than this.

…

Expand

5,7 Juego muy repetitivo, sino eres fan de Fire Emblem te puede llegar a aburrir. Perdieron la oportunidad de hace un espectacular videojuego

Disappointing game that advertises itself as a crossover and celebration of the series but is actually neither, a completely hollow

Disappointing game that advertises itself as a crossover and celebration of the series but is actually neither, a completely hollow experience.
Either make an actual crossover representing every game, or follow the Three Hopes route and made a dedicated alternate universe spin-off for one game.
The path Warriors chooses is the most pathetic option, pretending to be a crossover but showing favouritism to what were the newest games at the time.

…

Expand