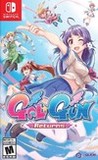 Summary:

Gal*Gun is the entertaining story of a young man who becomes "super popular" with the opposite sex and is now living the "unfortunate" life of having every lady that looks his way confessing their undying love for him. But he must steel himself and fend these would-be lovers off with his

Gal*Gun is the entertaining story of a young man who becomes "super popular" with the opposite sex and is now living the "unfortunate" life of having every lady that looks his way confessing their undying love for him. But he must steel himself and fend these would-be lovers off with his 'special weapon' (known as the Pheromone Shot), as he tries to win the affections of one of the main protagonists. Gal*Gun is the crazy combination of arcade-style shooting action and dating sim that truly has no equal.

…

Expand
Developer:

Inti Creates

Genre(s):

Action

,

Shooter

,

Light Gun

# of players:

No Online Multiplayer

Cheats:

On GameFAQs

Rating:

M
If you're going into Gal*Gun looking for some voyeurism, then you're playing it wrong. At the same time, if you go in without a strong stomach for fan service then it's going to throw you out too. Gal*Gun is for people who enjoy a kind of hyperbolic satire that borders on the transgressive and enjoy light gun shooters. It's almost a dead genre these days, but Gal*Gun Returns is, all things considered, an example of it at its best.

The first game in the franchise arrives western markets by offering updated graphics and plenty of game modes and extras which results in an interesting and addictive on-rails shooter with the usual hilarious tone in the series.

The Gal*Gun franchise returns to its origins with a remaster of its first game that improves several aspects but still has the same issues. A shooter for a very specific type of player who will surely enjoy it.

It's certainly not a great light gun style experience but Gal Gun Returns is currently the best that the series has to offer. So, if you want to zoom in on anime girls, look up their skirts, and have some fun in the process, you should definitely give it a go.

Gal Gun Returns it's the "softest" game of this ecchi oriented shooting arcade series. As a remaster of the first game, it lacks some options seen in the sequel, like the dating sim options, and it focuses on the shooting side. It's a simple game, but if you like its crazy proposal, you'll have a fun time.

If you can put yourself in an academic, emotionless state of mind, there really is some fun to be had, arguably moreso than in Gal*Gun 2. But you do have to wade through some…questionable…content.

Gal*Guns Returns is a so-so remaster of a tedious on-rails shooter that features dull, unchallenging and highly repetitive action set against a cringe-worthy story that's neither titillating or in any other way engaging. This is a very short and basic game for the asking price, and one that it's hard to see anyone outside of hardened (no pun intended) Gal*Gun fans deriving even the slightest amount of enjoyment from.