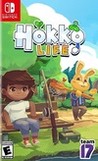 Summary:

Hokko Life is a cosy, creativity filled community sim game.

Step off the train into the town of Hokko and get settled into your new home! This quiet village needs your help to turn it into the charming rural town everyone loves. With hammer and paints in hand it's up to you to design, buildHokko Life is a cosy, creativity filled community sim game.

Step off the train into the town of Hokko and get settled into your new home! This quiet village needs your help to turn it into the charming rural town everyone loves. With hammer and paints in hand it's up to you to design, build and decorate homes for all of your new friends!

Busy yourself away in the dusty old workshop and let your creativity flow! Craft materials and combine them in whatever way you desire to create new and wonderful furniture and items for your town. Collect flowers, mix paints and use them to design wallpapers, flooring and even clothing!

Will you design an urban-industrial furniture collection or maybe a bright flowery wallpaper set? With all of the workshop at your disposal, you'll have complete freedom to design a town your villagers will absolutely love.

…

Expand
Developer:

Wonderscope

Genre(s):

Simulation

,

Virtual

,

Virtual Life

# of players:

No Online Multiplayer

Cheats:

On GameFAQs

Rating:

E
Hokko Life takes the Animal Crossing formula and builds on it with additional gameplay elements and an innovative in-game clock. Its gameplay is addictive and there's a lot of fun to be had, especially if you enjoy crafting. So, if you're looking for a rewarding alternative to the Nintendo classic albeit with more to do on any given day then you should definitely pick it up.

In its current state, I'd recommend picking up Hokko Life on another platform over Nintendo Switch if you have the option. The long load times and performance issues even in early parts hold it back. The developers have said that they are still working on the game and bringing more to it, and Hokko Life has the potential to be much better on Switch. Right now, I can only recommend it with the caveat about technical issues and assuming you like the aesthetic. I enjoyed my time with this blend of elements from Animal Crossing and Story of Seasons.

Even if the whole experience is not perfect, Hokko Life is a chill and pleasant game that will provide us some nice sessions.

While playing, I realised that Hokko Life is trying too hard to be other games that it never really has the opportunity to grow into its own thing. It doesn't shine on its own. The devs tried. They really did. Hokko Life is an obvious labour of love. But there is a certain je ne sais quoi lacking… charm, maybe? I've played a lot of life sims that made me excited to return, but this one didn't. I know that a game's not really hooking me when I've got to talk myself into playing it for hours just so I can get my review done in time.

While Hokko Life isn't terrible, it fails to rise above its Animal Crossing inspiration.

Overall, Hokko Life is a bland shell that wants to ride the coattails of Animal Crossing without doing anything to stand out or be unique. The game could be more polished, with lag and weird choices in camera zooms, though not outright terrible enough to get mad at. While the visuals don't look bad, the music is forgettable. An average game at best, its $19.99 launch price means I can't really recommend it.

Hokko Life arrives on Nintendo Switch in an unacceptable technical state, so much so that any possibility of feeling sympathy for the dishes of Hokko's inhabitants and their stories fades regardless. It does not help the low quality of writing and an experience structure that made us feel trapped in Hokko, and not masters of the adventure. Dragged into a whirlwind of assignments, wood gathering and unpleasant fishing sessions, we were not in any way fascinated by a life sim that promised a relaxing and creative experience, but which on balance cannot compete with the most famous exponents. like that, Animal Crossing and Stardew Valley above all.